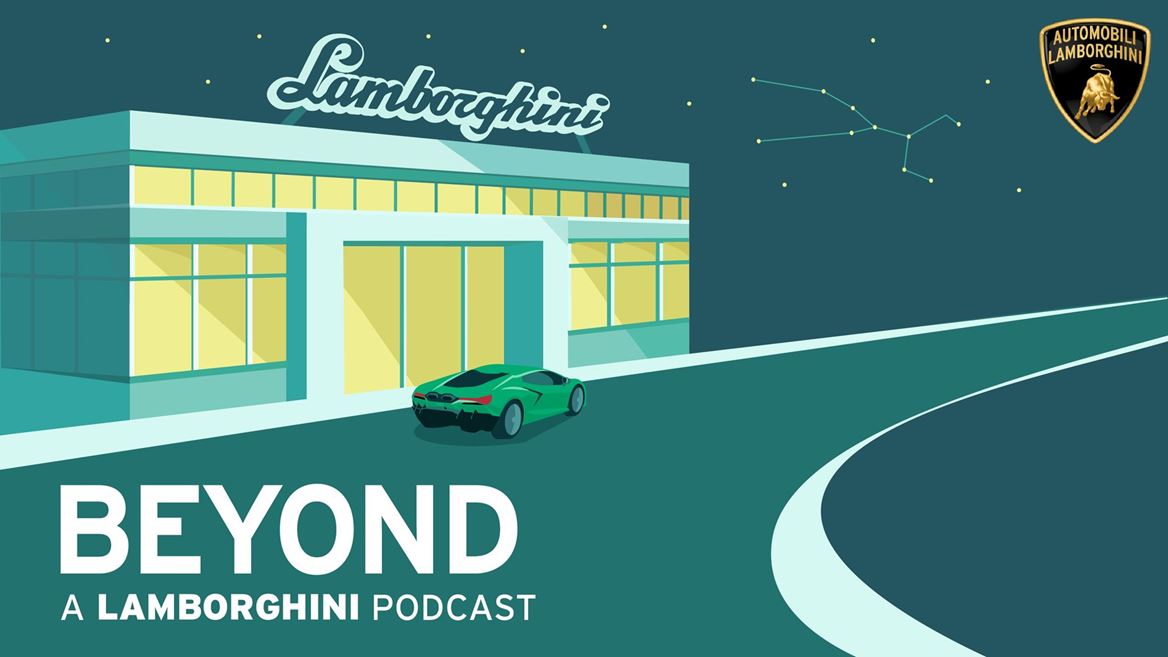 Lamborghini launches Beyond: A Lamborghini Podcast
Lamborghini's new podcast lifts the veil on the cars and the people who create them – and introduces some special guests
Sant'Agata Bolognese, 11 July 2023 – Lamborghini's reputation as a game-changing super sports car maker speaks for itself. But the company is also fiercely proud of the people behind the scenes – and behind the machines. Now a major new podcast series prepares to raise the shutter doors of the famed Sant'Agata factory to give the audience a guided tour with a difference.
Beyond: A Lamborghini Podcast brings key Lamborghini people centre-stage and shines a revealing spotlight on them. They'll share details about their life and work at the company, personal anecdotes, and provide insights into the fast-moving, ever-evolving automotive world. It will also feature special guests from outside the car world, in conversation with senior Lamborghini figures whose roles – and inspirations – have important parallels.
Hosted by Lamborghini's Director of Communications Tim Bravo and broadcaster Giulia Salvi (i.a. Virgin Radio Italy), who specialises in lifestyle and music, Beyond: A Lamborghini Podcast challenges the norms of brand interaction to cover subjects as diverse as music, art, design, science, fashion and more. This is about bringing fresh perspective to the world of Lamborghini and doing what the title suggests – to truly go beyond.
The series will premiere on 11 July and the first episode features the Chairman and CEO of Automobili Lamborghini, Stephan Winkelmann. As it continues its 60th anniversary celebrations, and achieves record sales and turnover figures, it's an appropriate moment for Winkelmann to reflect on Lamborghini's success and the 'Direzione Cor Tauri' plan for the rest of the decade, as well as to explore some of his personal achievements. This is a company CEO in as reflective and inspiring a mood as you will ever hear.
Says Winkelmann, "Going beyond is about what we do and how we do it, icons which are going to stand over the decades. And on the other side, we want to also be recognized in how we approach things. So that we are a team of people which are living here in the 'Motor Valley', and I'm not talking about automotive business, but in a general sense on how we approach the challenges and the opportunities."
In episode one of Beyond: A Lamborghini Podcast, Winkelmann is also extremely open about the challenges he and Lamborghini face during what is a transformative time for the entire automotive industry. Decisions being made now will inform the company's future health, and his legacy.
"When you engage yourself for such a long period of time in the same company, for sure you are part of the history of the company and also of the history of the product," he says. "You have a huge responsibility, because we are small, the investments are high… so you cannot afford to make any mistakes. Now we have to ferryboat the company in this transition phase, which is really a revolution, from internal combustion engine cars to plug-in and then maybe, with all the opportunities and challenges, to full electric cars. So being part of this is something which puts a lot of pressure and responsibility."
Beyond: A Lamborghini Podcast is available to listen to on Spotify and Apple Podcasts, to watch on YouTube for a fully immersive experience, and via the special podcast hub on Lamborghini.com/podcast. A new episode will drop each month.