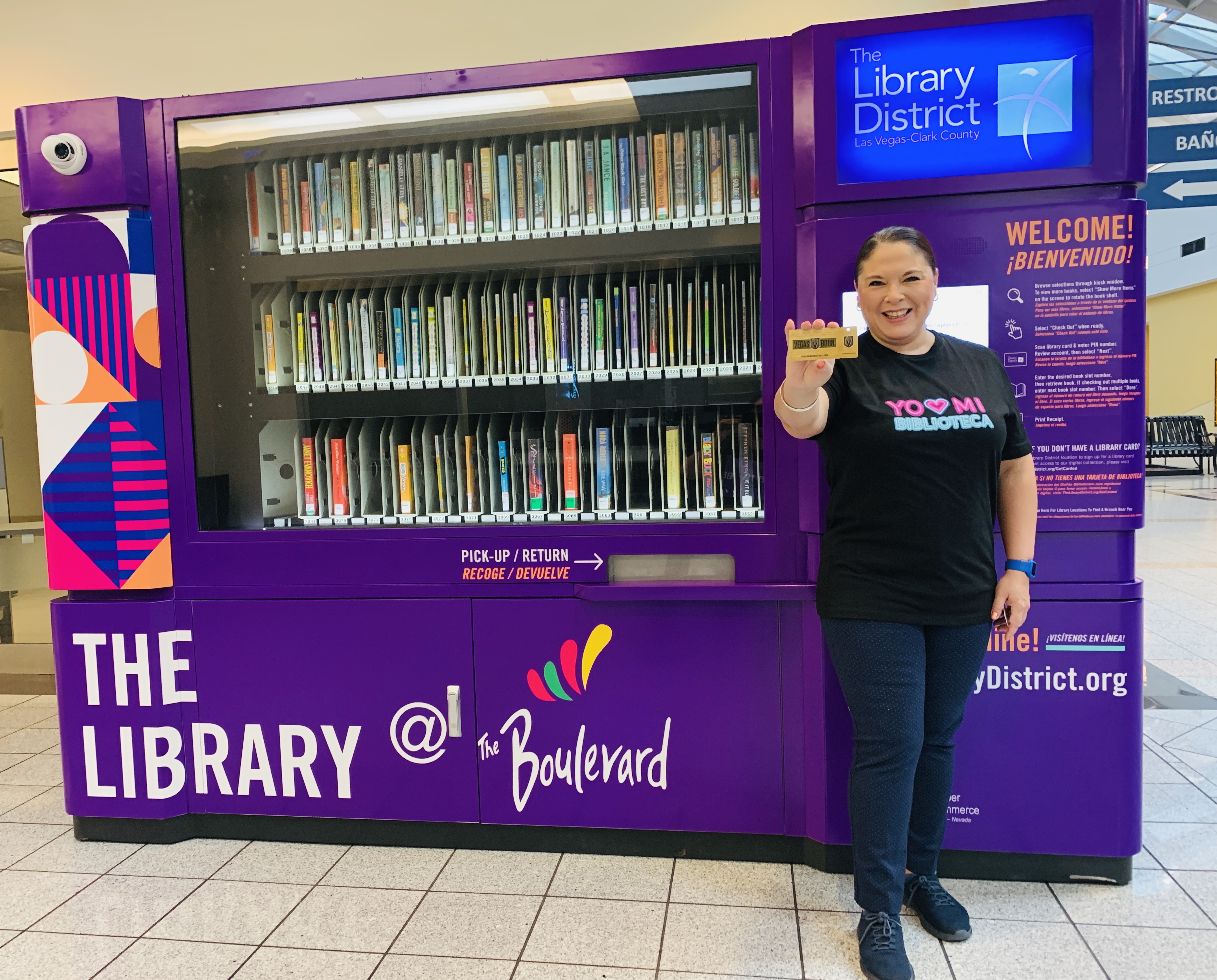 Las Vegas-Clark County Library District Installs Book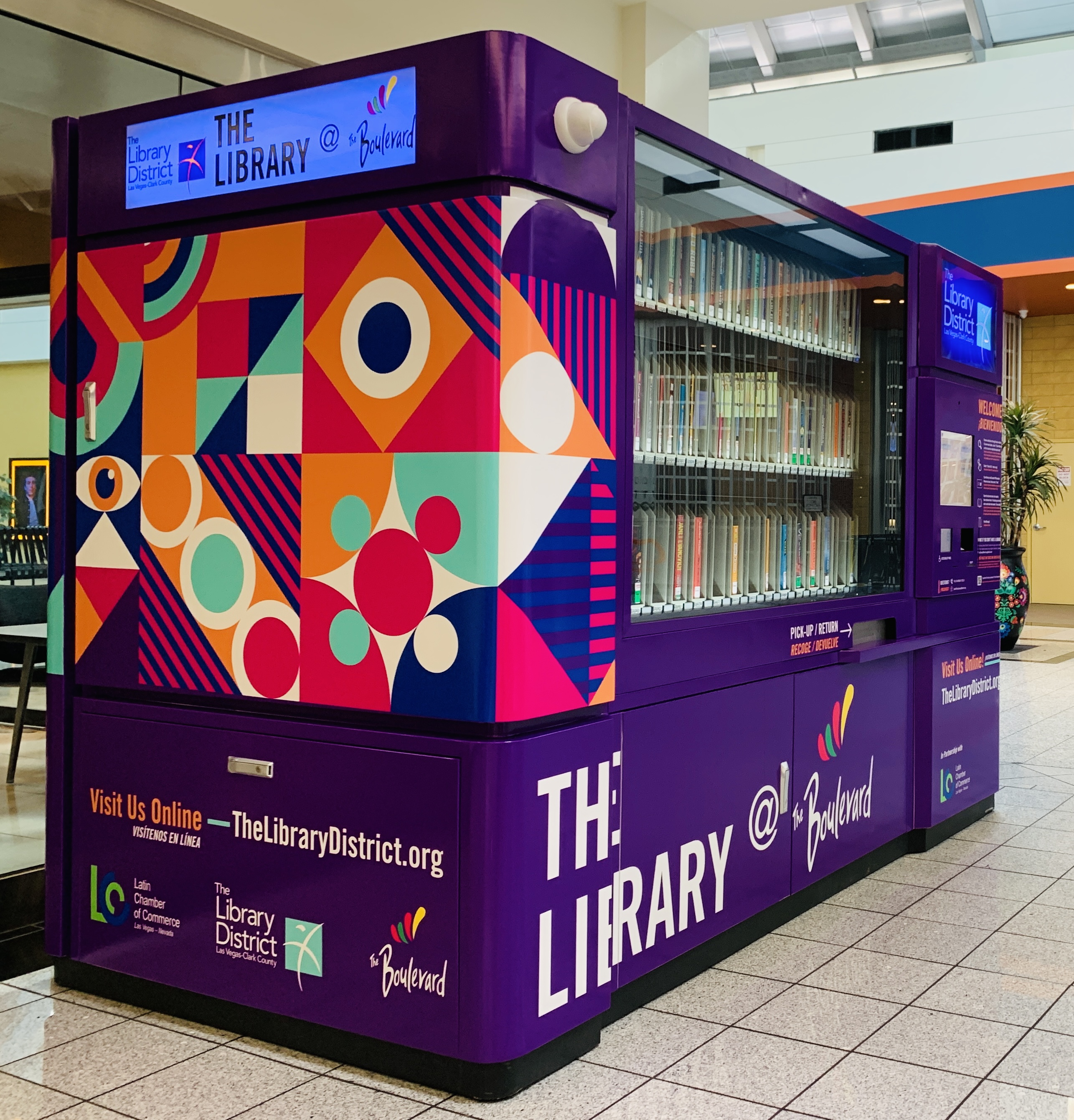 Las Vegas, NV, United States, May 05, 2023 (GLOBE NEWSWIRE) — The newest attraction at the Boulevard Mall weighs 2.5 tons and dispenses a world of discovery with the swipe of a free library card. Operated by the Las Vegas-Clark County Library District, the user-friendly book vending machine uses this familiar technology to put English and Spanish language books into the hands of kids, teens, and adults. 
Dubbed the Library at the Boulevard Mall, the machine houses 235 books in both Spanish and English and is situated inside the mall near the Galaxy Theaters. With its colorful exterior and sizeable dimensions — standing 7-feet high and 10 feet wide — the Library at the Boulevard Mall is easy to find. Simply follow the instructions (available in English and Spanish) to check out your book selection using your library card. There is a 21-day check-out period, and books can be returned to the vending machine or any library branch. Library cards are free and can be obtained at any of the Library District's 25 branches. 
"This new remote library represents an exciting next step in the Library District's quest to bring the power of our libraries directly to the people, to places where they gather to make new connections in their communities," said Kelvin Watson, executive director of the Las Vegas-Clark County Library District. "Our goal at the Library District is to help people discover that we offer so much more than books – though books and reading will always be our core mission." 
"Access to technology is a basic human right," Watson said, "and this new library vending machine is a noteworthy example of how we are using technology to serve underserved communities and uplift people's lives." 
The Library District unveiled the machine on May 5, with the help of Nevada Gov. Joe Lombardo, who cut the ribbon on the new library. 
"In partnership with the Library District and the Latin Chamber, we are coming up with solutions in the State of Nevada for early literacy," Lombardo said at the ribbon-cutting ceremony. "Education opens up opportunities, and the ability to do with your life what you want instead of what someone else is telling you to do." 
Latin Chamber of Commerce President Peter Guzman said the new Library at the Boulevard Mall represents an important economic investment in the neighborhood.  
"Libraries are a critical community resource for services, such as job training, ESL classes, tutoring, and reminding us of our cultural roots," Guzman explained. "Under Kelvin Watson's leadership, the Las Vegas-Clark County Library District is at the forefront of creating far-reaching educational efforts, and developing original programming that touches the lives of so many people. The library serves as an economic engine, by providing educational opportunities for everyone." 
Established in 1968, the Boulevard Mall (3528 S. Maryland Parkway) has become an economic hub that serves the residents of the Maryland Parkway/Desert Inn Corridor, where 34,000 vehicles pass by daily. The geographic location is accessible to everyone; creating a dynamic multicultural hub for business and leisure, making it the perfect location for a new bi-lingual library. 
"We are excited and proud to be a part of bringing the mobile library to the Boulevard Mall to serve our community," said Timo Kuusela, vice president and general manager of Boulevard Ventures, LLC. 
For more information about how to get a library card, visit the Library District website at thelibrarydistrict.org/getcarded. 
About Las Vegas-Clark County Library District 
The award-winning Las Vegas-Clark County Library District is an independent taxing entity that serves a diverse community across 8,000 square miles. Through its 25 branches and website, the Library District offers a collection of 3.2 million items, including books, movies, music (including streaming and downloadable), online resources, and free programs for all ages. The Library District is a vibrant and vital member of the community offering limitless learning; business and career advancement; government and social services support; and best of all, a place where customers find a sense of culture and community. For more information, and to support Library District programs, please visit TheLibraryDistrict.org.   
### 
The Library at the Boulevard Mall