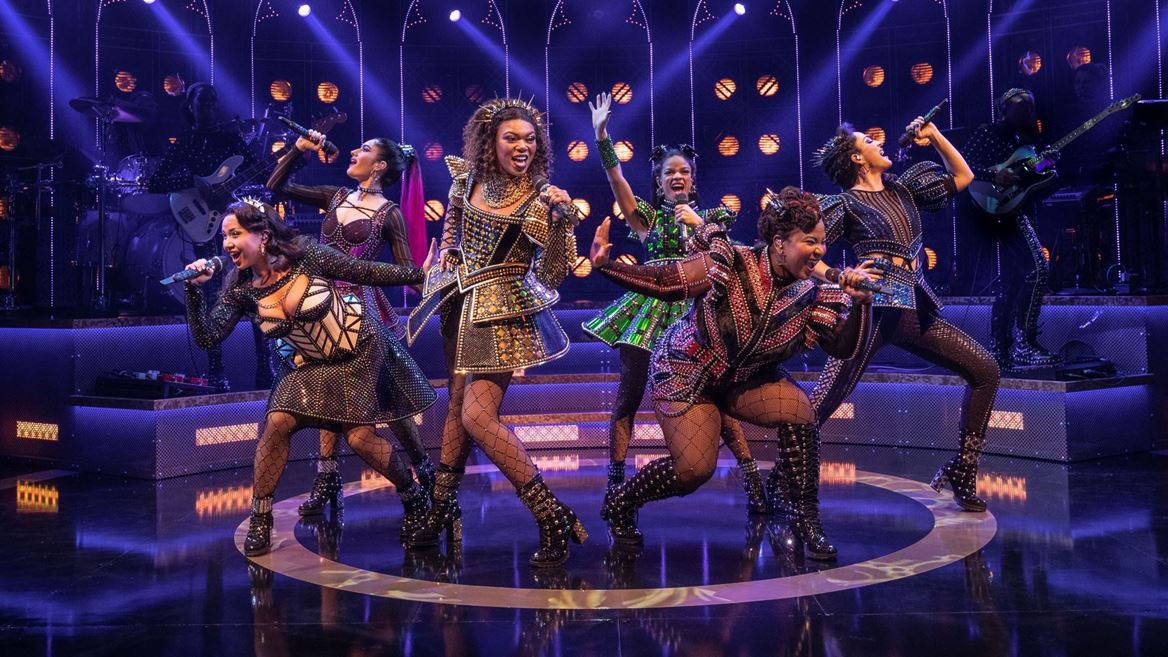 Las Vegas News Briefs − December 2022
The Venetian Resort Las Vegas Presents Tony-Award Winning Global Sensation SIX
The Tony Award-winning global sensation SIX debuts at The Palazzo® Theatre inside The Venetian® Resort Las Vegas on March 21, 2023, for a strictly limited seven-week engagement. SIX will play eight performances each week of the limited engagement—Tuesday, Wednesday, Thursday, and Friday at 8:30 p.m., Saturday at 6:30 p.m. and 10 p.m. and Sunday at 5 p.m. and 8:30 p.m. SIX, from Tony Award-winning creators Toby Marlow and Lucy Moss, and producers Kenny Wax, Wendy & Andy Barnes, George Stiles and Kevin McCollum, is the new original musical that everyone is losing their head over. The SIX wives of Henry VIII take the microphone to remix 500 years of historical heartbreak into a euphoric celebration of 21st century girl power. The Las Vegas engagement features powerhouse performers in the Aragon North American Tour company including Khaila Wilcoxon as Catherine of Aragon, Storm Lever as Anne Boleyn, Jasmine Forsberg as Jane Seymour, Olivia Donalson as Anna of Cleves, Didi Romero as Katherine Howard, and Gabriela Carrillo as Catherine Parr. For more information, contact Melissa Cohen, SIX Tour Press Contact, melissa@bondtheatrical.com, or Elaine Chaivarlis, The Venetian Resort, elaine.chaivarlis@venetianlasvegas.com.
Las Vegas to Host NCAA Men's Final Four in April 2028
Las Vegas has been selected as a host site for the 2028 NCAA Men's Final Four™, marking the first time it will host the collegiate basketball championship. Games will be played April 1 and April 3, 2028 at Allegiant Stadium, the $2 billion, 65,000-seat global events venue located adjacent to the world-famous Las Vegas Strip. The announcement further solidifies Las Vegas as The Greatest Arena on Earth™, following successful marquee events this year including the NFL Draft and the NFL Pro Bowl. Las Vegas will also host the Formula 1 Las Vegas Grand Prix in 2023 and Super Bowl LVIII in 2024. The ability to present college basketball's most-viewed event is due in part to the completion of Allegiant Stadium in 2020. For more information, contact Molly Castano, Las Vegas Convention and Visitors Authority, mcastano@lvcva.com.
Garth Brooks Announces New Las Vegas Residency Garth Brooks/Plus ONE at The Colosseum at Caesars Palace Beginning in 2023
Garth Brooks has announced a new headlining Las Vegas residency, Garth Brooks/Plus ONE, at The Colosseum at Caesars Palace beginning in 2023. Garth Brooks/Plus ONE will give fans the opportunity to see Garth up close and personal on The Colosseum stage. No two shows will be the same, with varying band members and the occasional special guest, fans are promised a once in a lifetime performance each and every night. Whether it be one fiddle player, percussion and background vocals, or the whole band, each song, as well as every performance, will be a unique and shared experience night after night for Garth and his audience. For more information, contact Robert Jarrett, Caesars Entertainment, rjarrett@caesars.com.
Fremont Hotel and Casino to Debut All-New Food Hall this December
Fremont Hotel and Casino will open its all-new Food Hall this December, bringing six national, regional and local casual dining brands together in a new dining destination in downtown Las Vegas. Scheduled to debut in mid-December, with a grand opening scheduled for January 12, the 13,150-square-foot space will be home to Steak 'n Shake, Huey Magoo's, Roli Roti, CRAFTkitchen, Tomo Noodles and DUNKIN'®. For more information, contact Michael Abante and Lindsey Yaskin, The FIRM Public Relations, boydgaming@thefirmpr.com.
Lotus of Siam Debuts at Red Rock Resort
The newest location of Lotus of Siam, and the first concept from Bua Food Group, a partnership between Penny Chutima and Lou Abin, debuted at Red Rock Casino Resort & Spa in November. Created by James Beard Award-winning Chef Saipin Chutima from century-old family recipes highlighted by a distinct and hearty trifecta of spices, herbs and flavors, the menu largely remains the same, including signature dishes like the crispy duck Khao Soi, garlic prawns, Thai-style stews and coconut-less curries. Along with the familiar menu, the restaurant also features the extensive award-winning wine list curated by Bill Chutima and exceptional cocktail offerings from Kenny Okada. Abin and Chutima designed the space in collaboration with Hatch Design Group with a vision to make guests feel as though they have been transported to Northern Thailand. For more information, contact Rachael Mintz, OneSeven Agency, lotusofsiam@onesevenagency.com.
The Neon Museum to Offer Tour Scripts in Multiple Languages
Beginning Dec. 15, The Neon Museum will offer visitors access to hard copy scripts of the guided tour of its main collection in the Neon Boneyard in five languages: Chinese, French, German, Portuguese, and Spanish. The translation of these tours was made possible thanks to a grant from the Bank of America Charitable Foundation. The five languages were selected based on data collected on which languages the Museum's website is translated into most often by online visitors. For more information, contact Amy Maier, The Warren Group, amy@twgpr.com.
BrewDog Las Vegas Opens Rooftop Brewpub
International brewery BrewDog is set to become the hottest rooftop bar in Las Vegas when it opens on Friday, Dec. 2. Located on the third and fourth floors of the Showcase Mall on Las Vegas Blvd., guests will enjoy 360-degree views of The Strip, a menu with Vegas-exclusive bites, 96 taps featuring BrewDog brews, local favorites and non-alcoholic options, retro arcade games and more. BrewDog's standout feature is a 30,000-square-foot rooftop bar with extraordinary views of The Strip. Unique to the location is a custom-fabricated 30-foot illuminated sign set atop the fourth-floor rooftop. As the name suggests, BrewDog is dog-friendly, complete with K9 hydration stations and treats for furry friends. BrewDog Las Vegas is set to be the largest bar in the brewers' network and features 360-degree views of some of the most iconic sites in the entertainment world. For more information, contact Sidney Stewart, bread & Butter, BrewDogLV@wearebreadandbutter.com.
Rick Springfield to Rock New Residency at The STRAT Hotel, Casino & SkyPod 
GRAMMY Award-Winner Rick Springfield will take the stage at The STRAT Theater this spring with performances Friday, March 24 and Saturday, March 25. Recognized globally for his pop and rock style, Springfield will perform back-to-back hits such as the number one Billboard Hot 100 smash hit, "Jessie's Girl" and other classics such as "Don't Talk to Strangers," "Love Somebody, "State of the Heart" and more. Subsequent show dates to be announced at a later date. For more information, contact Lauren Addante, Wicked Creative, GE@WickedCreative.com.
Big League Weekend is Finally Back in 2023 Featuring Cincinnati vs. Oakland
The Las Vegas Aviators® professional baseball team of the Pacific Coast League, Triple-A affiliate of the Oakland Athletics recently announced, in conjunction with the A's and Cincinnati Communications/Media Relations Departments, Las Vegas Big League Weekend is back with two games for the 2023 Big League Weekend at Las Vegas Ballpark®. The Cincinnati Reds will face the Oakland Athletics on Saturday and Sunday, March 4-5. Game times for the Spring Training series are at 1:05 p.m. (PT), subject to change due to television. Cincinnati will be making its fifth all-time appearance for Big League Weekend (2010, 2011, 2017, 2020). Oakland will make its seventh all-time appearance in Las Vegas (five previous BLW visits: 1994, 1997, 2000, 2015, 2020). The Athletics also played the first six games of the 1996 Major League Baseball season (April 1, 3-7) at Cashman Field due to construction delays in their home stadium. The games marked the first time ever that an MLB season opener was held at a minor league park. For more information, contact Jim Gemma, Las Vegas Aviators Professional Baseball, jgemma@aviatorslv.com.
Flight Club Las Vegas Announces Grand Opening inside Grand Canal Shoppes at The Venetian Resort Las Vegas
State of Play Hospitality, operator of Flight Club in North America, has announced their new Flight Club Las Vegas destination is open. Joining the world-class lineup at Grand Canal Shoppes inside The Venetian® Resort Las Vegas, the energetic social destination brings a show-stopping environment featuring a unique design, 20 oches, dynamic dining options and more. Boasting over 16,000 square feet, Flight Club Las Vegas showcases its heritage with a vibrant and captivating design, reminiscent of British pubs and fairgrounds with a modern twist. For more information, contact Courtney Cruz, Allied Global Marketing, FlightClubVegas@alliedglobalmarketing.com.
FORMULA 1 HEINEKEN SILVER LAS VEGAS GRAND PRIX Announces Additional On-Sale Dates for November 2023 Race
FORMULA 1 HEINEKEN SILVER LAS VEGAS GRAND PRIX has announced two additional on-sale periods for tickets to its highly anticipated race, set to light up the Las Vegas Strip on November 16-18, 2023. The second and third round of on-track tickets will be available for purchase in late winter and spring at various prices points, starting at $500 for a three-day General Admission ticket. Demand for tickets during pre-sale and the initial general public on-sale was extremely high and these two additional purchase opportunities will provide the general public with more chances to buy tickets to the November 2023 race. For more information, contact Tracey Koblick, R&R Partners, Tracey.koblick@rrpartners.com.
Four-time GRAMMY Award Winner Keith Urban Announces 2023 Las Vegas Residency at Zappos Theater at Planet Hollywood Resort & Casino
Following a successful run of shows over the past three years at The Colosseum at Caesars Palace, Planet Hollywood Resort & Casino announces Keith Urban: The Las Vegas Residency, custom designed for Zappos Theater. Urban's new residency launches on March 3, will include performances on March 3, 4, 8, 10, 11, 15, 17, 18; June 16, 17, 21, 23, 24, 28, 30; and July 1. Urban's shows are always about the songs and these promise to be no different. "God Whispered Your Name," "We Were," and "One Too Many," Urban's 43rd Top 10 single that garnered over 100 million Spotify streams, will likely be played, as well as many of his #1 hits including "Blue Ain't Your Color," "Wasted Time," "Somebody Like You," "Long Hot Summer" and "Days Go By." For more information, contact Robert Jarrett, Caesars Entertainment, rjarrett@caesars.com.
Carrot Top Celebrates 17th Anniversary at Luxor Hotel and Casino
Carrot Top recently celebrated his 17th anniversary at Luxor Hotel and Casino, making him the longest-running headlining comedian in Las Vegas. Since opening in 2005, Carrot Top has performed close to 4,000 shows for over one million guests, attracting fans from around the world and celebrities including Queen, Sting, Amy Poehler, Hannah Einbinder, Vince Neil, Nicolas Cage, Tracy Lawrence, Anderson .Paak, Gene Simmons and many others. Scott "Carrot Top" Thompson has been making audiences around the world laugh for more than three decades. As one of the most recognizable and iconic comedic entertainers, the King of Props induces sidesplitting laughter with his current take on pop culture, music, and headlines of the day in a continually evolving show. Audience members can count on not seeing the same show twice. For more information, contact Kelly Frey, KF Publicity, kelly@kfpublicity.com.
Zouk Group Welcomes Kaskade and Jack Harlow as 2023 Resident Performers at Resorts World Las Vegas
Zouk Group at Resorts World Las Vegas has announced multi-GRAMMY Award-nominated singer, songwriter, producer and remixer, Kaskade, and rap superstar Jack Harlow as the newest resident performers at AYU Dayclub and Zouk Nightclub starting in 2023. A titan in the dance music world, Kaskade will bring his electrifying, high-energy performances to guests at the revolutionary day and nightclubs. Kaskade will kick-off his residency at Resorts World Las Vegas on January 6, 2023, and announced 2023 headlining dates include: Jan. 6, 13, 21, 27; Feb. 4, 17 and March 11. As one of the first DJs to secure a Las Vegas residency in 2010, Kaskade helped pave the way for future residencies and thus making a massive impact on Las Vegas' nightlife culture. With this show, he will bring his legacy along with exciting new sounds, providing an unmatched experience for guests. Harlow, who is currently on a world tour supporting his latest album, "Come Home the Kids Miss You," which features his worldwide smash, "First Class," which debuted at #1 on the Billboard Hot 100 chart. Harlow will make his return to Zouk Nightclub on March 18, 2023. The viral sensation brought crowds to their feet during his performances, lighting up the immersive nightclub with his energy and chart-topping hits, and will headline the venue March 18 and May 27. For more information, contact Allied Global Marketing, Resortsworld@alliedglobalmarketing.com.
The Aces of Comedy Series at The Mirage Adds Comedians and Performances to 2023 Lineup
The Mirage Hotel & Casino announced Wayne Brady and Chico Bean will join the Aces of Comedy Series 2023 lineup at The Mirage Theatre while Jim Jefferies announced additional performances. Multi-Emmy Award winning and GRAMMY award-nominated singer and performer, Wayne Brady, will perform on Jan. 14 and June 10, 2023; Chico Bean, a top veteran on MTV's "Wild 'N Out", will perform April 8, 2023; and Jim Jefferies will return to The Mirage Theatre with his "Give 'em What They Want Tour" on June 2-3, 2023. For more information, contact Allyson Wadman MGM Resorts International, awadman@mgmresorts.com.
The B-52s to Return to The Venetian Resort Las Vegas in 2023 for 10-Night Residency
After performing a series of sold-out shows in Las Vegas this past October, The B-52s, The World's Greatest Party Band, are returning to The World's Greatest Party City in 2023. The Venetian Theatre inside The Venetian® Resort Las Vegas is turning into the Love Shack for a ten-night residency from Friday, May 5 through Sunday, Sept. 3, 2023. The 10 shows going on sale are: May 5, 6, 10, 12, 13; Aug. 25, 26, 30; and Sept. 2, 3. For more information, contact Kelly Frey, KF Publicity, kelly@kfpublicity.com.
Fremont Street Experience Premiers New Viva Vision Music Light Show Featuring Stone Temple Pilots
Fremont Street Experience's Viva Vision canopy recently unveiled the latest addition to its iconic Viva Vision music light show library featuring the music of legendary American rock band Stone Temple Pilots. Fremont Steet Experience's famed Viva Vision shows represent seven- to nine-minute-long visual interpretations of each band, their lyrics and the message and vibe of each artist. Created solely for Fremont Street Experience, the Stone Temple Pilots show features the band's biggest hits including "Interstate Love Song," "Plush" and "Vasoline." Stone Temple Pilots joins an extensive roster of top performers that have created Viva Vision shows including KISS, Bon Jovi, The Who, Queen, Steve Aoki, Tiesto and more. Created by some of the best 3D motion graphic artists in the world, each Viva Vision show is dedicated to bringing visitors to Fremont Street Experience via new and unique entertainment that can't be found anywhere else. For more information, contact Kirvin Doak Communications, fsepr@kirvindoak.com.