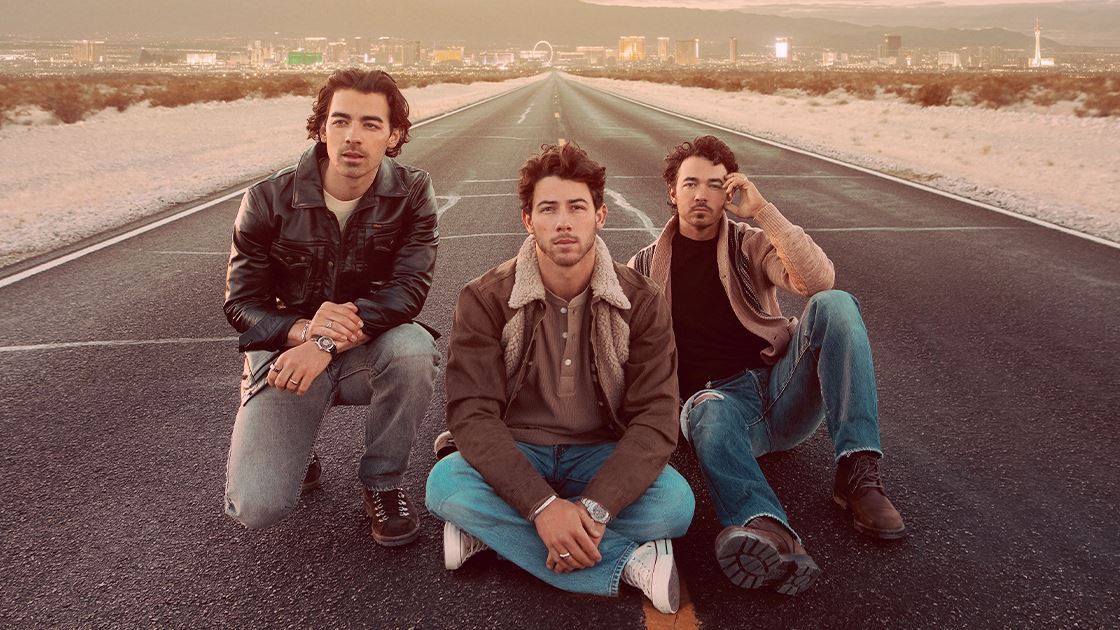 Las Vegas News Briefs − January 2023
Global Pop Icons Jonas Brothers Announce Return of Jonas Brothers: Live in Las Vegas at Park MGM
Following two successful runs in 2022, global pop icons Jonas Brothers announce the return of Jonas Brothers: Live in Las Vegas at Dolby Live at Park MGM in 2023 for three exclusive nights Feb. 17, 18 and 19, 2023. The announcement follows the band's exclusive Las Vegas residency at the venue in June and November and their recently wrapped REMEMBER THIS Tour. The 40-plus date run across the U.S. topped the Pollstar "2021 Year End: Top 100 Tours" chart as one of the highest grossing tours of 2021 with over 528,000 tickets sold. For more information, contact Kelly Frye, KF Publicity, kelly@kfpublicity.com.
Comedy Legends Steve Martin & Martin Short Return to Encore Theater at Wynn Las Vegas with Two-Show Run in September 2023
Following their sold-out performances in June 2022, legendary comedians Steve Martin and Martin Short will return to Encore Theater at Wynn Las Vegas with a two-night engagement. On Friday, Sept. 22 and Saturday, Sept. 23, 2023, the titans of comedy will bring their "You Won't Believe What They Look Like Today!" tour back to the intimate venue, allowing audiences to experience the iconic duo's chemistry and stage presence on a more personal level. Martin and Short will be joined by special guests Steep Canyon Rangers and Jeff Babko for both performances. Martin and Short's subversive and often self-deprecating humor is a reflection of the friendship they have forged both on- and off-stage for over three decades. The masters of comedy have toured together since 2015 when they launched their first live show, "A Very Stupid Conversation." The jokes in "You Won't Believe What They Look Like Today!" come at a rapid-fire pace with little set-up and big punch lines as Martin and Short mock Hollywood and the fickle nature of celebrity, but the comedy truly soars when they lovingly (and relentlessly) roast each other. For more information, contact Erica Benken, Giant Noise, aeg@giantnoise.com.
International Superstar Carrie Underwood Announces 2023 Return to Las Vegas with Her Critically-Acclaimed "REFLECTION: The Las Vegas Residency" at Resorts World Theatre
Eight-time GRAMMY® Award-winning superstar Carrie Underwood has announced that her much-anticipated return to Las Vegas will commence on June 21, 2023 with 18 new show dates for the exclusive Las Vegas production, produced by Concerts West/AEG Presents. 2023 show dates will include June 21, 23, 24, 28, 30; July 1; Sept. 20, 22, 23, 27, 29, 30; Nov. 29; and Dec. 1, 2, 6, 8, 9. As the first artist to grace the Resorts World Theatre stage, Underwood opened the doors of the 5,000-capacity, world-class theatre with a sold-out premiere on Dec. 1, 2021. Exclusively designed for the state-of-the-art venue, REFLECTION quickly became a must-see show in Las Vegas garnering rave reviews by critics and fans alike and selling out all runs in 2022. For more information, contact Nick Flynn, Allied Global Marketing, Resortsworld@alliedglobalmarketing.com.
"Leonardo da Vinci: The Exhibition" Opens Inside the Grand Canal Shoppes at The Venetian Resort
The Italian Renaissance comes to the Las Vegas Strip with the opening of "Leonardo da Vinci: The Exhibition" inside the Grand Canal Shoppes at The Venetian® Resort Las Vegas. Presented by NEXT EXHIBITION, the experience takes guests of all ages into the mind of history's greatest artist and scientist, who revolutionized both the visual arts and history of thought and science. A painter, sculptor, inventor, military engineer, stage designer, anatomist, thinker and man of science, da Vinci personified the Renaissance through both visual arts and innovation. As guests take a journey through the history of the arts, they will gaze upon the renowned and greatly debated "Tavola Lucana," self-portrait of da Vinci. Discovered by Professor Nicola Barbatelli, this is the first time the enigmatic painting will be on display in the U.S. For more information, contact Morgan Gibson, OneSeven Agency, davinci@onesevenagency.com.
Miranda Lambert Extends Velvet Rodeo Headlining Las Vegas Residency at Zappos Theater at Planet Hollywood Resort & Casino
Critically acclaimed "Miranda Lambert: Velvet Rodeo The Las Vegas Residency" has been extended through the end of 2023 due to remarkable fan demand. The 16 new 2023 shows will take place July 7, 8, 12, 14, 15, 19, 21, 22; Nov. 30; and Dec. 2, 3, 7, 9, 10, 14, 16. Designed exclusively for Zappos Theater and promoted by Live Nation and Caesars Entertainment, "Miranda Lambert: Velvet Rodeo The Las Vegas Residency" gives fans an up close and personal opportunity to experience live performances of Lambert's numerous chart-topping songs and beloved album cuts. For more information, contact Kelly Frye, KF Publicity, kelly@kfpublicity.com.
Atomic Museum Rebrands, Embraces Popular Appeal of Atomic Age
Known as the National Atomic Testing Museum since its inception, the Atomic Museum has introduced a new brand and a new mission of attracting more visitors, thereby increasing general knowledge about the history and impact of the nuclear industry throughout the world. Aiming to appeal to Las Vegas locals and visitors from around the globe, the museum seeks to highlight programming, exhibit and content emphasizing not only nuclear history, but also a broader understanding of social, political and popular culture impacts associated with the Atomic Age. Since opening, the Museum has established one of the most comprehensive collections of atomic history in the world. The current collection encompasses thousands of rare photographs, videos, more than 3,500 artifacts and scientific and nuclear reports and data. For more information, contact Desiree Vontur or Erica Pope, The Vox Agency, desiree@thevoxagency.com, erika@thevoxagency.com.
Iconic Rock Band, Pixies, Set to Make Debut at Encore Theater at Wynn Las Vegas in May 2023
Wrapping up the first leg of their massive 2022-2023 World Tour, iconic rock band, Pixies, have announced their debut at Encore Theater at Wynn Las Vegas with a two-night engagement on Friday, May 12, 2023 and Saturday, May 13, 2023, providing a rare opportunity for fans to experience the band in an intimate setting. The 2022-2023 tour is in support of the band's latest album, Doggerel, a mature yet visceral record of gruesome folk, ballroom pop and brutal rock. Over the course of the band's 36-year history, they have released eight genre-defining studio albums, including the Gold-certified Surfer Rosa, and the iconic Platinum album, Doolittle, considered one of the all-time, quintessential alternative-rock albums. The Pixies' live shows are unadulterated magic, simultaneously electrifying and lo-fi, consisting of the band playing anything they want, in whatever order they want – guaranteeing guests a different show every time. Prior to every tour, the Pixies rehearse 90-100 songs from their extensive catalog, choosing their "next song" moments before the first note is played. For more information, contact Erica Benken, Giant Noise, aeg@giantnoise.com.
By Popular Demand, Usher Adds Three Dates to Headlining Las Vegas Residency at Park MGM
After selling out all 25 of his 2022 shows at Dolby Live at Park MGM, global megastar and eight-time GRAMMY Award-winner Usher has announced three additional 2023 dates for his headlining residency on Feb. 24-25 and March 1, 2023. Custom-designed for the expansive Dolby Live stage and presented in partnership by Live Nation and MGM Resorts International, the show gives audiences an extraordinary immersive experience with extravagant costumes and state-of-the-art technology in lighting, video and special effects. The exclusive, only-in-Vegas spectacular is packed with an impressive repertoire of smash hits spanning the multi-talented showman's 20-year career, including "Yeah," "U Remind Me," "My Boo," "Love In This Club," "OMG" and "You Make Me Wanna…" The show incorporates audience interaction and staging throughout the 5,200-seat entertainment venue, where every guest has an up close and personal experience with the superstar. For more information, contact Kelly Frye, KF Publicity, kelly@kfpublicity.com.
Comedians Nate Bargatze & Taylor Tomlinson Announce Additional Performances at Encore Theater at Wynn Las Vegas in February 2023
Due to high demand, beloved comedians Nate Bargatze and Taylor Tomlinson have announced additional dates for February 2023 following their already-sold-out scheduled appearances at Encore Theater at Wynn Las Vegas. Wynn Las Vegas resident headliner Nate Bargatze has added a third performance of his Be Funny Tour to his return to Encore Theater with an additional Big Game Weekend show on Saturday, Feb. 11, 2023. Known for her witty and relatable comedic style, Taylor Tomlinson has added a second performance to her return to Wynn Las Vegas for her Taylor Tomlinson: The Have It All Tour. Tomlinson's additional show will take place Friday, Feb. 17, 2023. For more information, contact Erica Benken, Giant Noise, aeg@giantnoise.com.
Comedian Bill Maher Adds Performances at David Copperfield Theater in MGM Grand in Las Vegas
Comedian, actor and television host Bill Maher will perform four additional 2023 show dates inside the David Copperfield Theater at MGM Grand Hotel & Casino. In addition to his previously announced Feb. 17 – 18 and June 16 – 17 show dates, Maher will bring his unflinching honesty and hilarious comedy to Las Vegas Sept. 15 – 16 and Nov. 3 – 4. For more than 25 years, Bill Maher has set the boundaries of where funny, political talk goes on American television with performances including "Politically Incorrect" (Comedy Central, ABC, 1993 – 2002) and "Real Time with Bill Maher" (HBO 2003 – present). Maher has been recognized with numerous Emmy nominations for "Real Time with Bill Maher" and "Politically Incorrect" as well as several of his 12 solo HBO stand-up specials. His most recent special, "#Adulting," aired in Spring 2022. For more information, contact Allyson Wadman or Madison Wilbanks, MGM Resorts International, awadman@mgmresorts.com, mwilbanks@mgmresorts.com.
Sebastian Maniscalco Extends Residency at Encore Theater at Wynn Las Vegas with Four Additional Performances in March 2023
Announced on the heels of his highly-anticipated new Netflix special Sebastian Maniscalco: Is It Me?, world-renowned comedian and Wynn Las Vegas headliner Sebastian Maniscalco will add four additional performances to his 2023 Sebastian Maniscalco, Live from Las Vegas run at Encore Theater at Wynn Las Vegas, March 3-4, 2023 with shows at 7 p.m. and 10 p.m. nightly. Maniscalco, referred to by The New York Times as "the hottest comic in America," shows no signs of slowing down following a slew of sold-out performances at Wynn Las Vegas and the recent release of his sixth Netflix special, which was filmed at Encore Theater. Billboard's recently announced "Year in Tour" results for 2022 ranked Maniscalco's Nobody Does This Tour as the third highest grossing comedy tour in 2022, and he was only one of three comedians – along with Kevin Hart and John Mulaney – to crack Billboard's top 50 grossing tours overall, coming in at No. 44. His distinctive physical brand of comedy both on-stage and on-screen continues to earn acclaim from audiences around the world. For more information, contact Erica Benken, Giant Noise, aeg@giantnoise.com.