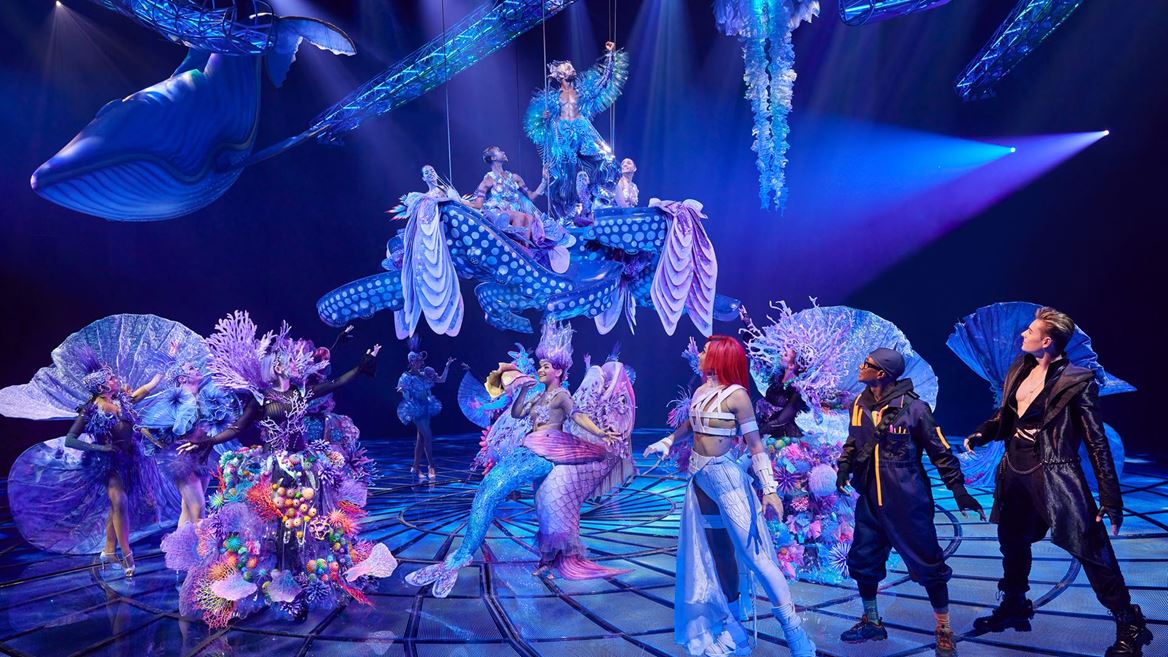 Las Vegas News Briefs − November 2022
Wynn Las Vegas Announces Awakening, An Unparalleled New Show Experience
Wynn Las Vegas introduces a new era of entertainment when the resort premieres Awakening on Nov. 7. An unprecedented spectacle, Awakening immerses audiences in the custom-designed, 360-degree Awakening Theater. The show is conceived and created by Bernie Yuman, Baz Halpin and Michael Curry, and narrated by two-time Academy Award-winner Anthony Hopkins. Awakening invites audiences to join the quest of a heroine and her two fellow travelers as they seek to reunite two lost lovers. Infused with modern day myth and magic, the show comes to life through a combination of dramatic choreography, technology, fantastic creatures, and a custom sound system designed to showcase its breathtaking original musical score. The theater features 1,600 seats, each within 75 feet of center stage and equipped with a sound system that envelops audiences through WynnSonic featuring PHBX Technology™ – a technology that creates 3D sound. Elaborate set designs are showcased as the journey unfolds across a 60-foot prismatic stage, made of dichroic glass and custom LED screens. More than 300 costumes, inspired by haute couture, bring the five unique and visceral worlds of Awakening to life. For more information, contact Jordan Massanari, Wynn Las Vegas and Encore, jordan.massanari@wynnlasvegas.com.
Mandalay Bay Announces $100M Remodel of 2.1 Million-Square-Foot Convention Center
Recognized as one of the country's preeminent meeting and trade show destinations, Mandalay Bay Resort & Casino recently unveiled details around the $100 million remodel of its 2.1 million-square-foot convention center. Reflecting the evolving needs and preferences of contemporary meetings, significant technology upgrades, dynamic digital signage and a fresh, new design complementing Mandalay Bay's tropical ambiance highlight the remodel. Understanding the increasing demand for consistent, robust communication, Mandalay Bay recently installed entirely new Cat6A Ethernet cabling throughout its convention center as part of the overall transformation. Cat6A doubles the frequency of data transmission and increases the speed up to 9,400% — the equivalent of downloading a 4K movie in 30 seconds. As part of MGM Resorts' commitment to providing a platform for diverse and underrepresented artists, the remodeled convention space will feature breathtaking new works by Thandiwe Muriu and Sarah Anne Johnson, among others. Mandalay Bay Convention Center will remain open and fully operational throughout the remodel, with upgrades executed in phases. The project is expected to be complete by the end of 2024. For more information, contact Stacy Hamilton, MGM Resorts International, shamilton@mgmresorts.com.
Bortolami Brings the Latest Iteration of its Artist / City Initiative to Las Vegas
Bortolami announces the new edition of its Artist / City initiative to be held in downtown Las Vegas with New York–based Japanese painters Koichi Sato and Susumu Kamijo, and Los Angeles–based artist Jonas Wood. Expanding exhibition programming outside the gallery's walls, the Artist / City initiative pairs artists with an unconventional space in an American city for a longer duration than a standard gallery exhibition, granting artists freedom to push the boundaries of their creative practices. On the occasion of this site-responsive exhibition in Las Vegas, the artists have each worked on a series of new paintings, which will occupy the vacant site of a former Greyhound bus terminal adjacent to the Plaza Hotel & Casino. The exhibition will be on view from Nov. 18 to Feb. 26. For more information, contact Amy E. S. Maier, The Warren Group, amy@twgpr.com. For interview and image requests, contact Antonio Scotto di Carlo, Fitz & Co, ascottodicarlo@fitzandco.com.
Ramsay's Kitchen by Gordon Ramsay Now Accepting Reservations at Harrah's Las Vegas
Ramsay's Kitchen at Harrah's Las Vegas, led by multi-Michelin-starred chef and television personality Gordon Ramsay, is now accepting reservations through OpenTable. Ramsay's Kitchen, which marks the celebrated chef's sixth Las Vegas restaurant in partnership with Caesars Entertainment, offers a glimpse into Chef Ramsay's personal kitchen and takes guests on a culinary journey inspired by his travels around the world. The Ramsay's Kitchen menu will offer a mix of original specialties infused with Vegas flair, specifically curated for the Entertainment Capital of the World. The 244-seat restaurant at Harrah's Las Vegas will be open from 11 a.m. to 11 p.m. and will feature a seven-seat seafood counter, full bar and private dining room. For more information, contact Kala B. Peterson, Caesars Entertainment, Kpeterson1@caesars.com.
Katy Perry Announces 2023 Show Dates to Hit Residency "Katy Perry: Play" at Resorts World Theatre
International sensation Katy Perry is giving music fans 14 more chances to see her in Las Vegas with the announcement of new 2023 show dates to her highly acclaimed Las Vegas residency "Katy Perry: PLAY," at Resorts World Theatre. The new shows are scheduled Feb. 15-25 and March 3-April 15. The new 2023 show dates kick-off the second year of the larger-than-life residency which premiered on Dec. 29, 2021, in the newest theatre on the Las Vegas Strip. For more information, contact Nick Flynn, Allied Global Marketing, Resortsworld@alliedglobalmarketing.com.
Legendary Band Chicago to Return to The Venetian Resort Las Vegas
Due to popular demand, one of the most successful and critically acclaimed rock bands of all time – Chicago – announced it will return to The Venetian Theatre inside The Venetian® Resort Las Vegas in 2023 for the sixth year in a row for an eight-show limited engagement. The shows will be held on Feb. 24 – 25 and March 1, 3, 4, 8, 10, 11 at 8 p.m. Hailed as one of the "most important bands in music since the dawn of the rock and roll era," the legendary rock and roll band with horns, Chicago, came in as the highest charting American band in Billboard Magazine's Top 125 Artists Of All Time. And Chicago is the first American rock band to chart Top 40 albums in six consecutive decades. For more information, contact Kelly Frey, KF Publicity, kelly@kfpublicity.com.
Construction Crews Top Off the Tower at Durango Casino & Resort
Durango Casino & Resort recently hosted a ceremony as construction workers topped off the 15-story, 216-foot tower with the final beam, symbolic tree, and concrete pour of the hotel. The $750 million Durango Casino & Resort is the next generation Station Casinos Resort Hotel as the company continues to set out its long-term strategic vision in the Las Vegas gaming market. Durango Casino & Resort is slated to open late 2023. The new hotel and casino will feature 15 floors with more than 200 hotel rooms, convention and meeting spaces, a resort pool with cabanas, outdoor social areas and free parking. For more information, contact Victoria Cintra, Allied Global Marketing, SCMediaRequest@alliedglobalmarketing.com.
Sir Rod Stewart Extends Hit Las Vegas Residency Into 12th Year with New 2023 Concerts
Legendary Rockstar Rod Stewart will return to Las Vegas in 2023 for 13 shows of his acclaimed residency "Rod Stewart: The Hits." presented in partnership by Caesars Entertainment and Live Nation Las Vegas, at The Colosseum at Caesars Palace. "Rod Stewart: The Hits." will perform select dates in May and November. For more than 10 years, the two-time Rock and Roll Hall of Fame inductee has delivered an arena-sized concert in an intimate concert experience that's exclusive to Las Vegas audiences, with no seat more than 145 feet from his majestic stage. The hits-packed setlist includes songs like, "You Wear It Well," "Maggie May," "Da Ya Think I'm Sexy," "The First Cut is the Deepest," "Tonight's the Night," "Every Picture Tells A Story," "Infatuation," and "Forever Young." The 2023 concert dates are: May 3, 5, 6, 10, 12, 13, 15; Nov. 10, 11, 15, 17, 18, 22. For more information, contact Robert Jarrett, Caesars Entertainment, rjarrett@caesars.com.
Wynn Las Vegas Announces New Dining Concept in Partnership with Chef Alon Shaya and Restaurateur Emily Shaya
Wynn Las Vegas is pleased to announce a partnership with James Beard Foundation award-winning chef Alon Shaya and restaurateur Emily Shaya of Pomegranate Hospitality, with a new restaurant debuting at Wynn Las Vegas in winter 2023. Pomegranate Hospitality includes five critically acclaimed bars and restaurants across New Orleans and Denver. The partnership with Wynn Las Vegas will mark Pomegranate Hospitality's first footprint in Las Vegas. The new restaurant will introduce modern, Mediterranean cuisine with Middle Eastern influences to Wynn Las Vegas. The restaurant will take over the location of the former Intrigue Lounge and will be designed by Rockwell Group, in collaboration with Wynn Design and Development. Updates on menus, design, and more will be unveiled in the coming months. For more information, contact Jesse Williams, Wynn Las Vegas, jesse.williams@wynnlasvegas.com.
First Of Eight Refurbished, Historic Neon Signs Has Been Installed On Las Vegas Boulevard
The first of eight refurbished and historic neon signs has been installed as part of the continuing Las Vegas Boulevard Improvement Project. The signs are owned by the city of Las Vegas, The Neon Museum and Young Electric Sign Company (YESCO) and will be installed over the next several months. The signs will join the existing eight classic neon signs already installed in the Las Vegas Boulevard median from Sahara Avenue to just north of Washington Avenue. The signs celebrate the history of vintage Vegas, beautify a world-famous roadway and create a neon trail to The Neon Museum. All eight of the neon signs will be officially lit next spring to celebrate the completion of the $125 million Las Vegas Boulevard Improvement project. The Par-A-Dice Motel sign is the first of the new signs to be installed just north of Oakey Boulevard on Las Vegas Boulevard. For more information, contact Jace Radke, city of Las Vegas, jradke@lasvegasnevada.gov.
GRAMMY Award-Winning Superstar Bruno Mars Announces 2023 Dates at Park MGM
Multi-GRAMMY Award-winning superstar Bruno Mars announced 10 new show dates at Dolby Live at Park MGM in Las Vegas. The 10 show dates are: Jan. 25, 27, 28; Feb. 1, 3, 4, 8, 10, 11, 14. Fourteen-time GRAMMY-Award winner and 30-time GRAMMY Award nominee Bruno Mars is a celebrated singer, songwriter, producer, and musician who has sold over 200 million singles worldwide, making him one of the best-selling artists of all time. For more information, contact Katharine Sherrer, MGM Resorts International, ksherrer@mgmresorts.com.
M Resort Spa Casino Announces $206 Million Expansion
M Resort Spa Casino, operated by PENN Entertainment, recently announced a $206 million expansion adding a second tower to the award-winning Henderson resort. The M Resort expansion project will add approximately 384 rooms bringing its total to 774 rooms and suites. Along with the additional guest rooms and suites, M Resort will also expand its meeting space, update amenities, and announce additional local partnerships later. Designed by Marnell Architecture, the M Resort Spa Casino expansion and second resort tower project is slated to begin construction in 2023. For more information, contact Chandra Stepanovich, Dandelion Public Relations, chandra@dandelionpr.com.
Jim Gaffigan Returns to Encore Theater at Wynn Las Vegas with All-New Dark Pale Tour, May & August 2023
Following numerous sold-out performances at the intimate venue, Wynn Las Vegas resident performer Jim Gaffigan will return to Encore Theater in 2023 with his all-new tour, Jim Gaffigan: Dark Pale. Gaffigan will delight fans with four performances over two weekends, May 19-20 and Aug. 25-26, 2023. Gaffigan is a six-time GRAMMY-nominated comedian, actor, writer and producer, two-time New York Times best-selling author, two-time Emmy-winning top touring performer, and multi-platinum-selling recording artist. He is celebrated worldwide for his unique brand of humor, incorporating his incredibly funny observations from fatherhood to friendships and New York City living. For more information, contact Erica Benken, Giant Noise, erica.benken@giantnoise.com.
David Blaine Mesmerizes Sold-Out Crowd During Opening Weekend of His First-Ever Las Vegas Residency at Resorts World Theatre
Recently magician, extreme illusionist, and stunt artist, David Blaine, premiered his first-ever residency, DAVID BLAINE: IN SPADES, exclusively at the Resorts World Theatre in Las Vegas. Blaine continued to push the limits, mesmerizing audience members with never-before-seen magic, awe-inspiring illusions, and death-defying stunts in the newest theatre on the Las Vegas Strip. Throughout the one-of-a-kind production, Blaine utilized the unique, state-of-the-art features of the Resorts World Theatre incorporating large-scale installations. Due to overwhelming ticket demand, the magician is adding six new 2023 show dates to DAVID BLAINE: IN SPADES: Jan. 6, 7, 27, 28; March 10, 11. For more information, contact Nick Flynn, Allied Global Marketing, ResortsWorld@alliedglobalmarketing.com
Jerry Seinfeld Makes His Return to The Colosseum at Caesars Palace
For the first time since 2019, Jerry Seinfeld, world famous comedian, author, producer and director, will return to The Colosseum at Caesars Palace for six shows in 2023 to perform his world-famous stand-up comedy. 2023 performances are: April 14-15; June 9-10; July 28-29. Seinfeld's latest Emmy nominated Netflix projects include Jerry Before Seinfeld and 23 Hours to Kill along with the highly acclaimed web series, Comedians in Cars Getting Coffee. He will star in the upcoming comedy film, Unfrosted: The Pop-Tart Story, which he directed, co-wrote, and produced. For more information, contact Robert Jarrett, Caesars Entertainment, rjarrett@caesars.com.
Formula 1 Las Vegas Grand Prix Announces Ticket Sales Dates for November 2023 Race
Formula 1 Las Vegas Grand Prix has announced the on-sale date for tickets to its highly anticipated race, set to light up the Las Vegas Strip on November 16-18, 2023. Pre-sale will be available on Ticketmaster to American Express Card Members from Nov. 1 at 10 a.m. PT through Nov. 3 at 9:59 a.m. PT. The priority interest list will receive early access to a dedicated ticket allotment beginning on Nov. 3 at 10 a.m. PT, and public on-sale will open Nov. 5 at 10 p.m. PT. In a city where world-class hospitality is always at the forefront, the Las Vegas Grand Prix will redefine the Formula 1 ® fan experience, delivering an unmatched atmosphere at all levels. Ticket prices will start at $500. For more information, contact Tracey Koblick, R&R Partners, Tracey.koblick@rrpartners.com.
FOREIGNER to Return to The Venetian Resort Las Vegas for Three Week Residency
FOREIGNER will once again take over the Las Vegas Strip in 2023 with their exclusive headlining residency show at The Venetian Theatre inside The Venetian® Resort Las Vegas. The shows will be held on March 24, 25, 29 and 31 and April 1, 5, 7 and 8, 2023. With 10 multi-platinum albums and 16 Top 30 hits, FOREIGNER is universally hailed as one of the most popular rock acts in the world with a formidable musical arsenal that continues to propel sold-out tours and album sales, now exceeding 80 million. For more information, contact Kelly Frey, KF Publicity, kelly@kfpublicity.com.
The Aces of Comedy Series at The Mirage Hits the Jackpot with 2023 Performances  
The Mirage Hotel & Casino announced its 2023 Aces of Comedy star-studded lineup. Comedians taking The Mirage Theatre stage in 2023 include Nick Swardson, Tim Allen, Daniel Tosh, Ray Romano and Brian Regan. Performance dates are: Daniel Tosh, Jan. 20 – 21, March 24 – 25, May 5 – 6; Nick Swardson, Feb. 4; Ray Romano and Brian Regan, Feb. 17 – 18, April 21 – 22; and Tim Allen, March 3 – 4. For more information, contact Talia Mohajer, MGM Resorts International, tmohajer@mgmresorts.com.
Brunched By An Angel to Debut at Palms Casino Resort
Brunched By An Angel, the first-ever Las Vegas production show that will allow guests to brunch with their dearly departed, will make its spiritual debut at KAOS inside Palms Casino Resort Las Vegas on Nov. 12-13, with additional shows in the limited-engagement residency set for Dec. 10-11 and Jan. 14-15. Brunched By An Angel is spearheaded by three of the world's best psychic mediums who will connect with the spirits of the audience's loved ones who have passed away. Each medium possesses their own special gifts to reach the departed, and the trio includes Reginald Lewis, along with friends Loriann Mans and Christopher Allan. The two-hour show is limited to only 272 guests to ensure an intimate experience, as well as produce the best odds for anyone that has ever hoped to get a reading from a celebrity medium. For more information, contact Michelle Loosbrock, Jeff Wagner Agency, michelle@jeffwagneragency.com.
ARCADE at Horseshoe Las Vegas is Now Open
The ARCADE at Bally's Las Vegas is now open as the resort continues its rebrand into Horseshoe Las Vegas. Designed by Aria Group, the 7,000-square-foot arcade is illuminated by a glow of bright neon lights and offers a high-energy, multi-sensory experience for all ages and skill levels. The venue features more than 80 supersized games, including classics like Skee-Ball, air hockey, Rock the Rim and an epic claw machine, Big One Extreme. Additionally, players are transported into immersive adventures via virtual reality with games like "King Kong" and "Mission Impossible," a four-player interactive gaming experience. The ARCADE will feature an enhanced and refreshed bar that is scheduled to open in the coming weeks and will serve a selection of bottled and draft beer, cocktails and wine. For more information, contact Brooke Kaplan, Caesars Entertainment, bkaplan@caesars.com.
Wynn Las Vegas Welcomes Back Celebrated Comedians and All-News Tours for Multi-Show Runs in 2023
Preserving its position as the ultimate comedy venue on the Las Vegas Strip, Encore Theater at Wynn Las Vegas will welcome the return of critically acclaimed comedians to its stage throughout 2023. Topping the roster with all-new tours, resident talents like Sebastian Maniscalco (Jan. 6-7 and May 27-28) and Nate Bargatze (Feb. 10-11), as well as celebrated comedians like Taylor Tomlinson (Feb. 17), will return to the theater on select dates in 2023. For more information, contact Jesse Williams, Wynn Las Vegas and Encore, Jesse.Williams@wynnlasvegas.com.
SAHARA Las Vegas Celebrates 70-Year Anniversary
On Friday, Oct. 7, SAHARA Las Vegas celebrated its historic 70-year anniversary. The anniversary celebration also marked the official debut of "70 Years of Extraordinary Images: SAHARA's History in Photographs," an exhibition spanning the resort's history and noteworthy milestones from 1952 to the present day. The collection of iconic images sourced from the Las Vegas Convention and Visitors Authority (LVCVA) Archive includes vintage images of dazzling entertainers and global superstars, including Marilyn Monroe, Grace Kelly, Elvis Presley, The Beatles, Dean Martin, Sammy Davis Jr. and Frank Sinatra, among many other notable guests at SAHARA. Since developer Milton Prell opened the property on Oct. 7, 1952, SAHARA has undergone several expansions and transformations. The property's first expansion to add additional hotel rooms took place in 1954 and two new hotel towers were built in 1960 and 1963, and a third tower was added in 1988. In 2011, the property underwent a redevelopment as SLS Las Vegas before reopening in 2014. In 2017, Alex Meruelo and his company, Meruelo Gaming, announced the purchase of the SLS Las Vegas and its rebranding to SAHARA Las Vegas. Since its grand reopening in 2019, SAHARA Las Vegas has been completely reimagined thanks to a $200 million renovation. For more information, contact Erika Pope, The Vox Agency, erika@thevoxagency.com.
Jimmy Kimmel's Comedy Club to Reopen At The LINQ Promenade Nov. 3
Late-night talk show host and Las Vegas-raised Jimmy Kimmel will reopen his comedy club at The LINQ Promenade Nov. 3 with a lineup of comedians, including Gina Brillon and Luenell. Jimmy Kimmel's Comedy Club is located across from Brooklyn Bowl and near the High Roller – the tallest observation wheel in North America. The 8,000-square-foot venue delivers the ultimate comedy club experience with exceptional attention to detail, from food to specialty cocktails, the stage and a fun-filled atmosphere. Jimmy Kimmel's Comedy Club offers a menu of high-end casual cuisine featuring a variety of shareable bites. Craft cocktails are named for people and places in Jimmy's life–such as the bourbon-based "Aunt Chippy" and tequila-fueled "Guillermo." For more information, contact Vanessa Thill, The Vox Agency, vanessa@thevoxagency.com.