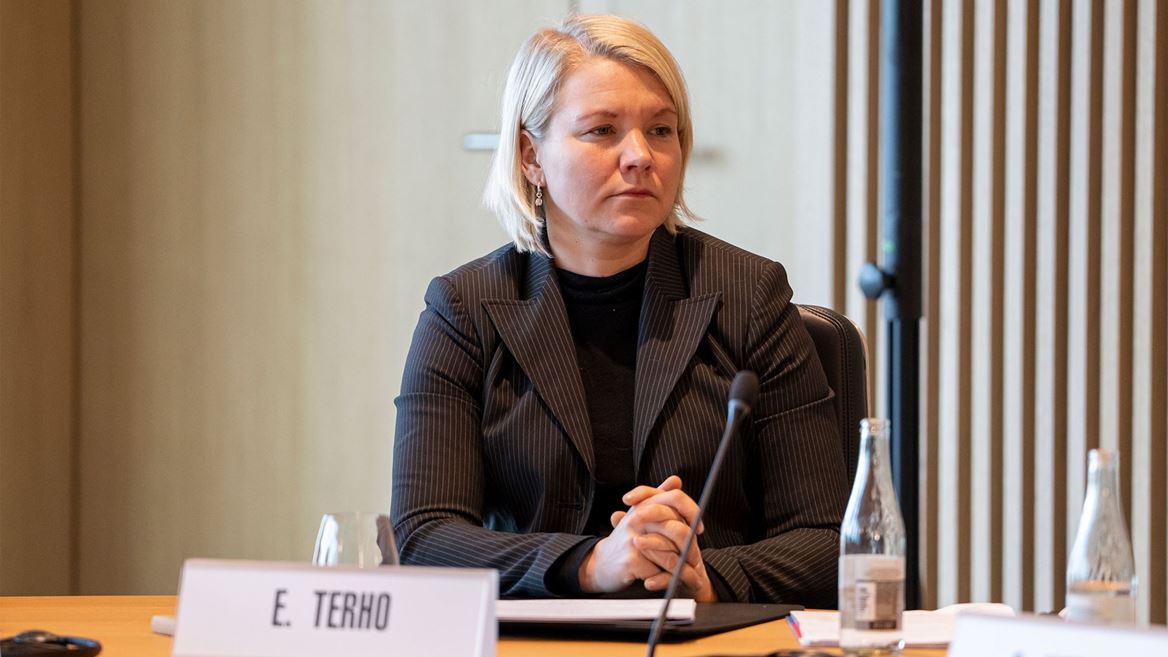 Latest figures highlight growth of Athlete365 community
30 Mar 2023 – The Athlete365 community continues to grow, and the offers made to Olympians and Paralympians by the International Olympic Committee (IOC) are growing too. The numbers and achievements of Athlete365 – the IOC's platform for the global community of Olympians, Paralympians and elite athletes, were presented by Emma Terho, IOC Athletes' Commission Chair, five-time Olympian and two-time Olympic bronze medallist in ice hockey for Finland, on the second day of the IOC Executive Board (EB) meeting.
Athlete365 membership increased by 47 per cent in 2022, from 88,000 members at the end of 2021 to 130,000 at the end of 2022;More than 80 per cent of Olympians who competed at the Olympic Games Tokyo 2020 or the Olympic Winter Games Beijing 2022 are now Athlete365 members;Demographic data revealed the Athlete365 community is getting younger, with 18-24-year-olds becoming the largest user group in 2022.
These encouraging trends highlight that more and more athletes, no matter how early on they are in their sports career, are seeing the benefits of becoming Athlete365 members and taking advantage of the programmes offered by the IOC through Athlete365.
Additionally, new athlete support programmes were launched in 2022 and existing programmes continue to grow, many of which complement the support given through the Olympic Solidarity programmes that have made significant investments to support athlete development across the 206 National Olympic Committees (NOCs).
The Olympic scholarships for athletes programme is just one of Olympic Solidarity's many forms of action aimed at meeting athletes' needs as much as possible. Raising knowledge about offers like these was one of the reasons for starting Athlete365.
Athlete Employability Framework providing more career opportunities
As part of the implementation of Olympic Agenda 2020+5, the Athlete Employability Framework is providing Olympians, Paralympians and elite athletes with increased employment training and opportunities at the IOC and across the Olympic Movement.
This is to support the initiatives already being delivered through Athlete365 Career+, which helps athletes as they prepare for and go through career transition, providing workshops and training for athletes focused on education, entrepreneurship, employment and life skills. In total, 21 Athlete365 Career+ workshops were delivered in 2022, reaching over 700 participants as the focus switched from online to in-person workshop delivery format, which will continue in 2023 with support from Olympic Solidarity.
Olympic Solidarity also funds the Athlete365 Business Accelerator, a popular entrepreneurial programme which provided business support and mentoring to 28 Olympians in 2022. The next round of the programme will launch in the coming months.
More than 1,400 licences have also now been granted for the Athlete Career Portal, a free service launched in 2022 for Athlete365 members which provides career advice, self-assessments, CV and interview tips, job listings, and free access to both LinkedIn Learning and General Assembly courses.
One of the Athlete Employability Framework's first initiatives was the Athlete365 Mentoring Programme, which launched in November 2022 to help athletes increase their employability, expand their network, and acquire personal support and expert insight. The first cohort of 38 athletes have now been expertly matched with experienced mentors from Olympic Movement stakeholders such as The Olympic Partners (TOPs, the LA28 Organising Committee and the IOC, and a second cohort will launch in the second half of 2023.
Purpose-led partnerships to create stronger connections with athletes
During the meeting, a further update was provided on Athlete365 programmes that have leveraged the expertise of the TOP Partners and/or their entrepreneurial involvement in a specific area, with a focus on creating stronger connections with athletes and purpose-driven partnerships.
For example, in 2022, the Airbnb Athlete Travel Grant supported 500 athletes with USD 2,000 each for their accommodation costs on their journey to the Olympic and Paralympic Games. Applications for the next edition of the travel grant will open in April 2023, with a further 1,000 athletes set to receive grants. In addition, the Airbnb Olympian and Paralympian Experiences programme has helped athletes generate more than USD 1 million in revenues since it launched in 2020, with 1,821 athletes registering to host experiences on the platform.
The P&G Athletes for Good programme will award grants worth USD 24,000 each to 16 athletes for their chosen charities in the build-up to Paris 2024, following the success of the programme for Tokyo 2020 and Beijing 2022.
P&G and Airbnb, along with Deloitte, are also supporting the IOC Climate Action Awards, which launched in November 2022 to help athletes, NOCs and International Federations in their efforts to manage carbon emissions and understand their impact on the environment. The winning athletes and organisations will be invited to an awards ceremony taking place in 2023.
Mental health and personal brand support
The delivery of expert-led mental health content and resources continued in 2022, including a new Sleep to Compete learning course focused on developing good sleep habits. A communications campaign was delivered in October 2022 to coincide with Mental Health Awareness Month, which will again take place in 2023, with a new #MentallyFit online course on social media set to be released to coincide with the campaign.
Athlete365 Connect, which enables athletes to receive and post competition photos on social media, is now being provided at some Olympic Qualifier Series events, after 1,713 athletes from 156 NOCs benefited from the programme at Tokyo 2020, and 888 athletes from 77 NOCs benefited at Beijing 2022.
For more information about the IOC's athlete support programmes, go to olympics.com/Athlete365.