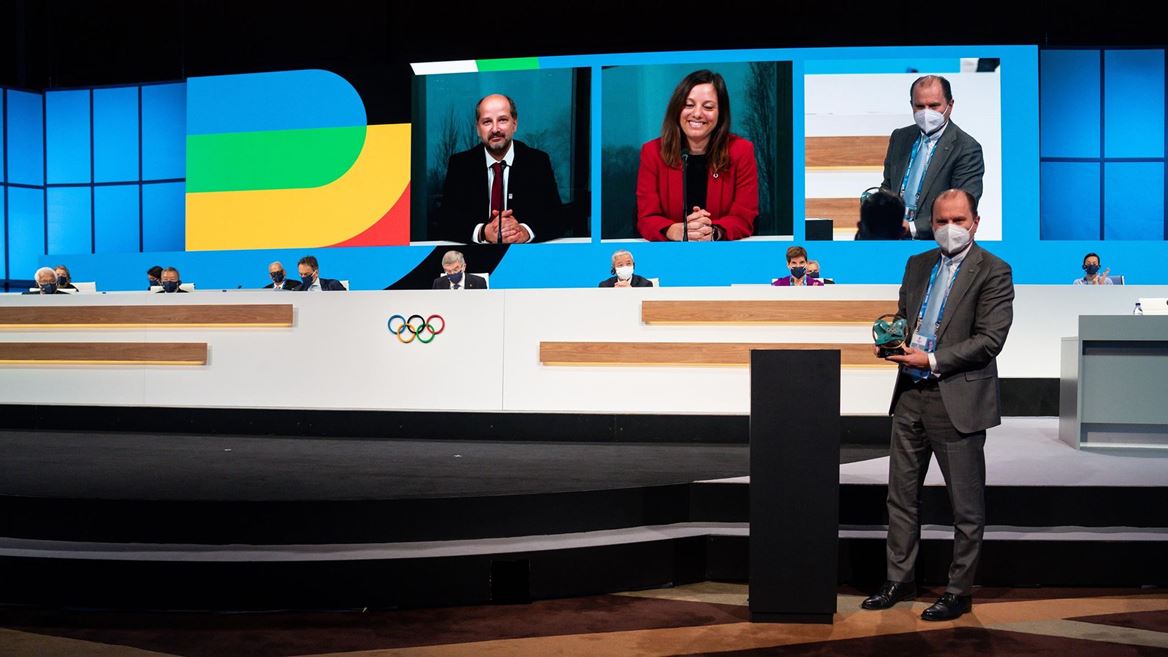 03 févr. 2022 – Lors de la 139e Session du CIO à Beijing qui s'est déroulée aujourd'hui 3 février 2022 à la veille de la cérémonie d'ouverture des Jeux Olympiques de Beijing 2022, les 3es Jeux Olympiques de la Jeunesse (JOJ) d'hiver de Lausanne 2020 étaient à l'honneur. Lausanne 2020 a été un grand succès populaire, sportif et financier.
Le public était au rendez-vous ; 640 000 spectateurs, dont 350 000 lors des compétitions sportives, ont suivi avec ferveur les exploits des jeunes athlètes et ont également été actifs en essayant des sports ou en participant à des activités culturelles dans le cadre du programme "En Jeux" organisé au cœur de la ville de Lausanne. Au total, 80 000 écoliers ont assisté pour la première fois à un événement olympique et ont pu vivre l'Olympisme à travers les nombreuses activités mises sur pied. Par ailleurs, 3 500 volontaires ont été mobilisés.
Avec plus de 150 millions de téléspectateurs pour 2 700 heures de diffusion dans 191 pays, Lausanne 2020 a été l'édition des JOJ la plus regardée de tous les temps.
Du côté sportif, 1 784 athlètes, avec une parfaite égalité entre les sexes, issus de 79 Comités Nationaux Olympiques (CNO) étaient au rendez-vous. Huit sports, dont un nouveau avec le ski-alpinisme, 16 disciplines et 81 épreuves étaient au programme.
Enfin, Lausanne 2020 termine avec un excédent budgétaire de 450 000 dollars (USD) qui sera investi dans des programmes consacrés à la promotion du sport et des valeurs olympiques.
Les JOJ de Lausanne 2020 représentent un héritage pour la ville, une vitrine pour la Suisse et ses stations de sports d'hiver, et un exemple à suivre pour les éditions futures.
À Lausanne, le "vortex", le village des JOJ qui accueillait les athlètes, sert aujourd'hui d'hébergement à plus de 1 000 étudiants et universitaires. Les JOJ ont également servi de catalyseur pour l'aménagement et la rénovation d'installations sportives aux Diablerets, à Leysin et dans la station des Tuffes, en France. Depuis 2020, tous les fans de glisse et de ski, ainsi que de nombreux athlètes, en profitent dans le cadre de compétitions de haut niveau et de stages d'entraînement.
"En tant qu'ancienne compétitrice, je suis heureuse de l'héritage sportif de Lausanne 2020", a confié Virginie Faivre, ancienne présidente du comité d'organisation de Lausanne 2020, aux côtés de Grégoire Junod, syndic de la ville de Lausanne, en duplex depuis la Capitale olympique en Suisse, et de M. Philippe Leuba, conseiller d'État, sur place à Beijing.
Deux nouveaux programmes hérités de Lausanne 2020
Deux programmes hérités des JOJ de Lausanne 2020 seront lancés cette année.
En mars, le projet Génération champions ; il aura pour mission de soutenir les athlètes de talent dans leur transition des Jeux de la Jeunesse aux Jeux Olympiques, pour les aider à passer de la catégorie junior à l'élite. "Dans l'esprit de Lausanne 2020, nous travaillerons également avec les écoles pour promouvoir l'Olympisme avec la venue d'athlètes en classe et un système de parrainage. Ce projet me tient particulièrement à cœur car il a été réalisé par les athlètes, pour les athlètes et avec les athlètes – grâce à Lausanne 2020", a précisé l'olympienne Virginie Faivre, skieuse freestyle suisse et triple championne du monde.
Enfin, le deuxième grand héritage sportif de Lausanne est le projet de parc olympique suisse (Swiss Olympic Park). Piloté par Swiss Olympic, il vise à créer un réseau de centres d'entraînement de haut niveau pour les sports d'été et d'hiver, dans des structures existantes ou nouvelles dans tout le pays, dont un à Lausanne. "Il faut rappeler que Lausanne 2020 a été un formidable succès sportif pour les athlètes suisses qui ont remporté 24 médailles au total. Ce résultat exceptionnel a incité Swiss Olympic à renforcer ses structures réservées aux jeunes athlètes. C'est ainsi qu'est né le projet de Swiss Olympic Park ", a rappelé l'ancienne présidente de Lausanne 2020.
Et le président Thomas Bach de conclure : "Lausanne 2020 ne fut pas seulement un succès pour Lausanne, le canton de Vaud et la Suisse, mais aussi pour le CIO et le Mouvement olympique".
L'héritage de Lausanne 2020 prendra toute sa dimension sur les pistes de Beijing 2022 avec près d'une centaine de jeunes athlètes des JOJ de Lausanne 2020 en lice pour une médaille. Des exploits à suivre !
Advertisement. Scroll to continue reading.
Advertisement. Scroll to continue reading.
Advertisement. Scroll to continue reading.