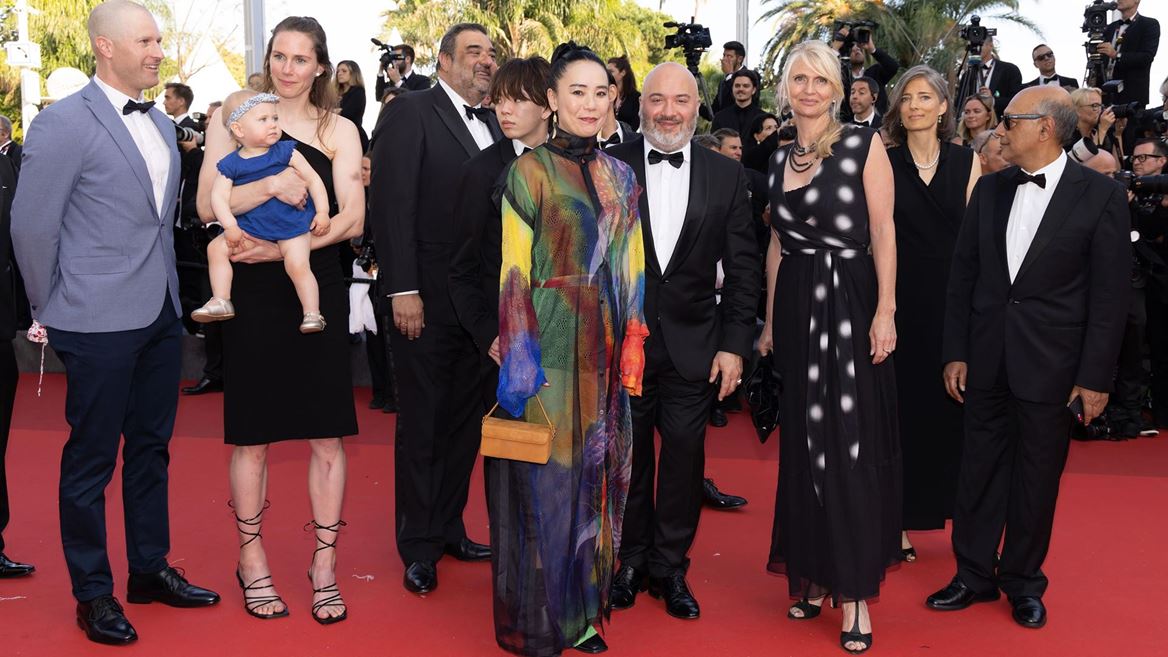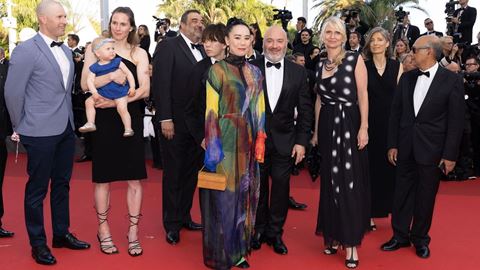 Advertisement. Scroll to continue reading.
Advertisement. Scroll to continue reading.
26 mai 2022 – Le film officiel des Jeux Olympiques de Tokyo 2020 (Official Film of the Olympic Games Tokyo 2020 Side A ), signé par la réalisatrice primée Naomi Kawase, a été projeté dans le cadre de la sélection Cannes Classics au Palais des Festivals et des Congrès, après le traditionnel accueil sur le tapis rouge. Pour ce moment historique lors de l'édition marquant le 75e anniversaire du prestigieux événement cinématographique, l'olympienne Kim Gaucher a rejoint Naomi Kawase sur le tapis rouge, accompagnée de son partenaire et de sa fille de 14 mois.
La basketteuse Kim Gaucher fait partie des nombreux athlètes qui figurent dans le film. Elle et sa famille jouent un rôle central dans le récit du film sur les athlètes féminines qui ont participé aux Jeux Olympiques de Tokyo 2020.
Kim Gaucher a confié qu'elle était "ravie que le film ait mis en lumière les difficultés à trouver un équilibre entre une carrière de joueuse professionnelle et le rôle de mère d'un jeune enfant".
"C'était formidable d'être ici à Cannes pour l'avant-première mondiale du film et de partager ce moment avec ma famille qui m'a soutenue dans le parcours qui m'a menée jusqu'aux Jeux de Tokyo. Le film présente le meilleur de moi-même, en tant qu'athlète et en tant que parent", a-t-elle ajouté.
Naomi Kawase – une habituée de Cannes qui compte à son actif de multiples prix et sélections en compétition – a déclaré que des histoires telles que celles de Kim Gaucher l'ont inspirée dans sa vision de l'événement olympique.
"Il y a des mamans olympiques comme Kim Gaucher, qui réussissent le perpétuel numéro d'équilibriste en concourant au plus haut niveau de leur sport tout en étant mères", a-t-elle déclaré. "Je trouve une grande force dans la ténacité et la grâce de ces femmes. Je regarde le lien entre ces mères et leurs bébés, et je me demande comment ces jeunes enfants verront ce film dans quelques années. Ils sont l'avenir, l'énergie lumineuse renouvelée qui nous propulse vers l'avant. Et c'est avec cet espoir que je raconte ces histoires."
Le film officiel réalisé par Naomi Kawase a été produit en deux parties, l'une décrivant les Jeux à travers le regard des athlètes (face A) et l'autre du point de vue du personnel et des volontaires (face B). La première partie ou "face A" a été présentée dans le cadre de la sélection Cannes Classics le 25 mai et la seconde partie ou "face B" sera diffusée à l'échelle internationale en juin.
Produit par le groupe Kinoshita et le comité d'organisation de Tokyo 2020, en collaboration avec le Comité International Olympique (CIO), le film aborde un thème qui va au-delà des exploits physiques et se concentre sur certains des parcours humains qui jalonnent ces Jeux.
Anant Singh, membre du CIO et producteur de films, qui conduisait la délégation du CIO lors de la projection, a indiqué : "Les films des Jeux Olympiques ont un héritage qui a plus de 100 ans. Le film de Naomi perpétue cette tradition et plonge le public dans les émotions ressenties et les obstacles rencontrés pour ces premiers Jeux reportés de l'histoire, auxquels les spectateurs n'ont pu prendre part en personne. Le film donne un certain éclairage et une vue d'ensemble qui a échappé à beaucoup."
Le compositeur David Hadjadj, qui a écrit la bande originale du film, était également présent à l'avant-première à Cannes, de même que d'autres membres de l'équipe de production.
Pour rappel, Naomi Kawase a été la plus jeune réalisatrice à remporter la Caméra d'or du meilleur premier film au Festival de Cannes avec son premier long métrage, Suzaku, sorti en 1997. Elle est également la première Japonaise nommée ambassadrice de bonne volonté de l'UNESCO en reconnaissance de son travail cinématographique qui se concentre sur les récits intergénérationnels de femmes.
"C'était là une merveilleuse occasion de présenter le film officiel des Jeux Olympiques à un public plus large grâce à la sélection à Cannes", a déclaré Yasmin Meichtry, directrice adjointe de la Fondation Olympique pour la Culture et le Patrimoine (FOCP), en charge des projets de collaboration du CIO en lien avec les films officiels. "Avec Naomi Kawase aux commandes du projet, nous étions sûrs de la valeur cinématographique et de la perspective artistique du film. Ce film viendra compléter le patrimoine audiovisuel déjà riche de Tokyo 2020 dont nous disposons grâce aux images de télédiffusion."
Depuis le début du XXe siècle, des films ont été créés pour chaque édition des Jeux Olympiques. Au fil des décennies, des réalisateurs internationaux de renom ont été inspirés par le Mouvement olympique et ont su repousser les limites de la tradition documentaire olympique pour créer un cinéma puissant dans le cadre de l'héritage culturel des Jeux Olympiques. La collection de films olympiques est composée de plus de 50 longs métrages qui ouvrent une fenêtre cinématographique sur les moments clés de l'histoire des Jeux modernes.
Advertisement. Scroll to continue reading.