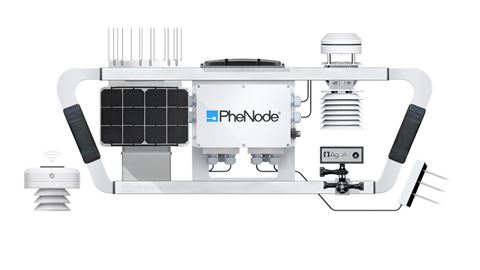 ATLANTA, Ga. – November 13, 2023 – The Ray and the Georgia Department of Transportation (GDOT), in partnership with Agrela Ecosystems and the Donald Danforth Plant Science Center, announce the deployment of Agrela's powerful plant and soil monitoring technology, PheNode®. A first-of-its-kind project launched on a highway roadside, PheNode® will be used to collect air and soil data and monitor wildflower meadow plots at three locations along the Ray C. Anderson Memorial Highway, an 18-mile stretch of Interstate 85 in West Georgia.
This project brings together leaders in sustainable transportation infrastructure and agricultural technology to validate, quantify and promote the natural solutions and value, called "natural capital," that highway right of way (ROW) can contribute to communities and the environment. Georgia DOT, The Ray and the University of Georgia College of Environment and Design manage several experimental plots of wildflowers, grasses and other groundcover species along "The Ray Highway" at exits 6, 14 and the Georgia Visitor Information Center (VIC), which bloom seasonally to create an appealing display for motorists, but are leveraged for studying the ecosystem services that roadside meadows of native, perennial plants could deliver. This so-called "Landscape Lab" is a unique testing site designed to advance a mission of net-zero transportation as Zero Carbon and Zero Waste, and is home to pollinator gardens, bioswales and Kernza® perennial grain plots.
PheNode®will be used for a variety of monitoring functions, including data collection for all Landscape Lab plots. PheNode® is equipped with temperature, humidity, rainfall, wind, light, air quality and soil sensors. Coupled with wireless connectivity, Georgia DOT and The Ray can continuously monitor and collect data on environmental conditions within the plots, including temperature variations, humidity levels, light intensity and air quality or pollution levels, and soil conditions. PheNode® data can also be used to assess the overall health of the plots by alerting to environmental changes that can indicate potential stressors or disturbances in the ecosystem, allowing for early intervention or mitigation efforts. For projects implemented after PheNode® installation, the device will be able to provide robust data concerning the health and wellness of the area both before and after plantings. Georgia DOT and The Ray will be able to track improvements or issues from the start of additional projects, allowing researchers to obtain a greater understanding of the impact these projects have on the surrounding areas.
"Georgia DOT is glad to be part of an innovative deployment such as the Phenode," said John Hibbard, Director of Operations and Maintenance for the Department.
In addition to the capabilities of PheNode® to monitor plant progression and weather and soil conditions, the PheNode® installation at the Georgia Visitor Information Center will give visitors the unique opportunity to see the device in action at the Center's pollinator meadow providing real-time educational information on the health of the meadow's ecosystem.
"With the addition of the PheNode® monitoring technology, these initiatives not only bring advantages to the local vicinity but also establish a hub of innovation that can be scaled regionally and nationally, aligning with The Ray's mission to create net-zero transportation infrastructure across the county," said Allie Kelly, Executive Director of The Ray. "State DOTs across the nation can maximize sustainability and productivity of America's roadways."
Techniques explored at the Landscape Lab on The Ray Highway include slope stabilization to address and mitigate erosion and sedimentation; weed blanket applications to suppress invasive species in new plots; cost-effective installation from seed and ongoing management of roadside meadows without irrigation, and; evaluating seed mixes for cost, resilience, aesthetics and successive blooming. The services and capital that "regenerative roadsides" vegetation can provide include:
(1) Stormwater management
Plants secure roadside soils from erosion, which prevents sedimentation into waterways.
(2) Stormwater pollution remediation
Plants capture litter and filter metals, chemicals and other pollutants from roadway runoff before stormwater reaches local waterways.
(3) Conservation of critical habitat
Maintain beautiful roadside aesthetics and colorful wildflower meadows, while supporting high-quality habitat for pollinator species such as honeybees and butterflies.
(4) Carbon sequestration
Perennial plants grow complex, far-reaching root systems that shuttle airborne CO2 deep into soils. Healthy soils, left untilled, are natural long-term carbon sinks.
(5) Resiliency
Plants that are native to a region, and perennial plants whose permanent root systems support flowers and foliage year after year, are more likely to survive extreme weather conditions such as flash flooding, prolonged drought and record high and low temperatures.
"Establishing roadside meadows with pollinator-friendly plants is crucial to pollinator diversity and equally important to erosion control. Seeing the impact of these sites from a soil health approach is imperative. With the use of PheNode® monitoring technology, we can now track the impact roadside meadows are having on soil health and, in the future, carbon sequestration," said Josh Weaver, Ph.D., Natural Capital Manager of The Ray.
"We're thrilled to bring the PheNode®technology to The Ray Highway, merging sustainable transportation infrastructure with agricultural tech innovation," said Nadia Shakoor, PhD, CEO and principal investigator of Agrela Ecosystems. "By monitoring the intricacies of the environment and plant health, PheNode® provides real-time insights that not only benefit the local ecosystem but also set a precedent for sustainable transportation nationwide. Our partnership underscores the importance of harnessing technology to foster healthy ecosystems, targeting highway ROWs and realizing the vision of a net-zero transportation future."
"Smart infrastructure has always been a part of our broader vision for PheNode®, and we're very excited about this partnership," stated Bill Kezele, president of Agrela Ecosystems. "Together with The Ray, we look forward to evolving the current landscape toward a more sustainable future."
About Georgia DOT
Georgia Department of Transportation plans, constructs and maintains Georgia's state and federal highways. We're involved in bridge, waterway, public transit, rail, general aviation, bike and pedestrian programs. And we help local governments maintain their roads. Georgia DOT and its nearly 4,000 employees are committed to delivering a transportation system focused on innovation, safety, sustainability and mobility. The Department's vision is to boost Georgia's competitiveness through leadership in transportation.
About The Ray
The Ray is a 501(c)(3) nonprofit charity and net-zero highway testbed, located on 18 miles of Interstate 85 between Lagrange, Georgia and the Georgia-Alabama state line. This stretch of interstate is named in memory of Ray C. Anderson (1934-2011), a Georgia native recognized as a leader in green business when he challenged his company, Interface, Inc., to pursue a zero environmental footprint. Our mission is to reimagine how we connect our communities, our lives and the world in a way that is safer, more responsive to the climate, more regenerative to the environment and more capable of creating economic opportunity through innovative ideas and technologies that will transform transportation infrastructure. The Ray Highway is paving the way for a zero carbon, zero waste, zero deaths highway system that will build a safer and more prosperous future for us all. Learn more at www.TheRay.org.
About Agrela Ecosystems
Founded by plant scientists, Agrela Ecosystems believed there should be a flexible, remote phenotyping device for researchers, by researchers. Agrela Ecosystems aims to accelerate the crop breeding process by filling the quantitative gaps in remote field phenotyping, guaranteeing research quality data collection and demonstrating operational consistency across all its devices. Learn more at https://www.agrelaeco.com.
About Danforth Plant Science Center
Founded in 1998, the Donald Danforth Plant Science Center is a not-for-profit research institute with a mission to improve the human condition through plant science. Research, education and outreach aim to have an impact at the nexus of food security and the environment and position the St. Louis region as a world center for plant science. The Center's work is funded through competitive grants from many sources, including the National Science Foundation, the National Institutes of Health, the U.S. Department of Energy, the U.S. Agency for International Development, the U.S. Department of Agriculture and the Bill & Melinda Gates Foundation. Learn more at https://www.danforthcenter.org.
MEDIA CONTACT
Dallen McLemore, Communications Specialist, The Ray 
229.449.6168 | dallen@theray.org  | @TheRayHighway