Little Tikes Launches the Story Dream Machine™ in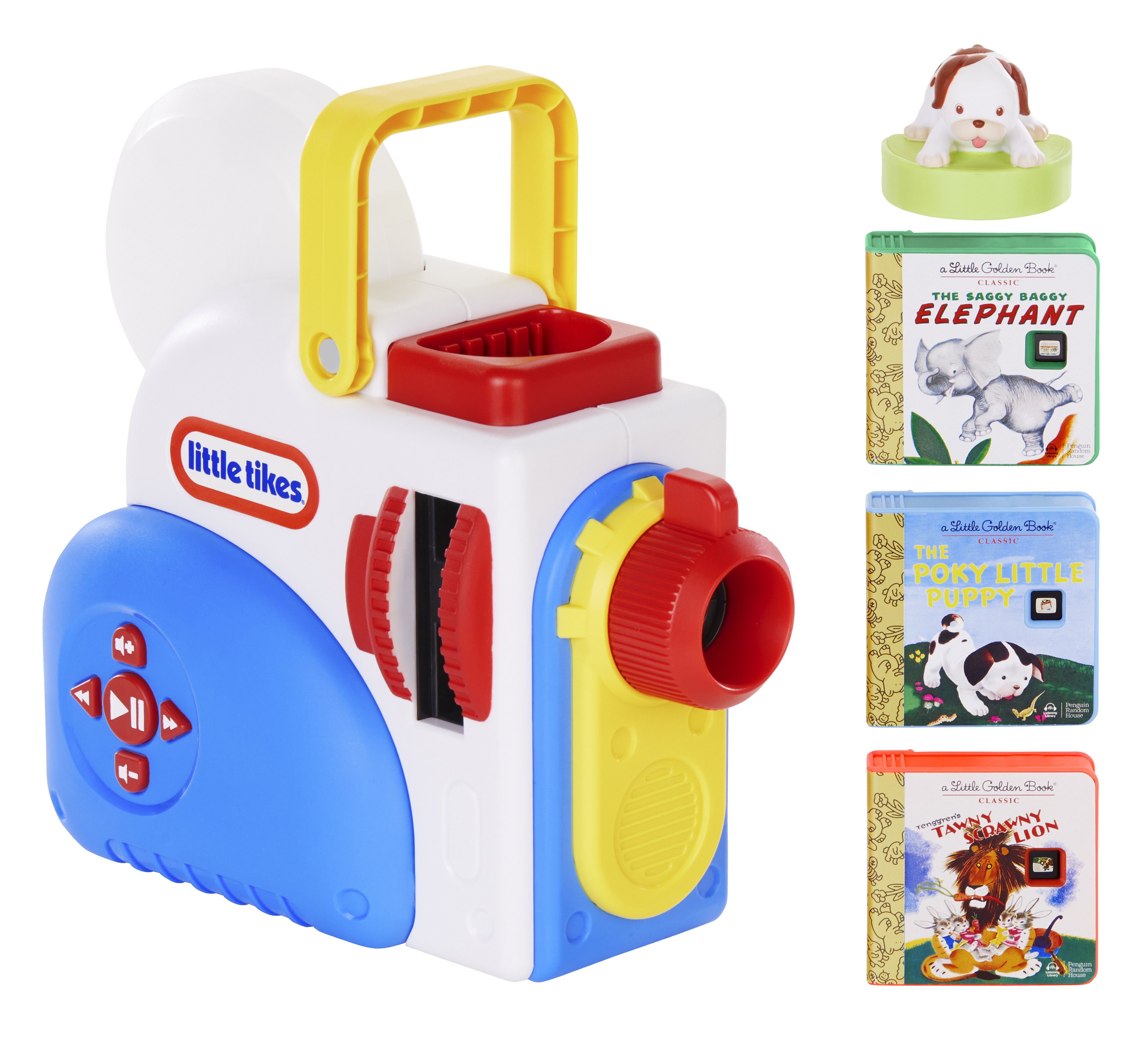 NEW YORK, LOS ANGELES and HUDSON, OHIO, Aug. 14, 2023 (GLOBE NEWSWIRE) — The Little Tikes Company, the brand trusted by parents and loved by kids for nearly 55 years, and a wholly-owned subsidiary of MGA Entertainment, Inc. (MGA), one of the world's largest and fastest growing privately held toy and entertainment companies, today announced the launch of the Little Tikes® Story Dream Machine™. This all-new innovative portable projector is not only an engaging toy but is also an early reading tool and sleep solution. Little Tikes, in partnership with renowned publisher Random House Children's Books brings story classics to life from beloved collections such as Little Golden Books. 
The Little Tikes® Story Dream Machine™ is available at mass retailers now and focuses on learning and early development skills by targeting the early reader. The product is a unique projector that engages young children as they watch, listen, and read along to their favorite stories, an activity that can be done autonomously, with friends, or with their parents. Simply insert a story cartridge into the machine, projecting the story onto any surface, and then follow along with colorful lights and sound effects that help each story magically unfold. For added features like additional lights and color changes in time with the stories, each story collection comes with a character figure that sits atop the projector, such as The Poky Little Puppy licensed from Universal Products & Experiences.
The Little Tikes® Story Dream Machine™ comes with one character figure and three Little Golden Book story cartridges, the legacy series of gold bound books recognized for revolutionizing children's publishing more than 80 years ago with high-quality picture books available at accessible prices. Eight additional story collections are available for purchase separately now. The story collections feature classic and contemporary characters that families know and love, from The Berenstain Bears to the Big Shark, Little Shark Collection and more. Additionally, many of the stories are Random House Children's Books Step Into Reading titles, a program aimed at encouraging kids to read and designed to give every child a successful reading experience. Beyond the initial eight story cartridge collections, additional collections will be available to purchase separately beginning October 2023 with all new content from other great storytellers. 
"Little Tikes is proud to build upon our legacy of cross-generational play and helping enrich kids' imaginations," said Isaac Larian, Founder and CEO of MGA Entertainment. "We are always looking for impactful ways to expand our portfolio and know that bedtime solutions are what parents and grandparents want. The new, easy-to-use Little Tikes Story Dream Machine brings education and joy to naptime and bedtime, allowing children and their family members to discover and re-discover literary favorites that have been loved for decades."
The Little Tikes® Story Dream Machine™ also doubles as a white noise nightlight to make the transition to sleeping smoother. To continue helping parents and care givers, Little Tikes designed the package for easy, on-the-go storage with a carrying handle, allowing parents to easily transport the battery-operated unit wherever they go to keep children entertained.
"We're so excited to partner with a household name like Little Tikes, to continue helping children during their early reading development," said Rachel Bader, Director of Licensing, Random House Children's Books. "The Little Tikes Story Dream Machine brings classic stories to life in an innovative way while celebrating the importance of reading." 
Little Tikes is a brand trusted by parents, grandparents, and care givers for nearly 55 years with a history of active and imaginative play. The Little Tikes Story Dream Machine and additional story cartridge collections are available at Amazon and Walmart. To learn more about Little Tikes and the Little Tikes Story Dream Machine head to LittleTikes.com.
About Little Tikes
The Little Tikes Company, founded in 1969 in Hudson, Ohio, USA, is a manufacturer and marketer of durable, high-quality, and engaging children's products. Since becoming a part of the MGA Entertainment family in November 2006, Little Tikes has been taken to new heights through exciting product innovation, strategic marketing, and licensed partnerships. Little Tikes believes that every day is an opportunity for new adventures, with more and more for a child to experience and discover. Active and imaginative play are essential to learning and early development skills, so we make toys that spark curiosity, wonder and creativity for kids of all ages. To find out more about Little Tikes visit https://www.littletikes.com and follow YouTube, Instagram, TikTok, and Facebook . 
About MGA Entertainment
MGA Entertainment is one of the largest and fastest growing privately held toy and entertainment companies in the world. Headquartered in Los Angeles with offices globally, the company creates innovative, proprietary, and licensed consumer products and entertainment properties, including toys, games, dolls, apparel, consumer electronics, home décor, stationery, sporting goods, movies, and television series. The MGA family includes award-winning brands such as L.O.L. Surprise!™, Little Tikes®, Rainbow High™, Bratz®, MGA's Miniverse™, Fluffie Stuffiez™ , Na! Na! Na! Surprise™, Micro Games of America™, Baby born® Surprise and Zapf Creation®. For more information, please visit us at www.mgae.com or check us out at LinkedIn, Twitter, Instagram and Facebook. 
About Random House Children's Books
Random House Children's Books (rhcbooks.com) is the world's largest English-language children's trade book publisher. Creating books for toddlers through young adult readers, in all formats from board books to activity books to picture books, novels, and nonfiction, the imprints of Random House Children's Books bring together award-winning authors and illustrators, world-famous franchise characters, and multimillion-copy series. Random House Children's Books is a division of Penguin Random House LLC.
About Universal Products & Experiences
Universal Products & Experiences (UP&E) globally drives the expansion and elevation of NBCUniversal's iconic collection of brands, intellectual properties, characters, and stories based on the company's extensive portfolio of properties created by Universal Pictures, Illumination, DreamWorks Animation and NBCUniversal Television and Streaming. The division executes this through innovative physical and digital products, engaging retail and product experiences across our expansive global theme park destinations (for both owned and 3rd party IP), location-based venues, e-commerce product platforms, and retailers around the world. Along with global brand strategy and creative, UP&E's three lines of business include Consumer Products, Games and Digital Platforms, as well as Theme Parks Products & Retail. UP&E is a division of Universal Destinations & Experiences, part of NBCUniversal, a subsidiary of Comcast Corporation. More information is available at universalproductsexperiences.com. 
###
Little Tikes Story Dream Machine
Little Tikes Story Dream Machine and Additional Story Collections Available Separately