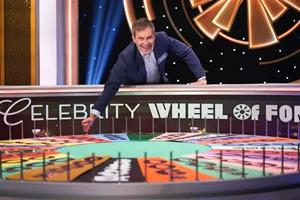 Mark Duplass and Katie Aselton Duplass Honored as BlinkNow
Mendham, NJ, Jan. 12, 2023 (GLOBE NEWSWIRE) — The BlinkNow Foundation is pleased to honor Mark Duplass and Katie Aselton Duplass as the BlinkNow Supporters of the Year for 2022. Mark and Katie have been longtime friends and supporters of BlinkNow's mission to empower Nepal's women and children by providing generous, consistent and meaningful financial support. They have been instrumental in promoting BlinkNow to their circle, have hosted important events, and have leveraged their celebrity and influential following to highlight the needs and successes of BlinkNow's work and programs. In 2022, Mark showcased the Foundation on national television, winning Celebrity Wheel of Fortune and a prize of over $100,000 for BlinkNow.
Mark appeared on Celebrity Wheel of Fortune in September alongside fellow contestants Amanda Seales and Snoop Dogg, selecting BlinkNow as his prize beneficiary. This gained attention from millions of viewers and readers who learned about BlinkNow in guides and reviews related to the show.
Not only did Mark compete in the Wheel of Fortune game show, but he also WON $100,000 for BlinkNow! This prize is a great boost to BlinkNow's community work in Surkhet, Nepal, and will be used to continue building the impact of BlinkNow programs.
CEO Maggie Doyne says, "Mark and Katie have hearts of gold and truly believe and work to achieve our vision of a world where every child is safe, educated, and loved. They are wonderful spokespeople, advocates, and true supporters of our work through and through. They work towards our goals with passion and confiscation and have always always been there for us when we need them."
Mark and Katie have been dedicated supporters and promoters of BlinkNow since 2015, after watching BlinkNow Founder Maggie Doyne honored on the CNN Heroes Show. They and their daughters have since used their celebrity platforms to share the work of BlinkNow, amplify the message, and garner more support from their friends and family as well as the public.
Mark and Katie have supported the work of BlinkNow financially with creative fundraising campaigns (like personalized fan videos), personal donations, and volunteering with the 10th Anniversary Dashain Gala in 2021. They were also important supporters of BlinkNow's COVID-19 emergency relief efforts in Nepal. As a way to further empower families, they created the Duplass Fund to support female entrepreneurs throughout the Surkhet, Nepal community. 
The Duplass family has championed Maggie's book, Between the Mountain and the Sky, as well as the documentary, Love Letters to My Children: The Maggie Doyne Story.
###
Additional information
Mark Duplass is an actor and filmmaker and recently starred in Season 1 of the Apple TV series The Morning Show with co-stars (and fellow Emmy nominees for this show) Jennifer Aniston, Reese Witherspoon, Steve Carrell, and Billy Crudup. The series was nominated for two Golden Globe awards. 
He started Duplass Brothers Productions with his brother Jay and has written and directed films, including The Puffy Chair (2005), Baghead (2008), Cyrus (2010), Jeff, Who Lives at Home (2011), and The Do-Deca-Pentathlon (2012). Duplass played the role of Pete Eckhart in the FX television series The League (2009–2015). He was also one of the stars of Safety Not Guaranteed (2012).
Katie Aselton Duplass is an acclaimed actor and filmmaker based in Los Angeles. She may be best known for her starring role as Jenny in the FX comedy "The League." Aselton can next be seen in Bill Burr's comedy Old Dads. She was recently seen in The Unholy, opposite Jeffrey Dean Morgan, and appeared in Tiller Russell's Silk Road, with Jason Clarke. Aselton was also seen in the second season of the hit Apple + series "The Morning Show."
Aselton's breakout acting role came in the indie darling The Puffy Chair, directed by Mark and Jay Duplass. The film was nominated for two Independent Spirit Awards. Aselton's other feature credits include Book Club, Father Figures, She Dies Tomorrow, Synchronic and Bombshell. Her small-screen work includes "Legion," "Animals," "Togetherness," "Curb Your Enthusiasm," "Veep," "The Office," "Room 104" and "Casual."
Aselton made her directorial debut with The Freebie, in which she also stars. The film premiered to much critical acclaim at the 2010 Sundance Film Festival and was released theatrically by Phase 4. She also directed and starred in the survivor thriller Black Rock, opposite Kate Bosworth and Lake Bell. The film premiered at the 2012 Sundance Film Festival and was released by LD Entertainment.
Katie's most recent film, MACK & RITA, was released in theaters in 2022 and stars Diane Keaton and Taylour Paige.
The BlinkNow Foundation provides an education and a loving, caring home for orphaned, impoverished and at-risk children.  The foundation also provides community outreach to reduce poverty, empower women, improve health, and encourage sustainability and social justice – it fulfills its mission by providing financial support and management oversight to the Kopila Valley Children's Home and Kopila Valley School in Surkhet, Nepal. In addition to the home and school, Kopila Valley runs a Health & Wellness program, Women's Center, Home for At-Risk Students, Futures Career Readiness Program, and integrated Sustainability Program across all initiatives.