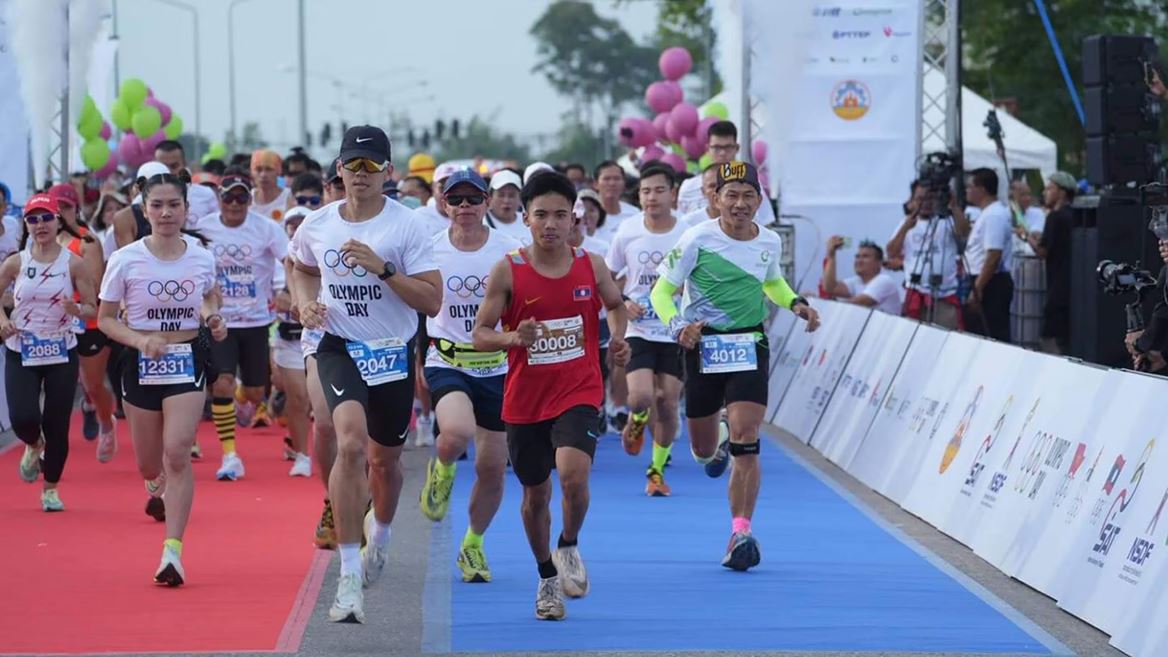 Millions of people moved for Olympic Day 2023 around the world
13 Jul 2023 – Millions of people around the world celebrated Olympic Day by getting active on 23 June 2023, with hundreds of events organised by National Olympic Committees (NOCs) and future Olympic Games organisers.
The theme of Olympic Day 2023 was "Let's Move", with over 1,000 athletes actively engaged in the campaign, creating their own workouts or sharing Let's Move content on their social media handles to encourage people to move. More than 15 million people around the world took part in physical activities as part of the Let's Move campaign.
Additionally, 24 iconic buildings around the world were illuminated in a global mark of solidarity, from Buenos Aires to Barcelona, from Dubai to London, including Olympic House in Lausanne.
Highlights from Olympic Day around the world
In Africa, the Malawi Olympic Committee celebrated Olympic Day in elementary and middle schools with 30 minutes of physical activities. Olympians were assigned to various schools to promote the sports of baseball, teqball and archery, with students learning how to play each sport before competing against one another. The students also discovered the sport of baseball, which is advocated and promoted at the Olympafrica Centre in Malawi. In total, the event brought together some 1,700 participants.
In Asia, the National Olympic Council of Thailand celebrated Olympic Day with a three-day event in Mukdahan – a province in the country's north-eastern region. The event featured a variety of activities for all ages, including cultural and educational activities, children's sports activities, environmental safeguarding and sustainability activities, and a dance competition. On 24 June, a Fun Run on the Mekong River was also organised in collaboration with the NOCs of Laos and the Vietnam, which brought together tens of thousands of people from the three countries. The event marked the first time that the three NOCs had organised a joint celebration, and served to foster and strengthen the good relations between the three neighbouring countries.
In Europe, the Spanish Olympic Committee organised a large-scale event at the "Huerta del Rey" Sports Centre in Valladolid. More than 2,000 people enjoyed the numerous sports activities, including rhythmic gymnastics, karate, judo, table tennis, badminton, taekwondo, fencing, artistic swimming, canoeing, climbing, rugby, handball, tennis, paddle tennis, archery and modern pentathlon. Olympians such as Laura López Valle, Sandra Sánchez, Sandra Aguilar, Ray Zapata, Regino Hernández and Elena López Benaches also took part in the celebrations.
In Oceania, the New Zealand Olympic Committee celebrated Olympic Day with a sports day in Auckland. Around 100 children gathered together to try out sports such as boxing, race walking and sprinting. The aim was to get the children active and to have fun with sport. Olympic athletes such as boxer Alexis Pritchard, gymnast Courtney McGregor, race walker Alana Barber and triathlete Evelyn Williamson were on hand to encourage and inspire the youngsters. Other New Zealand Olympians also visited schools around the country to celebrate the day.
In the Americas, the St Lucia Olympic Committee organised a week-long celebration of Olympic Day. The Olympic Museum was opened to schools and the general public; and the NOC also collaborated with four schools in a tree-planting exercise to promote sustainability.
The festivities included a sports-themed quiz, an Olympic Day walk/run, and a wide range of sports activities. In total, the celebrations brought together some 350 participants.
Future Olympic Games organisers mark Olympic Day
Organising Committees for the upcoming Olympic and Olympic Winter Games also joined the Olympic Day celebrations, urging people to get moving in a variety of different ways.
The Paris 2024 Organising Committee marked the occasion by encouraging all sectors of French society to join the IOC's "Let's Move" campaign, while also asking them to share their activities on social media. This included activating their staff, partners, Terre de Jeux and Paris Club 2024 initiatives, schools and through athletes via national and International Federations. Their aim was to demonstrate that, with just over one year to go until the Olympic Games Paris 2024, France is already inspired to move and live active lives.
The Milano Cortina 2026 Organising Committee hosted an Instagram Live workout with Olympic Alpine skier Elena Curtoni; and also posted a series of inspirational messages from Olympians on its social channels to motivate people to get active, as well as exercise tips from athletes such as Carolina Kostner and Silvia Bertagna. In addition, one of Milan's most iconic skyscrapers, the Palazzo Pirelli, was illuminated with the "Let's Move" message to promote the IOC's Olympic Day campaign.
In Los Angeles, the LA28 Organising Committee brought together more than 1,000 young people to celebrate the Olympic and Paralympic Games coming to Los Angeles with a "model Games" event. The LA28 Olympic and Paralympic Day of Sport saw Olympians and Paralympians leading the children in a mini parade of athletes and torch relay, as well as sport competitions, medal ceremonies and opening and closing ceremonies. The event formed part of the larger LA28 Celebrates programme, held from 18 to 30 June, to highlight sports, culture and community, while creating a shared sense of pride and excitement for the Games across the Los Angeles region.