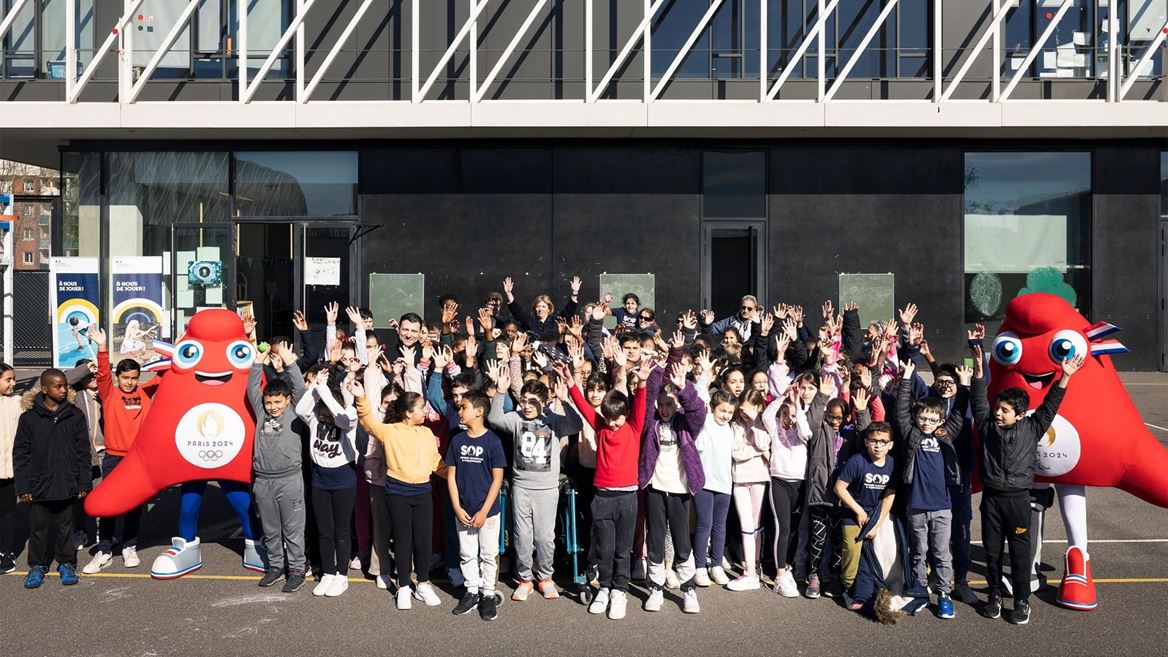 More than one million students from 8,000 schools participate in France's Olympic and Paralympic Week
13 Apr 2023 – The seventh annual Olympic and Paralympic Week (Semaine Olympique et Paralympique [SOP]) took place in France, with over one million students from 8,000 schools and institutions taking part in sports activities between 3 and 8 April.
Over the six days, Paris 2024, the French sports movement and several other institutions joined together to promote the values of Olympism and Paralympism, bringing sport closer to schools, and getting millions of young people active.
Clap de fin pour la #SOP2023 👏
+ d'1 million d'élèves sensibilisés dans + de 8000 écoles, avec la présence de 200 athlètes pour une semaine dédiée au sport et à l'inclusion !
Ça en fait même tomber quelques-uns à la renverse (la fin 👀)
À l'année prochaine ! ✨ pic.twitter.com/bxnLQduDwO
— Paris 2024 (@Paris2024) April 8, 2023
Speaking about the success of this year's SOP, Paris 2024 President Tony Estanguet said: "The popularity of the SOP has continued to grow since it first began in 2017.
"The primary goal has been to bring more sport into the daily lives of pupils, from nursery school to university. As the benefits of physical activity become better known, at Paris 2024 we firmly believe in a four-part winning formula: physical education and sports classes; 30 minutes of physical activity a day at school, which is now widespread; school sport; and sport at club level.
"Sport has the power to change our perspectives, and the Games have the power to do this in a way that is faster, higher and stronger. Together, we have a unique opportunity to help move society forward, and this is also something we can do through young people." 
Thousands of activities were organised across the country and in French institutions overseas, with the participation of dozens of Olympic and Paralympic athletes, outlined in this interactive map.
Some of the highlights included French athletes such as Olympic medallist in handball Jackson Richardson, hurdler Sasha Zhoya and Paralympic judoka Sandrine Martinet talking to primary school kids in Suresnes; Paris Mayor Anne Hidalgo joining Tony Estanguet to meet the educational teams and their students at the Lilas Sports Centre while climbing, handball and goalball workshops were being organised; and French President Emmanuel Macron travelling to Clamart to learn more about the Legendary Eleven football initiative for children with autism.
To launch this year's activities, earlier in the week an official SOP dance was presented to 1,300 students, who performed it alongside famous French dancer and choreographer Fauve Hautot at the Zénith Paris arena.
Inspired by Paris 2024's slogan "Games Wide Open", this year's SOP focused on inclusion, with a view to changing society's outlook on disability by challenging clichés and preconceived ideas from an early age.
This latest edition of the SOP builds on the success of the programme originally launched in 2017. It is a joint initiative by the French Ministry of National Education and Youth, the Ministry of Higher Education, Research and Innovation, the Ministry of Sport and the general sporting movement, as well as school and university sports federations, and the French National Olympic and Paralympic Committees. During the one week of activities, those entities work together to build awareness of the Olympic and Paralympic values among students, while using sport as an educational tool.
The programme continues to grow year on year, in line with Paris 2024's key objective to help combat physical inactivity and obesity. From kindergarten to university, at schools and offices and in cities, there has been a concerted focus on addressing the root causes of inactivity and getting people across France to "move more".
As part of this effort, Paris 2024 has supported the roll-out of a daily 30-minute exercise period at French schools. Over 9,000 schools introduced the 30 minutes of daily physical activity into their curricula in September 2021. As a result, the French Ministry of National Education and Youth has rolled out the idea across the entire country, with the goal of reaching all French primary schools by the time the Olympic Games Paris 2024 begin.
Looking ahead, authorities aim to capitalise on the growing interest in and excitement around the Olympic and Paralympic Games Paris 2024, building on the strong sporting and health legacies generated by this nationwide initiative to improve the health and well-being of French citizens long beyond the conclusion of the Games.