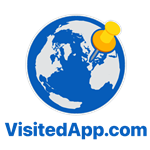 Most Visited Places in 2022 according to Visited App
TORONTO, Jan. 24, 2023 (GLOBE NEWSWIRE) — The travel app Visited by Arriving In High Heels Corporation has published a travel report which showcases top travel trends around the world with highlight of 2022 travels.
Visited, available on iOS or Android, is an app that allows users to mark off places they've been around the world, browse new travel destinations, get a custom map of their travels, and set travel goals.
According to Visited's travel stats, the average global traveler has been to 18 countries. Travelers from the United Arab Emirates have visited the most countries, with an average of 29 countries visited. Swiss and Swedish travelers came in second and third as the most well-traveled. Polish travellers have travelled less than other Europeans, with them visiting 15 countries.
The most visited countries include France, Spain, and Italy. The most sought-after places to visit are Australia, New Zealand, Japan, and Brazil.
In 2022 Italy topped the list as the most visited country. Other countries that made it to the top 5 include: Spain, France, Portugal, and Greece.
The most popular travel lists are capitals of the world, world wonders and art museums.  When using the travel app, travelers can find that Warsaw can be found on the 24th spot for most visited capitals of the world. Krakow also made it to the 21st spot for most popular beer destination.
Travel data was compiled based on 1,550,000 international users. To see more top travel lists and browse top destinations worldwide, download Visited on iOS or Android. For the full travel report, visit https://visitedapp.com/travel-report-results/.
Visited App is a popular travel map app, which allows users to map their journeys, select what places and experiences they have been to and see personal travel stats. The travel app, was developed to keep track of traveller's bucket lists, see personalized travel stats and inspire future vacations. Start tracking your travels by creating your very own where I've been map. To learn more about the Visited app, visit https://visitedapp.com/visited-aplikacja-podrozy/. 
About Arriving In High Heels Corporation
Arriving In High Heels Corporation is a mobile app company with apps including Pay Off Debt, X-Walk, and Visited, their most popular app.
Contact Information
Anna Kayfitz