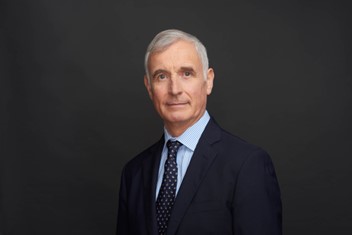 LONDON, Nov. 15, 2023 (GLOBE NEWSWIRE) — Myricx Bio ('Myricx'), a UK biotech company focused on the discovery and development of a completely novel class of antibody-drug conjugate (ADC) payloads based on N-Myristoyltransferase inhibition (NMTi), today announces the appointment of Dr Chris Martin as independent Chairman to its Board of Directors. Dr Martin is a renowned biotech company founder, director and entrepreneur, and a pioneer and leader in the ADC space.
Dr Martin was instrumental in co-founding ADC Therapeutics (NYSE: ADCT) in Jan 2012 and served as its CEO since inception until May 2022. Under his leadership, ADC Therapeutics grew from a private biotech start-up to a New York Stock Exchange (NYSE) listed leader in the field of ADCs with products on the global market. Chris previously co-founded and led two other biotech companies: Spirogen Ltd, an innovator of ADC payload technology, which was acquired by MedImmune, now part of AstraZeneca; and Sciona, Inc. a provider of personalised gene-based health and nutrition analyses. Alongside his role as Chairman of Myricx, he is also Chairman of the Board of Tokamak Energy Ltd, and Tagworks Pharmaceuticals BV, and a Director on the Board of Osivax SAS.
Dr Martin succeeds Prof Roberto Solari, co-founder of Myricx who is stepping down from the board but will remain closely involved as a consultant to the company contributing his extensive drug discovery experience and knowledge.
A Fellow of the Institution of Chemical Engineers and a Sainsbury Management Fellow, Dr Martin holds a bachelor's degree in chemical engineering from Aston University, a DPhil in Engineering Science from the University of Oxford, and an MBA from IMD Business School.
Dr Robin Carr, Myricx CEO and Board Director, said, "We are thrilled that Chris has joined our Board and taken on the role of Chairman. He brings first-hand experience of successfully building biotech companies, and his wealth of insights and know-how in the ADC industry are unrivalled. Chris successfully translated ADC technology from the lab bench and discovery stages to regulatory approved commercial products reaching cancer patients across global markets. As we are building out our pipeline of differentiated NMTi-ADCs and progressively expanding our preclinical activities towards clinical development, Chris's experience and guidance will be invaluable.
"I would also like to thank Roberto for his excellent contribution to the company most recently as executive chair, and we look forward to his continued active involvement as a consultant and collaborator."
Dr Chris Martin, Chairman of Myricx, said: "There is a compelling clinical need for new ADC payloads with the potential to expand ADC's therapeutic window, and I am really impressed with Myricx's novel NMTi payload platform, which has demonstrated a highly differentiated profile over standard payload classes. The platform has the potential to generate proprietary first-in-class NMTi-ADCs and the company's lead candidates have shown positive preclinical data including superb efficacy, and good tolerability across different cancer targets. It is an incredibly exciting time to join the Myricx board and I look forward to working closely with its talented team, board and investors, bringing my experience of partnering ADC payloads with pharma from Spirogen and developing in house ADCs to market from ADC Therapeutics."
To support the progression of its preclinical pipeline towards the clinic for difficult to treat solid tumours, Myricx has also recently strengthened its leadership team by appointing Dr Francesca Zammarchi, a cancer biology and ADC expert, as CSO and Dr Robert McLeod, a specialist in ADC clinical development, to the newly created position of VP Clinical Development.
Myricx is a spin-out from two of the UK's leading biomedical research organisations: Imperial College London and the Francis Crick Institute; founded to develop drugs based on the unique insights into NMT biology made by its co-founders Professors Ed Tate and Roberto Solari, with seed financing from Sofinnova Partners and Brandon Capital.
Notes to Editors:
About Myricx Bio – www.myricxbio.com
Myricx Bio ("Myricx") is a UK biotech company focused on the discovery and development of a completely novel class of payloads for antibody-drug conjugates (ADCs), based on inhibitors of N-myristoyltransferases (NMT) for the treatment of cancer.
NMT is an enzyme that adds a specific lipid modification to a number of protein targets key to cancer cell survival. Myricx is advancing a pipeline of ADCs to address serious unmet needs in oncology based on its NMT inhibitor (NMTi) payload chemistry platform and has demonstrated excellent preclinical efficacy and safety across multiple solid tumour associated antigens and cancer cell types.
Based in London, Myricx is a spin out from Imperial College London and the Francis Crick Institute with investment from Sofinnova Partners and Brandon Capital Partners.
Follow us on LinkedIn
For further information please contact
At the Company
Dr Robin Carr, CEO, Myricx Bio, info@myricxbio.com
        
Media Enquiries
Sue Charles, Charles Consultants, sue@charles-consultants.com, +44 (0)7986 726585
A photo accompanying this announcement is available at https://www.globenewswire.com/NewsRoom/AttachmentNg/7faef46e-4cfd-402f-883e-b0611d957a8c