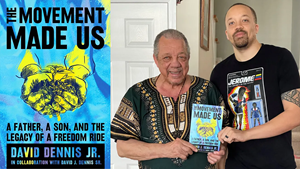 National Civil Rights Museum presents book by civil rights
Memphis, TN, Jan. 26, 2023 (GLOBE NEWSWIRE) — The National Civil Rights Museum brings civil rights legend David J. Dennis, Sr. and his son David J. Dennis, Jr. to discuss their book, The Movement Made Us, to open this season's Book and Author Series on Thursday, February 2, at the Museum.  The duo will also present an in-person teacher's workshop on Saturday, February 4, to help educators use firsthand accounts as powerful teaching tools on the American Civil Rights Movement.  
The Movement Made Us is a dynamic family exchange that pivots between a father's and son's voices. It is a unique work of oral history and memoir, chronicling the extraordinary story of the Civil Rights Movement of the 1960s and its living legacy embodied in Black Lives Matter. David Dennis Sr., a core architect of the movement, speaks out for the first time, swapping both harrowing and joyful recollections with David Jr., a journalist working on the front lines of change today. 
"The National Civil Rights Museum is honored to host David Dennis Sr and his son Dave Dennis Jr. Mr. Dennis is a prominent figure in the museum, appearing in several of our galleries," said Dr. Noelle Trent, the museum's Director of Interpretation, Collections, and Education. "We are delighted that our audience has the opportunity to hear firsthand about critical moments in the Movement from the Freedom Rides to Freedom Summer and beyond."
A legend of the 1960s Movement, David Dennis Sr. began as a student activist at Southern University in Baton Rouge, where he led student sit-ins at Woolworth counters. After he was forced to leave Southern, he attended Dillard University in New Orleans. He was a part of the Freedom Rides of 1961 from Washington, DC to New Orleans. He was arrested in Jackson, MS with hundreds of student Freedom Riders and jailed in the notorious Parchman Prison. In the book, there are scenes from across David Sr.'s life, as he becomes involved in the movement, tries to move beyond it, and ultimately returns to it to find final solace and a new sense of self.
An autographed copy of The Movement Made Us is available in the museum's online store. The hybrid Book & Author Series event begins at 6:00 pm Central and is free and open for registration.  For more information, visit civilrightsmuseum.org.
About the National Civil Rights Museum
The NATIONAL CIVIL RIGHTS MUSEUM, located at the historic Lorraine Motel where civil rights leader Dr. Martin Luther King, Jr. was assassinated, gives a comprehensive overview of the American Civil Rights Movement from slavery to the present. Since the Museum opened in 1991, millions of visitors from around the world have come, including more than 90,000 students annually. Serving as the new public square, the Museum is steadfast in its mission to honor and preserve the site of Dr. Martin Luther King, Jr.'s assassination.  It chronicles the American civil rights movement and tells the story of the ongoing struggle for human rights, serving as a catalyst to inspire action to create positive social change.  A Smithsonian Affiliate and an internationally acclaimed cultural institution, the Museum is recognized as a 2019 National Medal Award recipient by the Institute of Museums and Library Services (IMLS), the top national honor for museums and libraries.  It is a TripAdvisor Travelers' Choice Top 5% U.S. Museum, USA Today's Top 10 Best American Iconic Attractions; Top 10 Best Historical Spots in the U.S. by TLC's Family Travel; Must See by the Age of 15 by Budget Travel and Kids; Top 10, American Treasures by USA Today; and Best Memphis Attraction by The Commercial Appeal and the Memphis Business Journal.