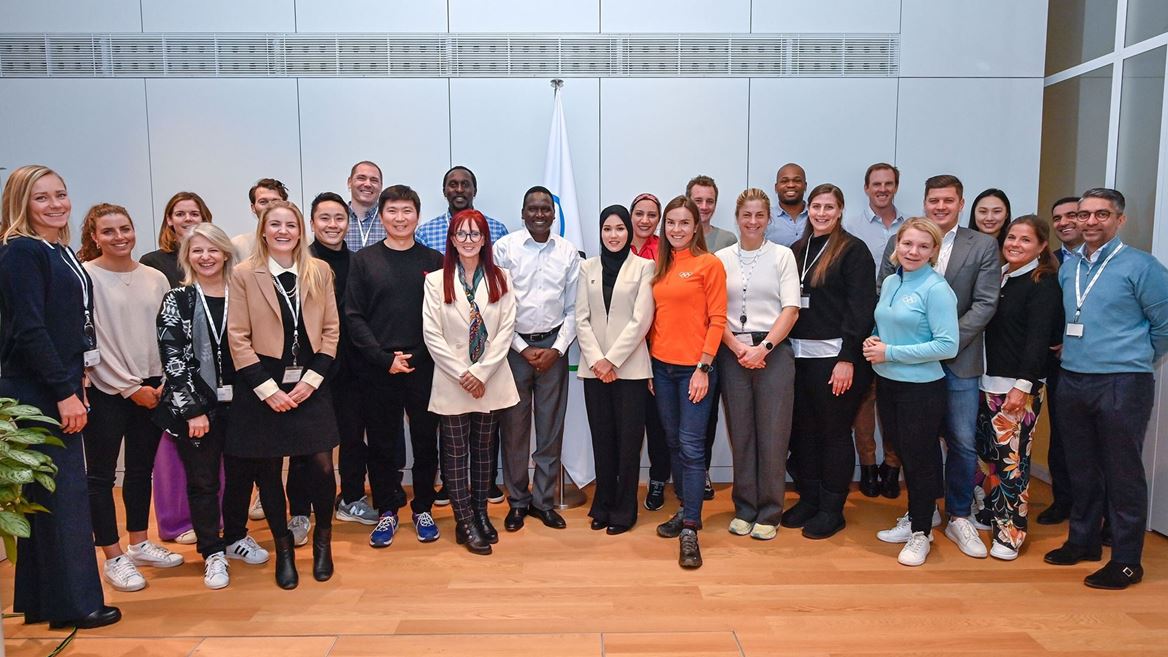 New safeguarding training completed by IOC Athletes' Commission members
21 Dec 2022 – International Olympic Committee (IOC) Athletes' Commission (AC) members recently gathered at Olympic House in Lausanne, Switzerland, for a Safeguarding Focal Point training course. As part of the IOC's effort to strengthen safeguarding in sport, the course was designed to help the IOC AC members become safe sport advocates and be fully equipped with the knowledge of what to do should athletes approach them with concerns related to poor practice, harassment or abuse in sport.
Speaking from Olympic House having completed the training course, IOC AC Chair Emma Terho recognised the AC members' unique role as safeguarding focal points and a support hub for athletes.
"As members of the IOC Athletes' Commission, we not only have a responsibility to be the voice of athletes across the Olympic Movement and help to reflect their values and their concerns, but we are often also focal points who athletes come to for advice, and therefore must educate ourselves on these important topics."
The course is part of a wider effort by the IOC to offer resources to athletes and athlete representatives on safe sport and the important role they play. Through Athlete365, athletes and entourage members can access tools to help identify and report cases of harassment and abuse, first-person athlete stories on the importance of the topic, free educational courses and videos, and factsheets specifically created for athlete entourage members.
"We know how important athlete safety is," said IOC AC member Masomah Ali Zada, "therefore it is a big priority for us, and we will try to raise awareness of the topic to athletes so that they know the concerns around harassment and abuse in sport. Together we can help prevent any acts of abuse and ensure athletes' safety."
Active learning for IOC AC members
The role of safeguarding focal point includes possessing the knowledge of what safeguarding is and why it is important. It also involves recognising signs and symptoms of harassment or abuse, knowing how to respond during a disclosure, and being aware of how to escalate cases to a safeguarding officer who is trained in case response, and to local authorities and other support agencies where required.
The training course was delivered across two sessions. An online session presented the IOC AC members with the key concepts behind safeguarding supported by scientific data. The IOC AC members then mapped out the safeguarding policies and procedures in their local contexts. This initial session was followed by a practical in-person workshop at Olympic House, which involved the IOC AC members proactively discussing several scenarios, and what steps should be taken to ensure an appropriate response.
The course had three specific objectives:
To inform the IOC AC members of the IOC's ongoing commitment to safe sport, in line with Recommendation 3 of Olympic Agenda 2020+5 ("To reinforce athletes' rights and responsibilities") and Recommendation 5 ("To further strengthen safe sport and the protection of clean athletes").
To build capacity and understanding of what is meant by safe sport, specifically safeguarding and mental health in sport, and the role of the IOC as a global leader for protecting athletes.
To provide the members with the concepts and scientific data that reinforce the IOC's work on safe sport, and to offer practical information and guidelines on how, as athlete representatives, they can #BeAware, #BeSupportive and #BeInvolved when it comes to protecting every athlete's right to safe sport.
IOC AC member Maja Martyna Włoszczowska commented: "I was very happy to see the topic of safe sport for athletes being such a high priority for the IOC. After taking this course, I am confident that I am better prepared to provide appropriate support to fellow athletes asking for help if they are experiencing poor practice, harassment or abuse in sport."
"We are thrilled that the whole Commission was able to undertake the IOC Safeguarding Focal Point training, as this topic is of such high importance not just for the Commission but for athletes everywhere," concluded IOC AC member Humphrey Kayange.
Resources available for athlete safeguarding
Athlete safeguarding is embedded in the overarching fundamental principles of Olympism found in the Olympic Charter, and this course is part of the IOC's commitment to making the sporting environment a safer place.
The IOC has a number of Safe Sport initiatives in place to protect athletes at and outside the Olympic Games. The Games-time Frameworks ensure that safeguarding officers are available at all Olympic Games and mechanisms are in place to prevent and respond to any concerns. Meanwhile, the Athlete Safeguarding Toolkit and IOC Certificate: Safeguarding Officer in Sport support the implementation of these Frameworks.