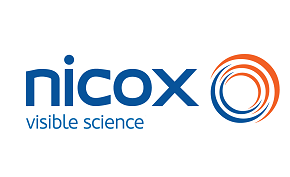 Nicox Presented NCX 470 Phase 3 Mont Blanc Adaptive Design
NCX 470 0.1% showed up to 1.73mmHg greater mean diurnal intraocular pressure (IOP) reduction from baseline than latanoprost in the adaptive dose selection period of the Phase 3 Mont Blanc trial NCX 470 demonstrated a statistically greater proportion of subjects with 10 mmHg or more IOP reduction compared to latanoprost in the Mont Blanc trial
July 3, 2023 – release at 7:30 am CET
Sophia Antipolis, France
Nicox SA (Euronext Growth Paris: FR0013018124, ALCOX), an international ophthalmology company, today announced that additional data on NCX 470 have been presented at the 10th World Glaucoma Congress (WGC) being held from June 28 to July 1, 2023 in Rome, Italy.
"The large volume of data generated in the Mont Blanc Phase 3 trial on NCX 470 has provided us with the opportunity to look in detail at patient subgroups to further evaluate where NCX 470 has the greatest effect, some of which we are reporting here. Our first poster at the World Glaucoma Congress presents the adaptive dose selection data, justifying the choice of the 0.1% NCX 470 dose for the rest of the trial. We have also looked across the whole trial and report is that more patients achieve a reduction of IOP of 10mmHg or more when on NCX 470 than those on latanoprost. We look forward to reporting other data at conferences and in planned publications." said Doug Hubatsch, Chief Scientific Officer of Nicox
Poster Title: NCX 470, a Nitric Oxide Donating Bimatoprost Compared with Latanoprost – Adaptive Design Period Results from the Phase 3 Mont Blanc Clinical Trial
A dose finding Phase 2 trial (Dolomites) tested NCX 470 at several concentrations and the results suggested that the highest studied dose might still be below the top of the dose response curve. To test this a concentration of 0.065% and 0.1% were included in an adaptive dose selection period of the Phase 3 Mont Blanc trial, which compared the safety and efficacy of NCX 470 ophthalmic solution vs. latanoprost ophthalmic solution in adult subjects with open-angle glaucoma or ocular hypertension. At the Week 2 timepoint, NCX 470 0.065% demonstrated 1.37 mmHg greater mean diurnal IOP reduction from baseline than latanoprost and NCX 0.1% demonstrated 1.73 mmHg greater mean diurnal IOP reduction from baseline than latanoprost.
The adaptive dose selection period was used in place of additional dose ranging studies to select the 0.1% concentration of NCX 470 for the duration of the 3-month Phase 3 Mont Blanc clinical trial as well as the second Phase 3 trial, Denali.
Poster Title: NCX 470, a Nitric Oxide Donating Bimatoprost versus Latanoprost has Greater Proportion of Subjects Achieving ≥10 mmHg IOP Decrease in Phase 3 Trial
NCX 470 met the primary efficacy endpoint of non-inferiority to latanoprost at all 9 of 9 timepoints measured in the Mont Blanc trial. Furthermore, NCX 470 demonstrated a statistically greater proportion of subjects with 10 mmHg or more IOP reduction compared to latanoprost at Week 2, Week 6, and Month 3 ranging from 69% to 46% in the NCX 470 group compared to 60% to 34% in the latanoprost group. NCX 470 was safe and well tolerated.
Poster Title: Effects of NCX 470, a Nitric Oxide (NO)-Donating Bimatoprost, in in vitro 3D-Human Trabecular Meshwork (TM) / Schlemm's Canal (SC) Tissue Model
Bioengineered 3D-human TM/SC (3D-HTM/HSCTM) constructs and Cynomolgus monkeys were used to provide insights on the cellular and molecular mechanism/s accounting for NCX 470-mediated intraocular pressure (IOP)-lowering activity. NCX 470 significantly improved outflow facility in 3D-HTM/HSCTM. Furthermore, unlike most IOP-lowering agents, a clinically effective dose (0.1% ophthalmic solution) of NCX 470 affected both conventional and uveoscleral pathways to increase aqueous humor drainage from monkey eyes. NCX 470 dual-acting modality (NO and prostaglandin analog) explains the robust reduction of IOP exerted by this drug in patients with open-angle glaucoma or ocular hypertension.
About NCX 470
NCX 470 is a novel NO-donating bimatoprost eye drop currently in Phase 3 clinical development for the lowering of IOP in patients with open-angle glaucoma or ocular hypertension. The first Phase 3 trial, Mont Blanc, a randomized, double-masked, multi-center, parallel group trial that was conducted in the U.S., compared NCX 470 (0.1%) to latanoprost (0.005%) was completed in October 2022. The second Phase 3 trial, Denali, similarly designed to the Mont Blanc trial, and which includes a long-term safety extension, is ongoing.
Update on planned Phase 3b trials on NCX 470
The timing of the planned Phase 3b trials investigating the dual mechanism of action (nitric oxide and prostaglandin analog) in IOP lowering and potential retinal benefits of NCX 470 is currently being assessed and we will provide an update on these in the Q2 Press Release in mid-July.