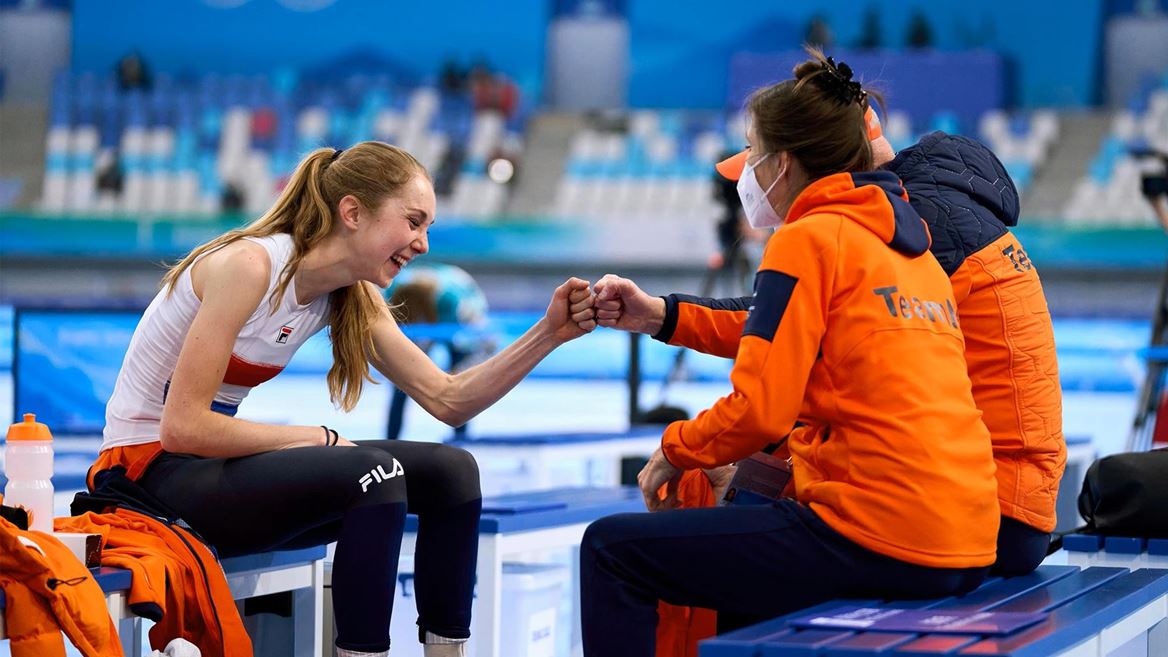 Nominations open for 2023 IOC Coaches Lifetime Achievement Awards
05 Sep 2023 – Active or retired coaches who have carried out exceptional work supporting athletes can now be nominated for the 2023 edition of the International Olympic Committee (IOC)'s Coaches Lifetime Achievement Awards. These awards celebrate the vital role coaches play in the lives of athletes – both on and off the field of play.
Nominations, which are open from now until 15 October 2023 for coaches whose athletes have participated in at least one edition of either the Olympic Summer or Winter Games, can be made by Olympians, International Federations (IFs), National Olympic Committees (NOCs), members of the IOC Athletes' or Athletes' Entourage Commissions, and IOC Members. The winners will be announced by the end of the year.
The awards annually recognise one female and one male coach who have gone above and beyond in assisting athletes on their Olympic journeys.
For information on how to nominate a coach, please visit IOC Coaches Award – Athlete365.
"A profound bond, instrumental to success"
Run by the IOC Athletes' Entourage Commission, the IOC Coaches Lifetime Achievement Awards were inaugurated in 2017 to provide a platform to celebrate the enduring efforts and achievements of Olympic coaches in their respective disciplines.
The previous winners are:
No awards were given in 2020 and 2021 due to the COVID-19 pandemic.
This year's winners will be selected by a panel appointed by IOC President Thomas Bach and chaired by Sergii Bubka, Chair of the IOC Athletes' Entourage Commission and an IOC Member. The Selection Panel is composed of two other members of the IOC Athletes' Entourage Commission, Daina Gudzinevičiūtė and David Haggerty, and two members of the IOC Athletes' Commission, its 1st Vice-Chair, Seung Min Ryu, and Maja Włoszczowska.
"Coaches play an invaluable role in an athlete's life, guiding them to achieve their peak performance while also mentoring them through the various challenges of a sports career. Their technical expertise, combined with their unwavering emotional support, creates a bond with athletes that's profound and instrumental to success," explains Olympic gold medallist Bubka. "Through these awards, we aim to emphasise and celebrate this pivotal relationship that forms the backbone of an athlete's journey," he added.
Empowering female coaches
By recognising the role of coaches and more specifically female coaches each year, the IOC also aims to encourage more female athletes to become coaches. With women making up only 13 per cent of coaches at Tokyo 2020, this figure contrasts sharply with the progress made towards gender equality in the number of female athletes competing at the Games. While women accounted for 48 per cent of athletes at Tokyo 2020, history will be made at Paris 2024, which will be the first Olympic Games to have full gender equality in terms of athletes.
One of the IOC's responses to increasing the number of female coaches is WISH – the Women in Sport High-Performance Pathway Programme – funded by Olympic Solidarity. This initiative, launched in 2022, empowers female coaches by providing them with leadership, problem-solving and self-assessment training, and aims to help more women reach elite coaching positions.
Over four years, the WISH programme, supported by USD 1 million in Olympic Solidarity funding, is set to equip more than 100 women for coaching at elite levels by 2024.
Representing 22 sports and 60 countries, the 124 coaches who have enrolled in the programme were selected for the course by their IFs and NOCs on the basis of their individual achievements, potential and ambition.
In parallel, the IOC continues to promote female coaches through initiatives such as #womancoach – a campaign launched earlier this year to highlight the gender gap that exists in elite coaching roles, while also placing the spotlight on some of the leading female coaches who have broken those barriers and who act as role models for more women to follow.
Myriam Fox-Jerusalmi, the 2022 IOC Coaches Lifetime Achievement Award winner, recognises the importance of role models for young athletes: "The more women we have, the more women think they can go into these jobs and it's okay to be a coach, and it's okay because there's a door open for them to become a coach."
​