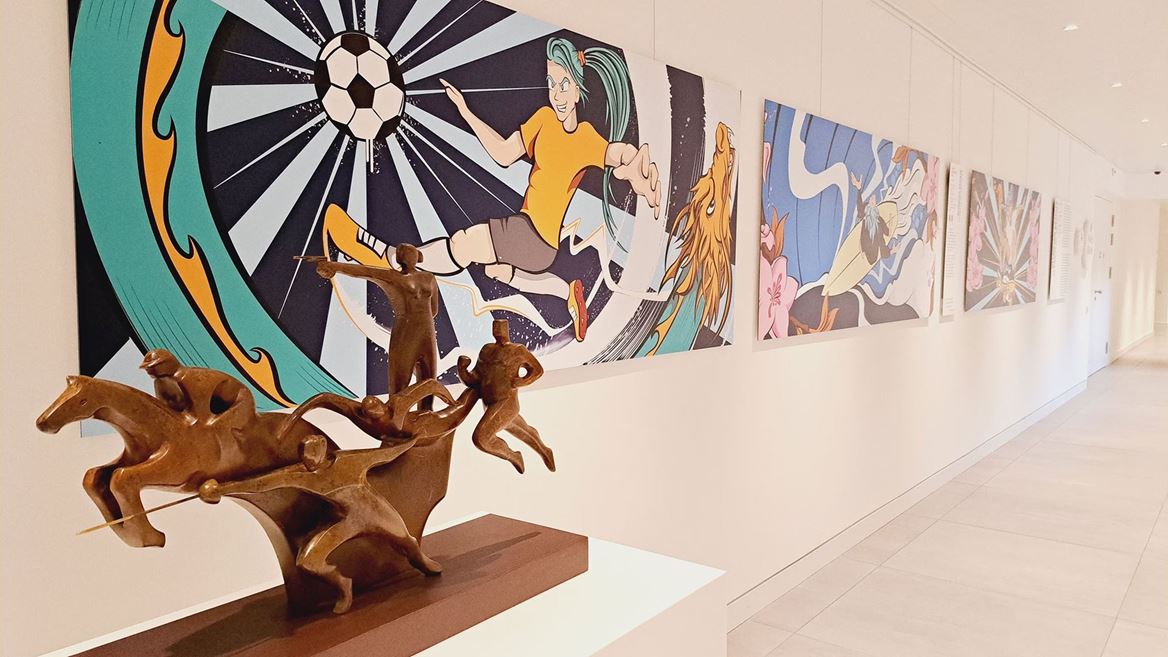 Olympian Artists make their debut at Olympic House
11 Apr 2023 – A vibrant new art exhibition installed at the IOC headquarters in Lausanne, Switzerland, offers a glimpse into just a few of the many facets, interests and stories of elite athletes: all 18 pieces are the creative work of five Olympians and a Paralympian.
The artists, who have competed at various editions of the summer and winter Games, are part of the Olympian Artists programme. This IOC Culture and Heritage initiative has provided a platform for Olympians and Paralympians to express how they embody sport, creativity and the Olympic values in their lives during every Games edition since PyeongChang 2018.
For painter and swimmer Gregory Burns (USA), art and sport are as intertwined as the mind and body. "They both require robust mental, physical and spiritual training. They both tap into the passion and sense of awe and wonder when we arrive at an exciting place we have never been before," said Burns, who competed at three editions of the Paralympic Games.
Exploring photography, printmaking and ceramics helps alpine skier Laurenne Ross (CAN-USA) feel like "something bigger" than herself. Ross's work debuted at Beijing 2022 – a short video was produced about her time there as an artist-in-residence – following her athletic participation as an Olympian at Sochi 2014 and PyeongChang 2018.
The other five artists took part in the Olympic Agora at Tokyo 2020, a cultural project that saw Olympian Artists' work exhibited at a public metro station in the centre of Tokyo.
Footballer Hannah Wilkinson (NZL) views her creative and athletic endeavours as complementary. Being an Olympian is "an enormous honour, as it defines my approach to being the best I can be in every aspect of life," which extends to her bold graffiti art. Wilkinson, a striker who has represented New Zealand at three Olympic Games, recognises that "being an elite athlete, sometimes the pressure can seep in. When this happens, art is my retreat where I can re-balance myself."
Slaven Dizdarević (SVK) and Roald Bradstock (GBR) both pursued their passions in track and field (decathlon and javelin, respectively) and painting, while Kelly Salchow MacArthur (USA) found her equilibrium through rowing and graphic design.
In total, sixteen Olympians and Paralympians from eight different countries have taken part in the programme so far, creating more than fifty original works – and there's much more to come.
To broaden the network of Olympians and Paralympians active in the creative arts and lay the groundwork for Paris 2024, Culture and Heritage and Athlete365 led a three-month recruitment campaign. As a result, 82 Olympians and 11 Paralympians from 32 different countries registered their interest to join the programme. Artistic Olympians or Paralympians interested in participating can still sign up to receive programme updates here.
The disciplines athletes can work with are diverse, from painting and drawing to music and sculpture, photography, graphic design, fashion, performing arts, creative writing and film – most any medium that facilitates creative expression.
The Olympians Artists' work can be viewed online as showcased during Beijing 2022 and Tokyo 2020, and the Olympic House exhibition will be displayed through December 2023. For more information and updates leading up to Paris 2024, please visit the Olympian Artists programme page.