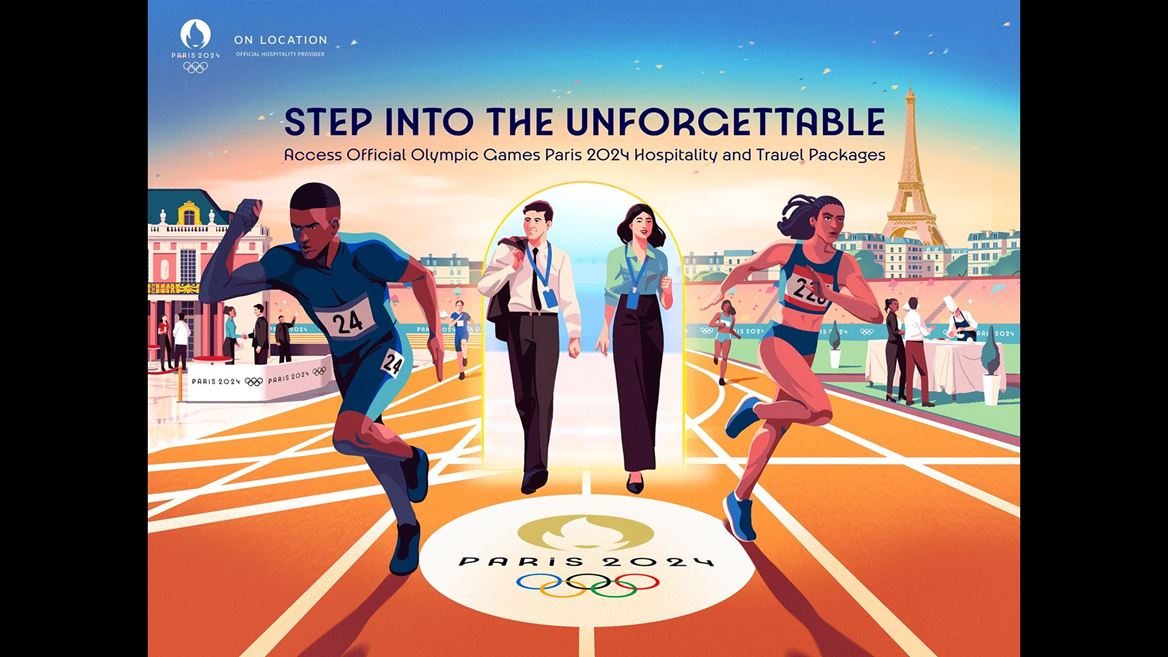 Olympic Games Paris 2024 hospitality platform opens for public sales
17 Jan 2023 – Paris 2024 and On Location have unveiled a worldwide e-commerce platform that allows the general public to access customisable Olympic Games hospitality packages for the first time.
Fans around the world can now purchase official Paris 2024 hospitality packages at a consistent global price, including guaranteed tickets to Olympic sporting events and a wide range of additional options such as hotels and transport, as well as unique and exclusive hospitality experiences at competition venues or in the heart of the host city.
Following the launch of the International Olympic Committee's new global hospitality model, this is the first time that hospitality packages for the Olympic Games have been available via a single hospitality provider. This ground-breaking model ensures a secure and more accessible way for spectators to experience the Olympic Games Paris 2024.
Anne-Sophie Voumard, Managing Director, IOC Television and Marketing Services, said: "Our new global hospitality and ticketing model offers fans and stakeholders a safer, simpler, more accessible and inclusive way to experience the Olympic Games.
We have developed these exclusive Olympic hospitality packages as part of this new approach working with our colleagues at Paris 2024 and our official and exclusive hospitality provider, On Location."
The official online platform, operated by On Location, offers fans a range of hospitality options, allowing them to tailor their trip by choosing the duration of their stay, their preferred accommodation, and additional cultural experiences.
Alongside the Paris 2024 Ticketing Programme, which opened for registration in December, the Paris 2024 Hospitality Programme is the only official and secure way to buy tickets and hospitality packages for next year's Olympic Games.
President of the Paris 2024 Organising Committee Tony Estanguet said: "We are delighted to launch, together with On Location, the first ever global e-commerce platform offering hospitality for the Olympic Games that will be accessible to all budgets. Paris 2024 will be a spectacular celebration of sport in one of the world's most beautiful cities. A celebration that will open up the Games to more people than ever before, with sports being played in the heart of the city, next to exceptional landmarks such as the Eiffel Tower and the Grand Palais, as well as the highly anticipated Opening Ceremony along the Seine River. Our 'Games Wide Open' concept is reflected through this innovative platform, which will open up hospitality to members of the public, allowing them to make their once-in-a-lifetime experience even more special."
The hospitality packages for the Olympic Games Paris 2024 are designed to provide the ultimate experience for fans worldwide. They include an array of exciting hospitality options in private or shared spaces, with varying levels of premium service, enabling fans to fully immerse themselves in the thrill of the Games.
"We believe that attending the Olympic Games should be an experience of a lifetime and, together with Paris 2024 and the IOC, we have worked to develop a newly elevated and innovative hospitality offering that has guaranteed tickets to attend the sport of your choice," said Paul Caine, President of On Location. "We have something for everyone for whatever their hearts desire. We couldn't be more excited to bring unforgettable hospitality experiences for fans and their loved ones to The City of Light."
For the first time, 90 per cent of Olympic sports can be enjoyed through hospitality packages, either at competition venues or in the city centre. On Location's Paris 2024 packages embody the "Games for All" and "Games Wide Open" philosophy, offering a diverse range of prices and services to cater to different audiences and expectations, helping to make Paris 2024 one of the most inclusive and accessible Olympic Games in history.
Fans can access the dedicated hospitality e-commerce platform here