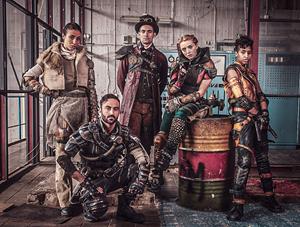 Olympusat Inks Multi-Territory Content Deal With Banijay
West Palm Beach, Feb. 28, 2023 (GLOBE NEWSWIRE) — Olympusat, LLC announced today it secured a licensing partnership with Banijay Rights to air more than 200 hours of its English, Swedish, and Hebrew-language content in North and South America, excluding Brazil, for use across its products and platforms. Programs of particular note include Banijay series such as Black Lake and Surgeons: At the Edge of Life.
"We are thrilled to announce closing a new licensing deal with Banijay Rights," said Aurora Mohler, Chief Content Officer. "Once again, Olympusat demonstrates its commitment to a qualitative and diversified content offering with the propose to serve our viewers and platform partners in the best way possible."
The new agreement also includes Ambulance Australia season 1 to 4, Armed and Deadly: Gang Wars season 2, Armed and Deadly: Police UK season 1, Catching a Predator, Black Lake season 1 & 2, Crime Secrets of season 1 & 2, Fifty ('Hamishim'), Harem, In the Head of a Murderer Sweden season 1 to 4, Inside the Mind of a Serial Killer season 2, Murder Calls season 1, Murdertown season 1 to 3, Surgeons: At the Edge of Life season 1 to 4, The Detectives season 1 to 2, The Oldenheim Twelve season 1 ('De 12 Van Oldenheim') & 2 ('De 12 Van Schouwendam') – 12 X 1 hour (Eps: 101 To 112), The Truth Will Out season 1 (Swedish).
 Michelle Wasserman, SVP Lat Am, USH & Brazil, Banijay Rights, said: "We're pleased to have secured this deal with Olympusat and hope this is the beginning of a long partnership. North and South America are key markets for us, and our vast catalogue means we can offer a wide variety of content to our clients in these regions."
 Olympusat, LLC is a vertically integrated distributor and owner of Spanish and English language pay- tv channels in the U.S., which includes programming rights and a global distribution content library, a portfolio of networks of 30+ HD and SD networks in English and Spanish-language, a premium FAST channel suite of in-language and dubbed content, in both English and Spanish, and an AVOD streaming service FreeTV.
# # #
About Banijay Rights
Leading global distributor, Banijay Rights, represents a world-class, multi-genre portfolio of more than 150,000 hours of standout programming. Handling the distribution for content powerhouse, Banijay, the division specialises in the exploitation of premium scripted and non-scripted brands to broadcasters worldwide.
Representing quality, excellence and experience in the business of linear and non-linear television and ancillary activity across all platforms, Banijay Rights' catalogue encompasses a host of top titles from Banijay's 120+ in-house labels, and a number of third-party producers, spanning drama, comedy, entertainment, factual, reality, family, formats and theatrical.
Delivering high-quality IP, which was born locally and travels globally, the distributor offers the best stories told the best way. Its landmark brands include Survivor, Big Brother, MasterChef, Peaky Blinders, Rogue Heroes, Marie Antoinette, Temptation Island, Grantchester, Deal or No Deal, Biggest Loser, Home and Away, Love Triangle, Mr Bean and Black Mirror.
Built on independence, creative freedom, entrepreneurialism and commercial acumen, Banijay Rights operates under the direction of Chief Executive Officer, Cathy Payne.
About Olympusat
 For more information, please visit www.olympusat.com. 
 FreeTV is Olympusat's ad-supported AVOD streaming platform offering free premium content from around the world. FreeTV is available on all streaming platforms across 17 regions in Latin America and the United States, on a variety of devices, including smartphones, tablets desktop, streaming platforms, and CTV. FreeTV is also accessible as a broadcast station carried in Mexico City, Mexico as FreeTV 8.2.