Omniapp.ai Raises Pre-Seed Funding To Build AI Powered
VELENJE, SLOVENIA , Feb. 27, 2023 (GLOBE NEWSWIRE) — Omniapp.ai has raised an undisclosed pre-seed investment from Meldstone capital, a web3 angel investment firm to bring the most out of AI by utilizing the artificial intelligence with blockchain technology.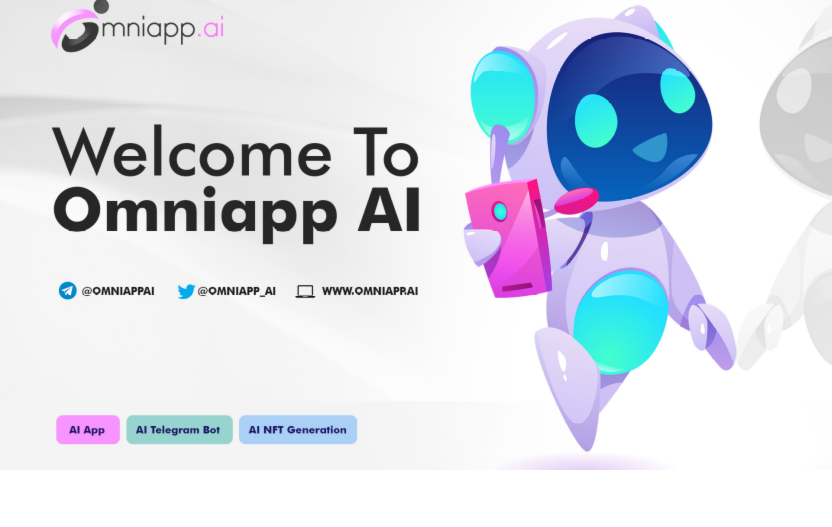 Omniapp.ai will be releasing it's AI powered App, Telegram & discord bot powered by the $OMP utility token in the coming weeks.
What is Omniapp.AI?
Omniapp.ai is a AI crypto project that will combine and harnesses the power of artificial intelligence, fusing it with blockchain technology to increase the adoption and utility of both ecosystems, providing value to users and also giving more utility to the OMP token.
With OmniAPP.AI, you no longer need to hop from one website or app to another to use different AI products like Chatgpt, Dalle-3 and Stable Diffusion. You can access all of these features right from a single app without having to maintain multiple subscriptions, making it easier for you to stay organized and focused on your daily tasks. The best part is that all you need to do to access these products is to hold and stake the $OMP utility token on our dapp to access the features while you earn staking rewards at the same time.
Omniapp.ai aspires to provide its users with a single integrated platform where they can access an AI powered chatbot, AI image generation that can also be utilized by designers and NFT creators to generate AI NFT images, an AI powered telegram moderation bot that can be used by multiple projects in providing maximum benefits and increase the adoption of web 3.0.
OMP Utility Token
Omniapp will be powered by the OMP utility token which will be central to the platform and would be utilized on the platform in multiple ways like being a subscription token to access the Omniapp features, DAO governance to be able to create and vote on proposals that will affect the Omniapp protocol and also holders of $OMP token can also stake to earn rewards and be able to access new features.
How To Acquire The OMP Token
Right now the only way to get hold of the $OMP token is to wait for the seed token sale which will be kicking off in a few days. Potential investors can follow Omniapp on Twitter & join the Telegram Group to be notified when the token sale kicks off.
Who Are We?
The Team is Adept individuals from different backgrounds like software development, cryptography, and marketing constitute the amazing team of Omniap.ai
Founded by Simon Ntisha and Co-founded by Damir Hajdic and Denis Lukavackié. Omniapp core team are prominent figures in the blockchain industry.
The Future Of Omniapp.ai
At Omniapp, we are passionate about building a future where decentralization is the norm, and we believe that decentralized autonomous organizations (DAOs) have a crucial role to play in making this a reality. As we work towards this vision, we are committed to growing Omniapp into a fully decentralized autonomous organization that can create value for everyone.
Furthermore, potential investors and web3 enthusiasts interested in Omniapp.ai can visit the project's website or read out documentation  to get more details.
Website | Twitter | Telegram | Medium