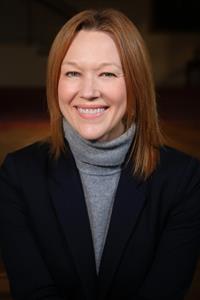 OPERA OMAHA NAMES ALLISON SWENSON AS NEW GENERAL DIRECTOR
Omaha, Nebraska, Jan. 31, 2023 (GLOBE NEWSWIRE) — FOR IMMEDIATE RELEASE: Tuesday, January 31, 2023
Media Contact:
Kyle Thomas, Director of Marketing and Communications
(402) 661-8433
kthomas@operaomaha.org
OPERA OMAHA NAMES ALLISON SWENSON AS NEW GENERAL DIRECTOR
(Omaha, NE) – Opera Omaha is thrilled to announce Allison Swenson as General Director.
Succeeding Roger Weitz, Swenson will step in as the nineteenth General Director in the company's history.
With 20 years of experience in the field, Swenson's work includes time with the Santa Fe Opera, Glimmerglass Festival, and Santa Fe Chamber Music Festival, working with emerging talent and seasoned artists. She currently serves as the Director of Development at the Santa Fe Opera, the largest festival opera company in the United States, beginning as former General Director Charles MacKay's assistant in 2010.
"Allison is one of the brightest, most accomplished arts leaders of her generation" commented MacKay. "She has a broad range of experience with major US arts organizations. Having begun her opera career at an early age, Allison has a splendid track record as a fundraiser, manager, and artistic administrator, and she is dedicated to advancing the art form. Her new role with Opera Omaha promises to be tremendously beneficial both for the company and the field of opera."
"We set the goal of finding a new leader who would be capable of taking Opera Omaha to an even higher level, building on the success that was achieved during Roger's tenure" said Board Chair, Elisa Davies. "Of the nearly 40 candidates reviewed, Allison rose above the other candidates with her artistic and development experience, and in particular her deep network at the highest levels of the opera business. Allison's references included important artistic and administrative leaders, who uniformly congratulated Opera Omaha for attracting Allison to Omaha."
The child of two music teachers, Swenson grew up surrounded by classical music. Her father established a Metropolitan Opera Guild membership in her name when she was an infant, and she studied piano with her mother beginning at age four. As a teenager, she sang in state and national honor choirs.
Swenson received a dual degree in Voice Performance and Integrated Marketing Communications from Ithaca College, where she was a Presidential Scholar and graduated Magna Cum Laude.
"Opera Omaha is a jewel among American opera companies," said Swenson. "I have long admired their spirit of creativity and impressive record of discovering emerging talent. The company flourished under the leadership of Roger Weitz, and I am honored to follow him in this role. I am grateful to the transition committee, board and staff for their confidence and for welcoming me so warmly, and I look forward to joining the vibrant arts community in Omaha."
Swenson will begin her role in mid-February after transitioning to Omaha.
###
ABOUT OPERA OMAHA
Opera Omaha is a growth-minded, high energy, and innovative company with a demanding mission: producing opera performances in multiple formats and styles and co-creating artist-led programs for a variety of community service organizations. We believe the power of opera is transformational and supports the creation of an inventive, creative, empathetic, and inclusive community that inspires joy, self-discovery, kinder discourse, and opportunity for all. Visit www.operaomaha.org for more information.