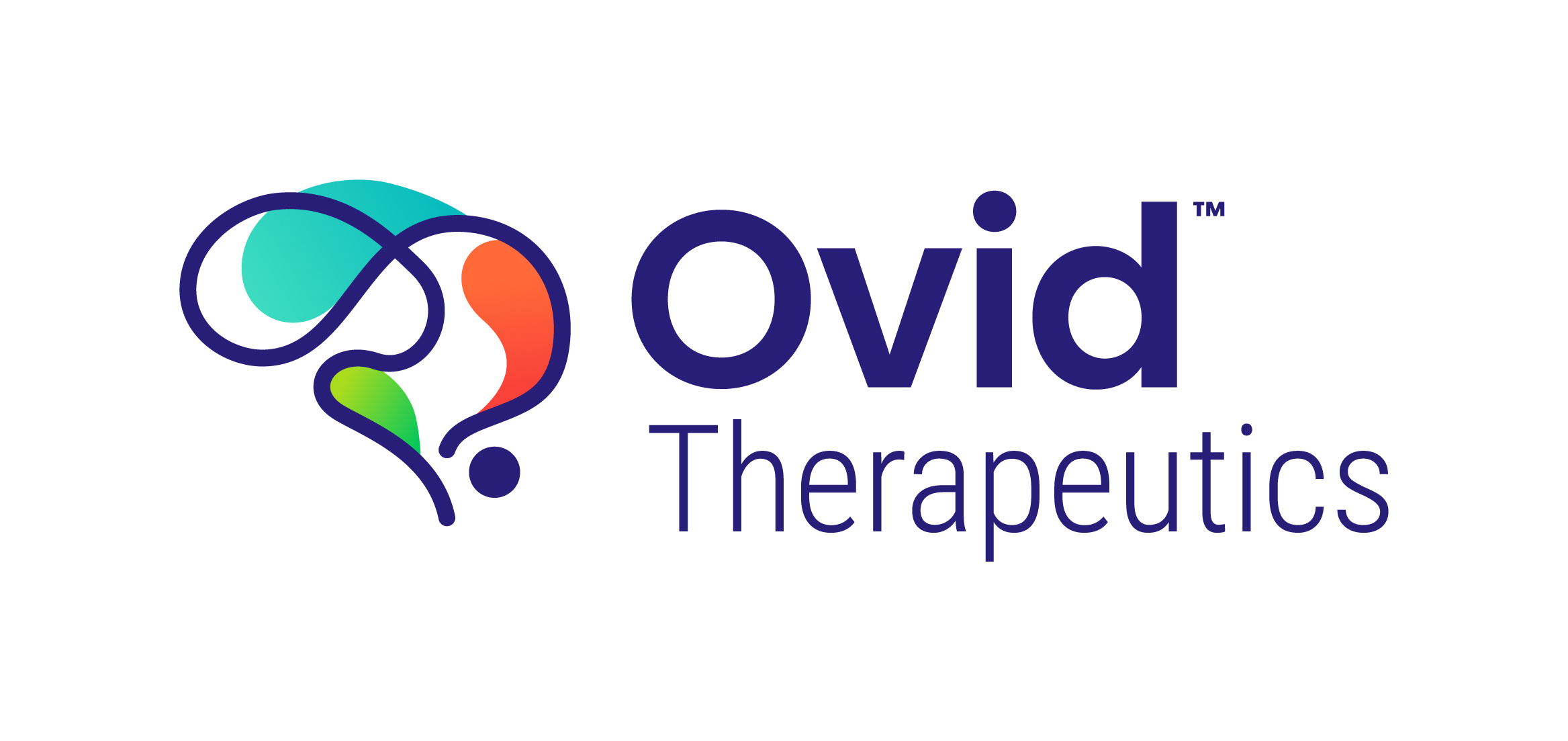 Ovid Therapeutics Announces Collaboration with Graviton
Collaboration to unlock the therapeutic potential of ROCK2 inhibition for rare neurological diseases Couples Ovid capabilities in rare CNS development with Graviton's expertise in RhoA/ROCK2 signaling pathway to accelerate a series of clinical development programs
Development to focus on serious disorders that have few-to-no therapeutic options, including cerebral cavernous malformations and conditions presenting with seizures
Ovid to invest $10 million in preferred equity in Graviton and will fund development programs
Transaction has no milestone payments and Graviton is eligible for tiered double-digit royalties on commercial sales
NEW YORK, May 01, 2023 (GLOBE NEWSWIRE) —  Ovid Therapeutics Inc. (NASDAQ: OVID), a biopharmaceutical company developing medicines designed to conquer epilepsies and meaningfully improve the lives of people affected by brain disorders, and Graviton Bioscience Corporation, a privately held early-stage drug development company specializing in therapeutics that inhibit Rho/Rho-associated coiled-coil containing protein kinase 2 (ROCK2), today announced a collaboration agreement to innovate novel medicines that they believe will significantly change the treatment paradigm for serious, rare neurological diseases.
The agreement supports Ovid's strategy of building a pipeline of first-in-class and best-in-class mechanisms for seizure-related disorders. Specifically, the collaboration will advance clinical development of GV101, which is currently in a Phase 1 trial, along with other selective, small-molecule compounds from a library of ROCK2 inhibitors that have shown blood-brain barrier penetrance in animals. Together, the companies intend to develop ROCK2 inhibitors for the treatment of a broad range of neurological conditions marked by seizures, spasms and related symptoms. Initial clinical development is anticipated to address cavernous malformations in the brain, for which there is strong mechanistic evidence for inhibiting ROCK2. The collaborators intend to harness the expertise held by the team at Graviton, who previously pioneered the development of Rezurock,® the first approved ROCK2 inhibitor for graft vs. host disease, and Ovid's development capabilities in rare brain conditions.
"This collaboration complements our pipeline with clinical and preclinical programs and represents an important step in achieving our strategy," said Dr. Jeremy Levin, D.Phil, MB BChir., Chairman and CEO of Ovid Therapeutics. "We are excited to begin work with a combined team that is deeply experienced at identifying and accelerating new therapeutic technologies for unaddressed diseases. ROCK2 inhibition is a completely novel mechanism of action for the brain, which we believe will open new therapeutic avenues and change the fate of patients."
"Our ROCK2 inhibitor compounds have shown to be extraordinarily selective and potent in many preclinical studies, and as a result, we believe they may provide significant therapeutic benefit for a broad range of diseases, including neurologic, immunologic, fibrotic and genetic conditions," remarked Samuel Waksal, Ph.D. and founder of Graviton. "Working alongside Ovid and a series of partners, we seek to accelerate our candidates into the clinic to rapidly elucidate the therapeutic potential of this portfolio. We believe and hope that ROCK2 inhibition will become a future mainstay in the treatment of people with severe brain conditions who have no medicines today."
Under the terms of the agreement, Ovid will make an upfront payment of $10 million in exchange for Series A preferred stock of Graviton, subject to certain closing conditions. Ovid will have rights to develop GV101 as well as a portfolio of ROCK2 inhibitors owned or developed by Graviton in mutually agreed upon rare central nervous system indications worldwide, excluding China, Hong Kong, Macau and Taiwan. Additionally, Ovid CEO Dr. Jeremy Levin will serve on Graviton's Board of Directors.
Graviton will be responsible for conducting the development of the products through the end of Phase 2 trials under the oversight of a joint development committee from both companies. Ovid will be responsible for: development and commercialization costs, post-Phase 2 development and commercialization of the products. Graviton will be eligible for percentage royalties in the mid- to high-teens based on net sales in territories where the products are marketed. Graviton retains rights to licensed products in all fields of study outside of rare brain disorders.
ROCK2 is a central phosphorylating kinase with isoform differences in tissue distribution. Specifically, the ROCK2/RhoA axis is expressed abundantly in skeletal muscles and in the brain. Published evidence suggests that the ROCK2 signaling pathway may be uniquely activated in multiple diseases, including conditions involving endothelial and autoimmune disorders. Ovid and Graviton have particular interest in neurological disorders involving vascular structures and nerve myelination diseases that can result in seizures, spasms and a variety of symptoms. Despite this link, historically there has been limited clinical development of ROCK2 inhibitors due to challenges penetrating the blood-brain barrier. Ovid and Graviton believe they have multiple selective and potent ROCK2 inhibitors that effectively penetrate the blood-brain barrier, which will be appropriate in future development indications.
About Ovid Therapeutics
Ovid Therapeutics Inc. is a New York-based biopharmaceutical company striving to conquer seizures and brain disorders with courageous science. Ovid's pipeline of small molecule and genetic medicines candidates seek to meaningfully improve the lives of people and families affected by epilepsies. Ovid is developing OV329, a GABA-aminotransferase inhibitor, for treatment-resistant seizures and OV350, a direct activator of the KCC2 transporter, for potential treatment of epilepsies. In addition, Ovid maintains a significant financial interest in the future regulatory development and potential commercialization of soticlestat, which Takeda is responsible for advancing globally. Soticlestat is a cholesterol 24-hydroxylase inhibitor, which is currently in Phase 3 trials for Dravet and Lennox-Gastaut syndromes. For more information about these and other Ovid research programs, please visit www.ovidrx.com.
About Graviton Bioscience
Graviton Bioscience Corporation is a New York-based company founded in 2020 with the goal of developing novel therapeutics for the treatment of autoimmune, cancer, certain genetic, fibrotic and other serious diseases. Leading the company is Dr. Samuel Waksal, the founder and former Chairman and CEO of Kadmon Pharmaceuticals (NASDAQ: KDMN), where he led the licensing and early development of what is the first approved ROCK2 inhibitor, REZUROCK® (belumosudil). Kadmon was subsequently acquired by Sanofi. Dr. Waksal is also the founder and former CEO and President of ImClone Systems (acquired by Eli Lilly), a founder of MeiraGTx (NASDAQ: MGTX) and is the founder of Equilibre Biopharmaceuticals Corp.
About GV101
GV101 appears, in preclinical studies, to be a potentially highly selective, potent inhibitor of Rho/Rho-associated coiled-coil containing protein kinase 2 (ROCK2) that may penetrate the blood-brain barrier. In preclinical studies, GV101 has demonstrated favorable safety and toxicology results compared to other ROCK2 selective inhibitors. It has completed a Phase 1, placebo-controlled, randomized, double-blind, single ascending dose study in healthy volunteers in the United States and has completed dosing for a Phase 1 study in China.
Forward-Looking Statements
This press release includes certain disclosures that contain "forward-looking statements," including, without limitation, statements regarding the reporting of the potential development and use of OV329, OV350 or soticlestat; the status of and expected timing for the completion of Takeda's two pivotal Phase 3 trials evaluating soticlestat for Lennox-Gastaut and Dravet syndromes; the timing of anticipated filing for regulatory approval of soticlestat; the potential development of GV101 and other Rho/Rho associated coiled-coil containing protein kinase 2 inhibitors; and the potential safety, selectivity and potency of GV101 and other ROCK2 inhibitors. You can identify forward-looking statements because they contain words such as "anticipates," "believes," "expected," "intends," "plan," "potential," and "will," and similar expressions (as well as other words or expressions referencing future events, conditions or circumstances). Forward-looking statements are based on Takeda's current expectations and assumptions. Because forward-looking statements relate to the future, they are subject to inherent uncertainties, risks and changes in circumstances that may differ materially from those contemplated by the forward-looking statements, which are neither statements of historical fact nor guarantees or assurances of future performance. Important factors that could cause actual results to differ materially from those in the forward-looking statements include, without limitation, uncertainties inherent in the clinical development and regulatory approval processes and the risk that Ovid may not be able to realize the intended benefits from its financial interest in soticlestat. Additional risks that could cause actual results to differ materially from those in the forward-looking statements are set forth under the caption "Risk Factors" in Ovid's Annual Report on Form 10-K filed with the Securities and Exchange Commission (SEC) on March 13, 2023, and in future filings Ovid makes with the SEC. Any forward-looking statements contained in this press release speak only as of the date hereof, and Ovid assumes no obligation to update any forward-looking statements contained herein, whether because of any new information, future events, changed circumstances or otherwise, except as otherwise required by law.
Contacts
Investors and Media:
Ovid Therapeutics Inc.
Meg Alexander
Chief Corporate Affairs Officer
917-943-6681
malexander@ovidrx.com