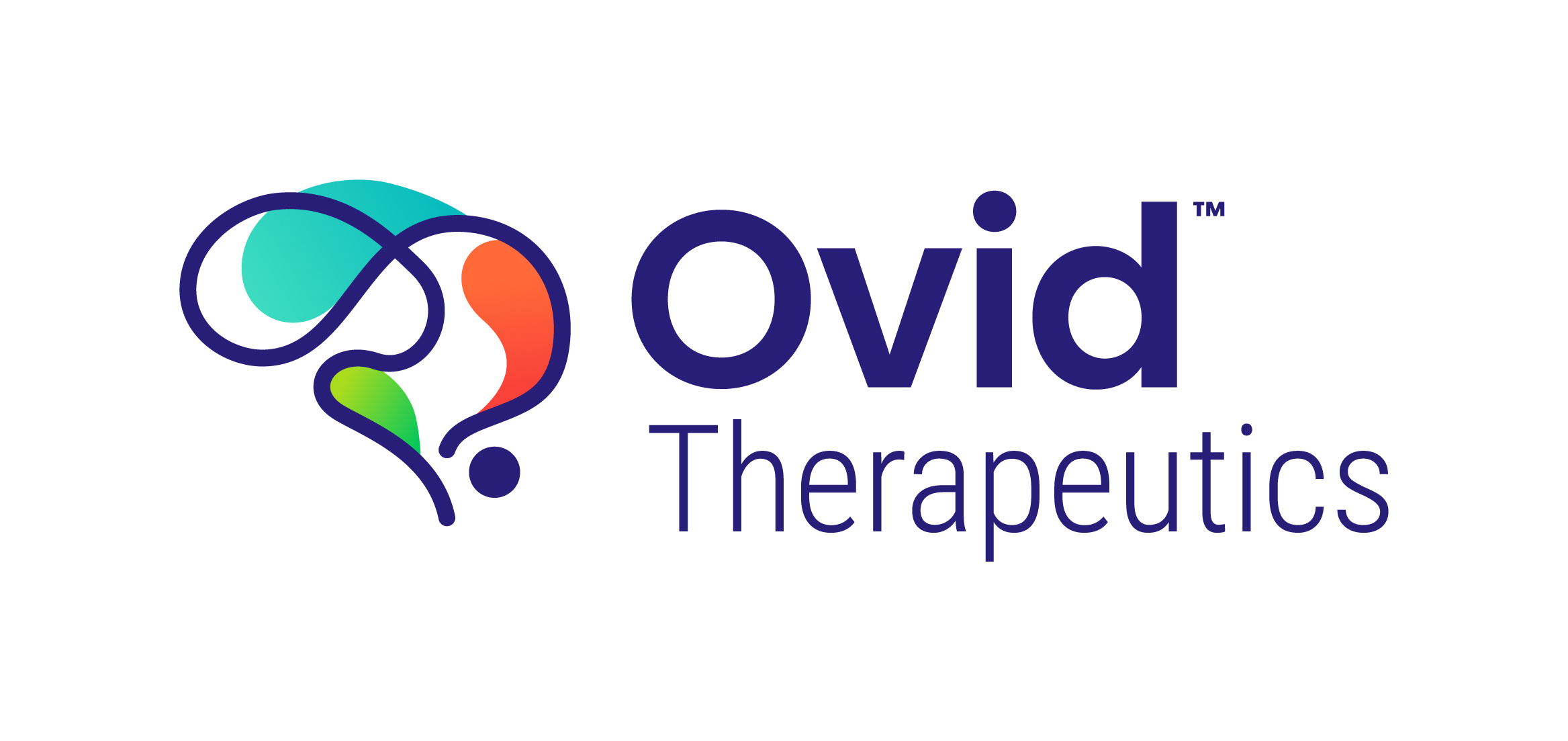 Ovid Therapeutics Reports First Quarter 2023 Financial
Initiated collaboration with Graviton Bioscience to develop selective ROCK2 inhibitors for rare neurological diseasesLong-term data supporting soticlestat safety, tolerability and seizure-reduction efficacy presented by Takeda at the American Academy of Neurology meetingOV329 Phase 1 trial continues to progress on track with no safety signals Company to prioritize development of its clinical small molecule programs; intends to conclude and explore the out-licensing of its genetic medicine programs with Columbia University
NEW YORK, May 05, 2023 (GLOBE NEWSWIRE) — Ovid Therapeutics Inc. (NASDAQ: OVID), a biopharmaceutical company committed to developing medicines that transform the lives of people with rare epilepsies and seizure-related disorders, today reported business updates and financial results for the first quarter ended March 31, 2023.
"Our recent transaction with Graviton adds a clinical stage program with a novel mechanism of action to our pipeline of potential first-in-class or potential best-in-class medicines for rare epilepsies and seizure-related disorders. We are excited to explore the therapeutic opportunity of applying ROCK2 inhibition for people suffering with serious neurological conditions, beginning with brainstem cavernous malformations, a grave condition that has no approved medicine today," said Jeremy Levin, D.Phil, MB BChir, Ovid's Chairman and CEO.
"Importantly, all elements of our pipeline are progressing. We are encouraged by long-term and post hoc analyses on soticlestat, recently presented by Takeda, and look forward to seeing results from the Phase 3 pivotal trials. Additionally, we have assembled a unique set of programs, anchored by four potential best-in-class or only-in-class mechanisms of action, including: selective ROCK2 inhibition, GABA-aminotransferase inhibition, direct KCC2 activation and cholesterol 24-hydroxylase inhibition that was since out-licensed to Takeda. The mechanisms in this pipeline strategically position Ovid to be a leader in rare seizure-related disorders. Collectively, we believe these programs will deliver multiple clinical milestones that can generate value for patients and shareholders," added Dr. Levin.
First Quarter Business Update
R&D strategy: Ovid is prioritizing its pipeline of small molecule programs, to which it recently added GV101 and a library of novel ROCK2 inhibitor compounds through its collaboration with Graviton Bioscience (Graviton). The Company's efforts focus on establishing therapeutic proof-of-concept in humans using efficient, signal-finding trials and validated biomarkers of efficacy. Ovid will conclude its research collaboration with Columbia University by year-end 2023 and explore business development opportunities for its non-core genetic programs produced from that research initiative. Financial strategy: Ovid anticipates its cash runway should fund operations into 2025 without additional funding. Ovid plans to direct capital to clinical opportunities that it believes to be value-creating for shareholders. To support this strategy, Ovid instituted cost-cutting measures that began in 2022 and continue into this year, such as the conclusion of its genetic programs with Columbia University and other administrative cost saving activities. Apart from its current runway projections, Ovid is eligible to receive additional non-dilutive capital from Takeda, if and when soticlestat is successfully approved and marketed. Takeda has guided that it anticipates filing for global regulatory approvals of soticlestat in its fiscal year 2024.Business development activities: The Company's recent collaboration with Graviton adds a clinical stage program and preclinical assets to Ovid's pipeline, achieving one of Ovid's annual goals. Future business development efforts will focus on exploring out-licensing opportunities for Ovid's genetic programs, as well as potential partnerships to advance development opportunities for its assets in indications outside of seizures.
The Company intends to make disciplined strategic investments in its scientific and leadership team to steward the business and its programs.
Pipeline Update
GV101 and selective ROCK2 inhibitor library: In May 2023, Ovid entered into a collaboration agreement with Graviton and is initiating clinical development work to support a pivotal formulation and dose for its lead asset, GV101. Ovid seeks to take GV101 into a potential Phase 2 trial for the treatment of cavernous malformations located in the brainstem in 2024. GV101 is a potent, highly selective ROCK2 inhibitor that has previously been shown to be blood-brain barrier penetrant in animals. Additionally, GV101 was generally well tolerated in a prior Phase 1 study in healthy volunteers using a nano-suspension formulation. Working through a joint development committee with Graviton, Ovid intends to initiate a multiple ascending dose study in the second half of 2023 to confirm its preferred dose in a gel capsule formulation. In parallel, Graviton is working to open a potential Investigational New Drug (IND) application in cavernous malformations of the brain. OV329, a potential next generation GABA-aminotransferase (GABA-AT) inhibitor, is on track in a Phase 1 trial of healthy volunteers. The Company has seen no safety signals in single ascending dose cohorts conducted to date. Ovid believes OV329 is more potent than prior GABA-AT inhibitors, and therefore may provide significant seizure reduction efficacy, an improved safety profile, and preferable (lower) dosing. Ovid anticipates full Phase 1 findings in the first half of 2024, including biomarker data that may serve as a proxy for seizure reduction efficacy. Additional long-term animal toxicology programs and efficacy models are ongoing to further support development and future indication selection. OV350, the lead compound in Ovid's KCC2 portfolio, is advancing in preclinical studies. The objective of current studies is to support future clinical development in seizure-related disorders. In addition to OV350, Ovid is characterizing other compounds in the unique KCC2 activator library to identify oral formulations and to explore the potential relevance of the KCC2 transporter target in animal models of additional diseases. Soticlestat is progressing in two Phase 3 pivotal trials for Lennox-Gastaut syndrome (LGS) and Dravet syndrome (DS). Takeda recently presented a positive analysis of long-term data on patients taking soticlestat at the 2023 American Academy of Neurology meeting. An analysis of patients who participated in a long-term open label extension study called ENDYMION 1 showed that at two years of treatment with soticlestat, the compound was generally safe and well tolerated, consistent with prior studies. Additionally, it showed sustained reduction in frequency of drop seizures among LGS patients and convulsive seizures among DS patients as well as sustained reductions in the frequency of all-seizures from baseline for up to two years across both cohorts. A separate analysis of the Phase 2 study, ELEKTRA, was presented and found a reduction in median seizure frequency across multiple seizure types. Ovid is eligible to receive regulatory and commercial milestone payments of up to $660 million, as well as royalties of up to 20% on global sales, if regulatory approval is received and soticlestat is commercialized.Concluding genetic research collaboration with Columbia University. By year-end 2023, Ovid will conclude its three-year research collaboration with Columbia to focus its capabilities on the development of its small molecules and seizure-related disorder candidates. The portfolio includes OV815, OV825, and OV835, which are novel and viable preclinical candidates and programs. The Company will explore business development opportunities to maximize the scientific and therapeutic potential of these programs and return on investment.
First Quarter 2023 Financial Results
Cash, cash equivalents and marketable securities as of March 31, 2023, totaled $117.7 million.Revenue was $66,160 for the three months ended March 31, 2023, and $1.4 million for the same period in 2022. Revenue in the three months ended March 31, 2023, was from ZTALMY® (ganaxolone) royalties from Marinus Pharmaceuticals, Inc., and revenue for the same period in 2022 was generated from licensing and other agreements.Research and development expenses were $6.6 million for the three months ended March 31, 2023, as compared to $7.8 million for the same period in 2022. The decrease was due to cessation of clinical development programs related to gaboxadol and soticlestat, offset by clinical development costs for OV329.General and administrative expenses were $8.3 million for the three months ended March 31, 2023, as compared to $9.9 million for the same period in 2022. The decrease was due to personnel cost reductions following corporate cost-cutting efforts and a headcount reduction conducted in March 2022.Total operating expenses were $15.0 million in the three months ended March 31, 2023, as compared to $17.7 million for the same period last year. The decrease was a result of the above mentioned expense reduction efforts undertaken in 2022.Ovid reported a net loss of $13.4 million, or basic and diluted net loss per share attributable to common stockholders of $0.19, for the three months ended March 31, 2023, as compared to a net loss of $16.1 million, or basic and diluted net loss per share attributable to common stockholders of $0.23, for the same period in 2022.
About Ovid Therapeutics
Ovid Therapeutics Inc. is a New York-based biopharmaceutical company striving to conquer seizures and brain disorders with courageous science. Ovid's pipeline of small molecule candidates seek to meaningfully improve the lives of people and families affected by rare epilepsies and seizure-related disorders. Ovid seeks to develop: GV101, a potent and highly selective ROCK2 inhibitor for the potential treatment of lesions associated with cerebral cavernous malformations; OV329, a GABA-aminotransferase inhibitor, for treatment-resistant seizures, and OV350, a direct activator of the KCC2 transporter, for potential treatment of epilepsies. In addition, Ovid maintains a significant financial interest in the future regulatory development and potential commercialization of soticlestat, which Takeda is responsible for advancing globally. Soticlestat is a cholesterol 24-hydroxylase inhibitor, which is currently in Phase 3 trials for Dravet and Lennox-Gastaut syndromes. For more information about these and other Ovid research programs, please visit www.ovidrx.com.
Forward-Looking Statements
This press release includes certain disclosures that contain "forward-looking statements," including, without limitation: statements regarding the Phase 1 study in healthy volunteers for OV329; the potential use of OV329, GV101 and OV350; the clinical and regulatory development of our programs, including the anticipated timing of clinical data; the likelihood that data for OV329, GV101 and OV350 will support future development and therapeutic potential; the potential development of GV101 and the library of ROCK2 inhibitors and OV350 and other KCC2 compounds in Ovid's library; the suitability of Ovid's library of novel, direct KCC2 transporter activators and the library of ROCK2 inhibitors for a range of formulations and administrations; the timing for filing of Ovid's IND applications; the potential development and therapeutic opportunity of GV101 and other Rho/Rho associated coiled-coil containing protein kinase 2 inhibitors; and the potential safety, selectivity and potency of GV101 and other ROCK2 inhibitors; the timing for the completion of Takeda's two pivotal Phase 3 trials evaluating soticlestat for Dravet syndrome and Lennox-Gastaut syndrome; and the duration of Ovid's expectations regarding its cash runway and the expectation that it will support the advancement of Ovid's pipeline. You can identify forward-looking statements because they contain words such as "anticipates," "believes," "expected," "intends," "may," "plan," "potentially," "seek," "strive" and "will," and similar expressions (as well as other words or expressions referencing future events, conditions or circumstances). Forward-looking statements are based on Ovid's current expectations and assumptions. Because forward-looking statements relate to the future, they are subject to inherent uncertainties, risks and changes in circumstances that may differ materially from those contemplated by the forward-looking statements, which are neither statements of historical fact nor guarantees or assurances of future performance. Important factors that could cause actual results to differ materially from those in the forward-looking statements include, without limitation, uncertainties inherent in the preclinical and clinical development and regulatory approval processes, risks related to Ovid's ability to achieve its financial objectives, the risk that Ovid may not be able to realize the intended benefits of its technology or its business strategy, or risks related to Ovid's ability to identify business development targets or strategic partners, to enter into strategic transactions on favorable terms, or to consummate and realize the benefits of any business development transactions. Additional risks that could cause actual results to differ materially from those in the forward-looking statements are set forth under the caption "Risk Factors" in Ovid's Annual Report on Form 10-K filed with the Securities and Exchange Commission ("SEC") on March 13, 2023, and in future filings Ovid makes with the SEC. Any forward-looking statements contained in this press release speak only as of the date hereof, and Ovid assumes no obligation to update any forward-looking statements contained herein, whether because of any new information, future events, changed circumstances or otherwise, except as otherwise required by law.
Condensed Consolidated Statements of Operations
Unaudited   For the Three
Months Ended
March 31,
2023  For the Three
Months Ended
March 31,
2022Revenue:     License and other revenue$              66,160 $         1,445,366License revenue – related party                         —                          —Total revenue                 66,160             1,445,366Operating expenses:     Research and development            6,614,717             7,832,269General and administrative            8,343,748             9,880,203Total operating expenses          14,958,465           17,712,472Loss from operations        (14,892,304)         (16,267,106)Other income (expense), net            1,536,095                159,050Loss before provision for income taxes        (13,356,209)         (16,108,056)Provision for income taxes                         —                          —Net loss$    (13,356,209) $    (16,108,056)Net loss per share, basic$                 (0.19) $                 (0.23)Net loss per share, diluted$                 (0.19) $                 (0.23)Weighted-average common shares outstanding, basic          70,490,704           70,345,828Weighted-average common shares outstanding, diluted          70,490,704           70,345,828 Select Condensed Balance Sheet Data
Unaudited  March 31, 2023 December 31, 2022Cash, cash equivalents and marketable securities$        117,720,021         $        129,001,411        Working capital(1)         112,798,366                  124,389,166        Total assets         143,367,004                  155,265,814        Total stockholder's equity         120,947,682                  132,272,564        (1)Working capital defined as current assets less current liabilities
Contacts
Investors and Media:
Ovid Therapeutics Inc.
Meg Alexander
Chief Corporate Affairs Officer
917-943-6681
malexander@ovidrx.com
OR
Investors:
Argot Partners
Maeve Conneighton
212-596-7231
ovid@argotpartners.com