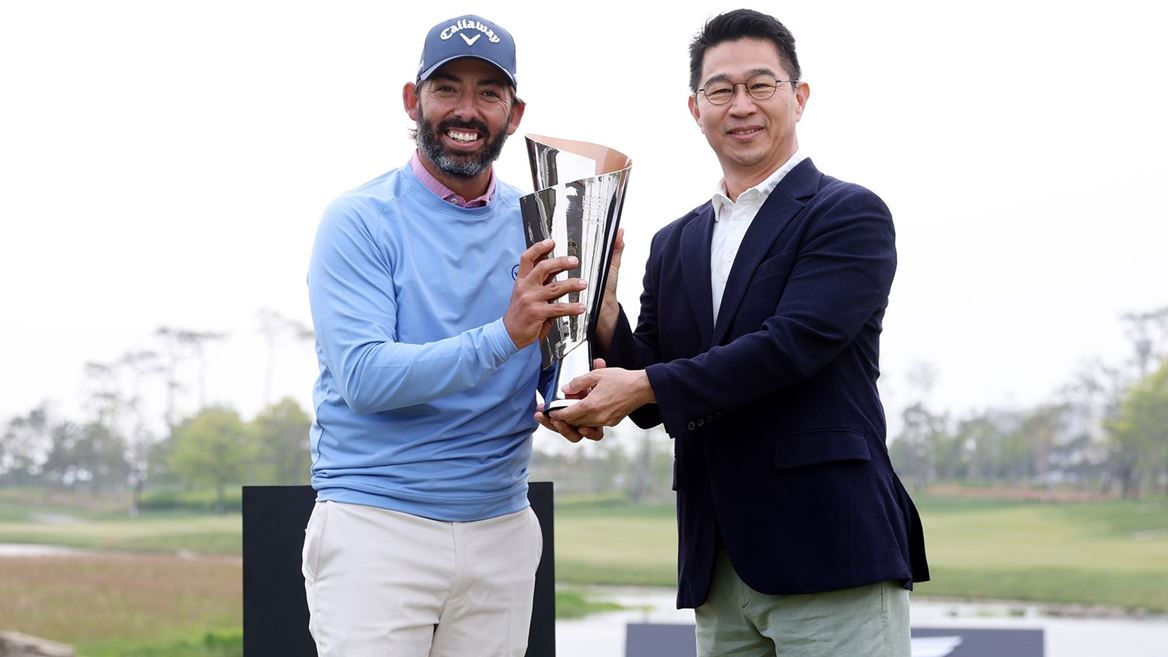 PABLO LARRAZÁBAL WINS THE INAUGURAL KOREA CHAMPIONSHIP PRESENTED BY GENESIS

Pablo Larrazábal's 12-under 276 earns him the winner's purse of $340,000 USD, claiming an eighth DP World Tour titleAs Presenting Sponsor, Genesis delivered exceptional care to players and caddies by providing courtesy cars and its signature Players & Caddies Lounge on-site
SEOUL, South Korea, May 1, 2023 – The Korea Championship Presented by Genesis concluded Sunday, April 30, after four days at Jack Nicklaus Golf Club Korea in Songdo, Incheon. The winner's trophy went to Pablo Larrazábal, who recorded a final score of 12-under to beat runner-up Marcus Helligkilde from Denmark who finished his fourth round with a 68. Larrazábal went on a back nine birdie run to secure an eighth DP World Tour title and first win of the season at the Korea Championship, taking home the $340,000 USD prize.
The tournament, co-hosted by the DP World Tour and the Korea Professional Golfers' Association (KPGA), is significant as it marks the DP World Tour's return to Korea after ten years.
The field included a total of 156 players – 55 from KPGA, 91 from DP World Tour, eight invites, and two amateur players. In addition, players that finish in the top ten of the DP World Tour's season-long Race to Dubai Rankings in Partnership with Rolex will also qualify for the PGA TOUR.
Three Korean players finished in the top ten; Sanghyun Park finished in third place at 9-under 279, while Kyungnam Kang and Junghwan Lee both tied for tenth place at 7-under 281.
Larrazábal said, "First of all, I have to thank Genesis for bringing us to Korea [after] ten years. I played in a few Korean opens before and I loved it, and ten years after the last one I came back to [this] tournament [and won] so thank you [again] to Genesis and all the sponsors."
As Presenting Sponsor, Genesis continued its proud tradition of elevating the level of hospitality for players and caddies with various activities on-course. The Players & Caddies Lounge and the brand's signature double hole-in-one prize offering once again highlight the importance of the teamwork between player and caddie. Genesis also provided a fleet of 44 courtesy cars to transport players and tournament stakeholders.
Genesis started its tradition of support for golf in 2016, sponsoring the Korea Professional Golfers' Association with the Genesis Point System. The following year the brand hosted the Genesis Championship for the first time as a title sponsor Then, in 2017, Genesis took its golf commitments global by becoming the title sponsor of the PGA Tour's Riviera event, which is now the Genesis Invitational. Genesis also became a vehicle sponsor of the Presidents Cup in 2019, and the Abu Dhabi HSBC sponsorship in 2022, respectively. And last year, Genesis became the title sponsor of the Scottish Open—the first event to be co-sanctioned by the PGA Tour and the DP World Tour.
Mike Song, Global Head of Genesis said, "The inaugural Korea Championship was successful thanks to all players, caddies, and partners from the DP World Tour and the KPGA. Genesis will continue to work closely with both partners to further support Korean mens' golf with opportunities to compete against some of the best golfers in the world on home turf, while also leading our distinctive culture of caddie care."