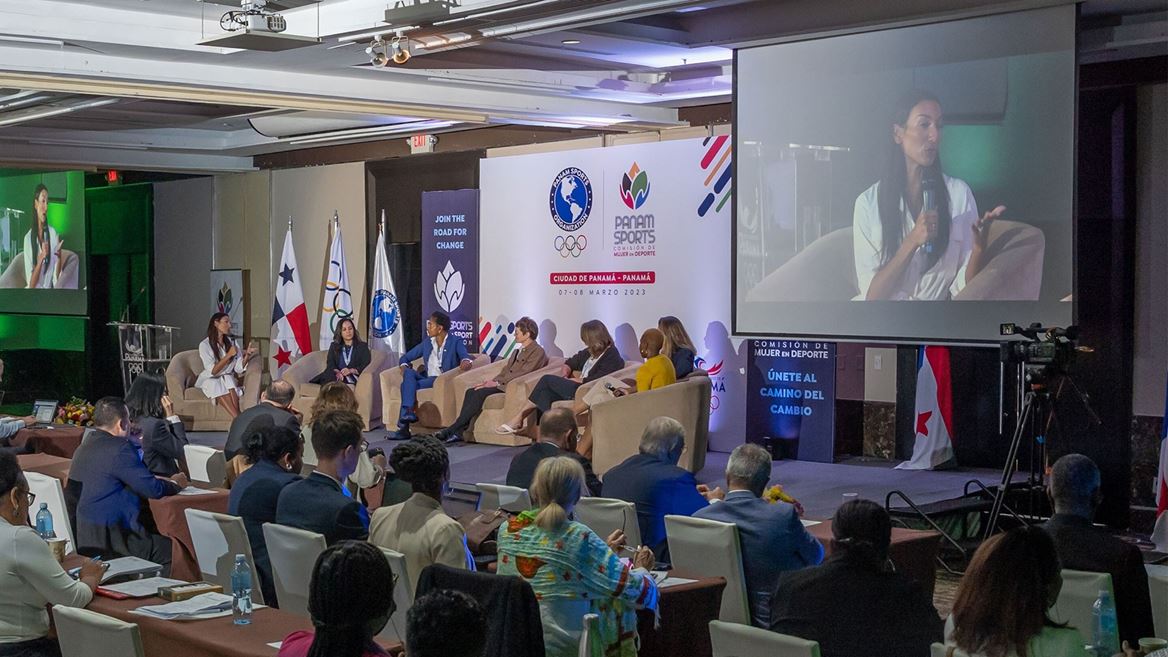 Panama NOC taking the lead on safe sport
09 Mar 2023 – As the Panam Sports Women in Sport Conference comes to a close in Panama City, IOC.org looks at the efforts taken by the National Olympic Committee (NOC) of Panama to address harassment and abuse in sport and create a safer sporting environment within the country.
Athlete safeguarding was one of the key issues addressed at this week's Panam Sports Women in Sport Conference, with a panel discussion focused on how best to address gender-based violence through safe sport initiatives.
The panel was moderated by Damaris Young, President of the Panama NOC, who underlined the importance of ensuring athletes are able to train and compete in environments that are fair and respectful, and free from all forms of harassment and abuse.
Since being elected as the first female President of the Panama NOC in May 2021, Young has made athlete safeguarding one of her key priorities, working to promote and strengthen safe and supportive sporting environments for all.
First safe sport office
Major initiatives have included the establishment of the country's first safe sport office – facilitated by funding and technical support from Olympic Solidarity – where athletes can go to report incidents of harassment or abuse and receive expert advice and support.
"It has created, first of all, an awareness that if it's not right, you should say something," said Young. "Second, people know there is somewhere to go now. Everyone now knows: 'I can be heard'."
The office is run by a full-time director, with workshops also being held at events such as the South American Youth Games, Pan American Youth Games, South American Games, Central American Games and Central American and Caribbean Beach Games to educate athletes, entourage members and other officials about safe sport. These efforts have already reached an estimated 1,000 people connected to Panamanian sport.
"Every time we take a delegation [to an event], they will come to the NOC and the safe sport office [so that we can] explain, for instance, what 'consent' means," said Young. "Now, we have a voice. We are a voice."
New women's empowerment course
Ahead of the Panam Sports Women in Sport Conference, the NOC of Panama also launched a new women's empowerment course – supported by Olympic Solidarity – underlining its commitment to advancing gender equality in sport.
Developments like these, driven by NOCs, are powerful illustrations of the potential for sporting organisations to make proactive and positive changes to sport in their regions, and contribute to a safer sporting environment for all participants.
IOC Safeguarding Workshop
Initiatives such as those in Panama have been supported by the IOC, through its Prevention of Harassment and Abuse in Sport Working Group, which has been focused on helping NOCs and International Federations develop their own policies and programmes to prevent harassment and abuse.
As part of these efforts, the IOC also hosted a safeguarding workshop during the Panam Sports Women in Sport Conference, inviting safeguarding officers from NOCs within the region who have completed the International Safeguarding Officer in Sport Certificate.
The workshop aimed to provide a space to build safeguarding communities at regional level, allowing them to share their positive experiences and challenges so that they can support each other, further driving the topic forward with a cohesive regional approach.
The IOC's pioneering International Safeguarding Officer in Sport Certificate programme concluded its first edition in May 2022. The course, which ran online from September 2021 to April 2022, welcomed 69 students from 38 countries across all five continents and offered participants 250 hours of learning, covering all areas of safeguarding in sport. Following the success of the inaugural course, a second edition began in September 2022.
The IOC has been developing programmes and initiatives to safeguard athletes from harassment and abuse in sport since 2004. It remains committed to protecting the safety and well-being of athletes through Olympic Agenda 2020+5, including Recommendation 5, which outlines the IOC's commitment to "further strengthen safe sport/safeguarding across the Olympic Movement to protect the physical and mental well-being of athletes".
Prioritising safeguarding in sport is also a key part of the Olympism365 strategy, which aims to encourage collaborative partnerships and promote the value of safe, accessible and sustainable sports organisations.