Advertisement. Scroll to continue reading.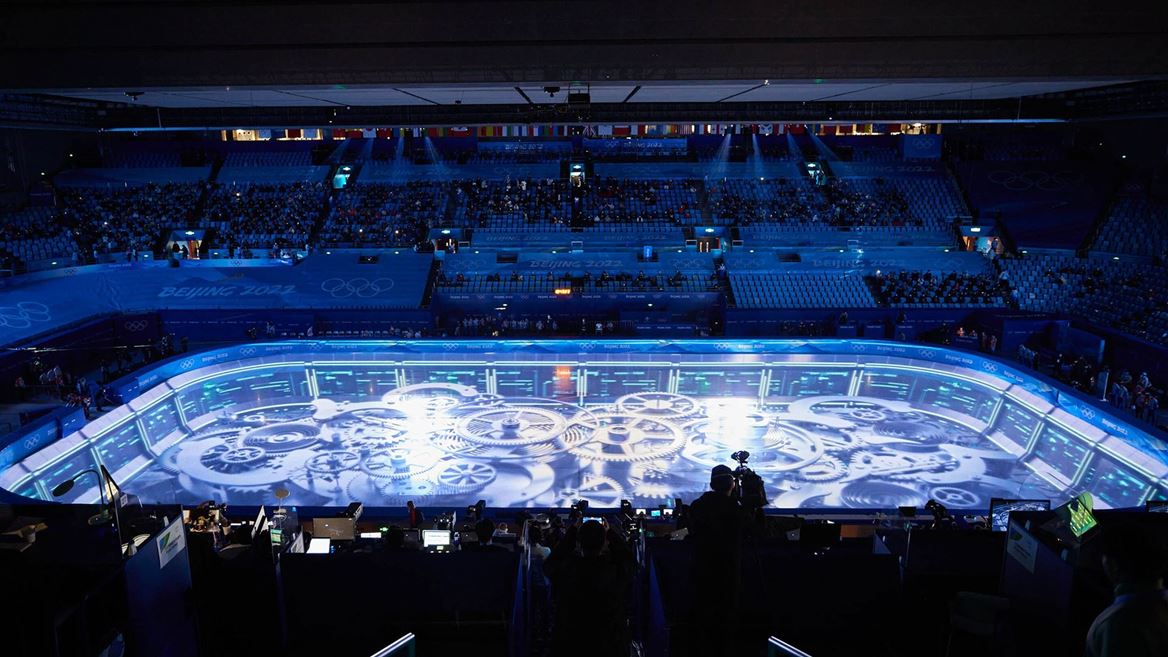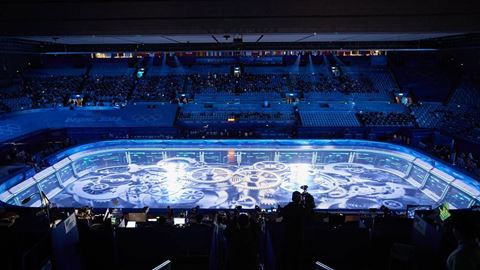 Advertisement. Scroll to continue reading.
18 Feb 2022 – Cutting-edge projectors from Worldwide Olympic Partner Panasonic are bringing a new dimension to the sports presentation at several venues during the Olympic Winter Games Beijing 2022.
Multiple units of Panasonic's latest 30,000 lumens 4K resolution super high brightness projectors are being used to display immersive graphics and animations directly onto the ice at the Capital Indoor Stadium, National Aquatics Centre, National Indoor Stadium, Wukesong Sports Centre and National Speed Skating Oval.
These eye-catching visual presentations have been helping to enhance the sports presentation by entertaining fans and building excitement ahead of events in sports such as curling, ice hockey, figure skating, short-track speed skating and speed skating.
"You really need to see it to appreciate it," explains a Panasonic Beijing Cluster Manager. "It's very different in each venue. There are a lot of things happening in 3D. Then suddenly you'll have water flooding in and the whole field of play looks like a swimming pool. It's quite impressive."
According to the Panasonic Project Manager, the projectors are just one element of the audiovisual technology that the company has supplied to the Beijing 2022 Organising Committee.
"The key focus is giving the sports presentation team the tools to deliver entertainment to the spectators," he says. "So that's the PAs, the screens and the projection systems that you see in the venues. It's all about looking after all of their audio-video requirements."
Panasonic first supported projection mapping for the Opening and Closing Ceremonies at the Olympic Games London 2012, and has helped take the visual spectacle to new levels at each Games since then. For Tokyo 2020, this included enhancing the presentation of events such as the men's and women's 100m final in athletics, as well as at the gymnastics, volleyball and sport climbing venues. And much like the athletes always looking to improve their performances from one Games to the next, the Panasonic Project Manager says it is the same for Panasonic as they look ahead to Paris 2024.
"At every Games, Panasonic are keen to do something new," he explains. "At the same time, the Organising Committee are always very keen to do something that hasn't been done before. So we always work very closely with them to try and achieve something new and exciting each time."
Panasonic has been a Worldwide Olympic Partner since 1987, when it joined The Olympic Partner Programme as a charter member, and for over 35 years it has been supporting the Olympic Games with its cutting-edge audiovisual equipment solutions.
The Olympic Partners (TOP) programme is the highest level of Olympic sponsorship, granting category-exclusive marketing rights to the Summer, Winter and Youth Olympic Games to a select group of global partners.
Advertisement. Scroll to continue reading.