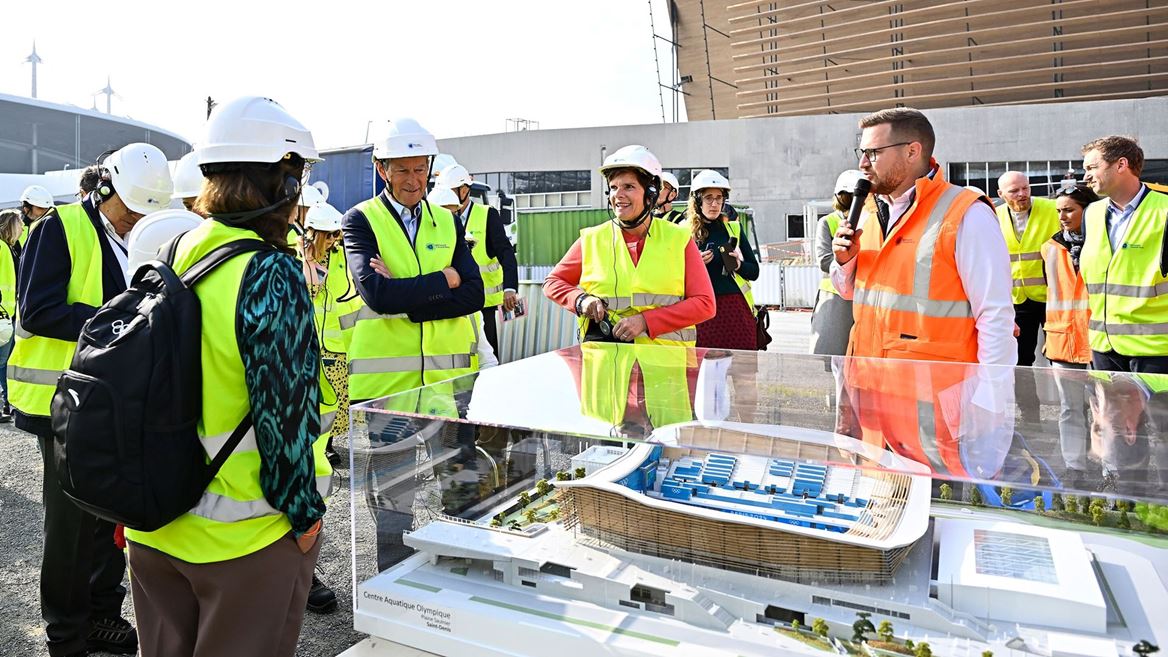 Paris 2024 ramps up pace for final sprint of preparations as engagement grows ahead of one−year to−go mark
7 Jun 2023, With just over a year to go, Paris 2024 is on track to deliver Olympic and Paralympic Games of a new era. This was the message delivered by the International Olympic Committee (IOC)'s Coordination Commission following a three-day visit to the French capital, where the Commission met with organisers and local authorities to discuss readiness preparations.
Speaking about the meeting, the Chair of the IOC Coordination Commission, Pierre-Olivier Beckers-Vieujant, said: "Paris, in 2024, will deliver a new era of Games. It will demonstrate the power of sport and solidarity, and the contribution the Olympic and Paralympic Games can make to youth and society at large. Paris 2024's ambitious and innovative approach to inclusion, optimisation and sustainability has answered the calls for reform from the IOC's Olympic Agenda 2020, and is already delivering increased excitement. The recent success of programmes such as ticketing, volunteering and the 30 minutes of physical activity are some examples."
He continued: "We congratulate the Organising Committee on the significant progress they have made as they transition from the planning to the delivery phase. It's now about transforming ideas into tangible operations through a series of crucial test activities, and showing that Paris is ready to welcome the world in 2024."
Paris 2024 President Tony Estanguet added: "With just over 400 days to go until Paris 2024 gets underway, we can't wait to share with the world our ambition of 'Games Wide Open'.
"We're now entering the final straight of our preparations and, as of today, we are firmly on track to maintain our vision of a spectacular celebration of sport like no other."
He concluded: "We'd like to thank the IOC Coordination Commission for three fruitful days of meetings, scrutiny and, most importantly, guidance. We now have 14 months left to finalise our preparations. With all the key stakeholders engaged and mobilised around our project, we have every confidence in France's ability to put its best foot forward and deliver on the global stage in 2024."
This summer marks an important milestone, as Paris 2024 will start delivering events. One of the key activities noted during the meeting was next month's sailing test event in Marseille, which officially marks the start of Paris 2024's testing programme. This event is part of a wider testing programme which will run through to Games time and includes sports events plus a number of other readiness exercises. These will provide crucial learnings and allow for necessary adjustments to ensure Paris is fully prepared to host the Games next year.
Additionally, the Coordination Commission acknowledged strong engagement with all stakeholders, especially the French State and local authorities on matters including security and transport. Further collaboration with Olympic Movement stakeholders will be evident in July, when the National Olympic Committees (NOCs) participate in a Chefs de Mission Seminar in the city, while a World Broadcaster Meeting and a World Press Briefing will take place in the following months.
Paris 2024 also highlighted the continued public support for the Games. The Organising Committee's volunteer programme received over 300,000 applications from over 190 countries, demonstrating widespread enthusiasm for participation. Additionally, membership of Club Paris 2024 has surpassed four million members, reflecting the support from fans who want to be part of these Games. High levels of public support were evidenced again by recent opinion polls, showing nearly 70 per cent of French people support the organisation of the Olympic and Paralympic Games. This serves as a testament to the collective achievements of the Paris 2024 project so far.
This engagement has also been reflected commercially. Paris 2024 shared the success of ticket sales, with nearly seven million tickets purchased so far. In this context, Paris 2024 reiterated its commitment to accessibility, with around 60 per cent of tickets sold to the general public for EUR 100 or less. This was in addition to the financing of 100,000 tickets by Paris 2024 for underprivileged people who are not usually able to attend the Games. Paris 2024 also confirmed that it had agreed 15 additional domestic partnerships since the beginning of 2023.
Sustainability and legacy were other key topics discussed during this week's meeting. In this respect, Paris 2024's impact in both areas is already contributing positively to French society ahead of the Games. For example, over one million children engaged in this year's Olympic and Paralympic Week in France. Physical activity promotion, such as the initiative to undertake 30 minutes of exercise daily in all French schools, was also showcased, highlighting Paris 2024's ambition to leave a legacy for the next generation. In addition, the Paris team explained that the Endowment Fund, "Impact 2024", which harnesses sport to make a social impact, has so far supported more than 1,000 projects, benefitting over 3.1 million individuals. Community impact has been demonstrated by the share of contracts awarded to small and medium enterprises – 75 per cent from the Organising Committee.
From a sustainability perspective, Paris 2024 shared some examples of long-term carbon reductions, including securing grid access for all venues, shifting from the traditional diesel-based energy generation commonly used in stadiums. This is an example of the power of the Games to change practices and align efforts between the Organising Committee, local stakeholders, sponsors and broadcasters.
From a more strategic perspective, the Organising Committee repeated its commitment to its ambition, while at the same time remaining determined to maintain a balanced budget. As a result, collaborative efforts between Paris 2024, the IOC, the International Paralympic Committee and Games stakeholders continue in order to optimise the delivery of the Games.
The Olympic Games Paris 2024 will take place between 26 July and 11 August, with the Paralympic Games then taking place from 28 August until 8 September.