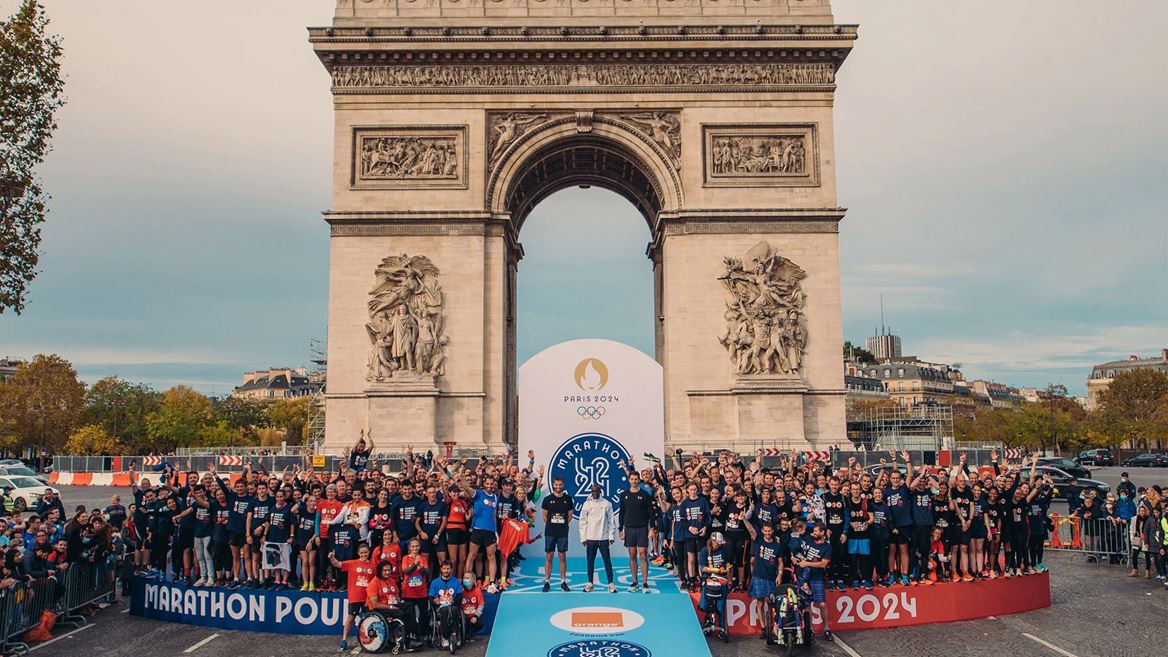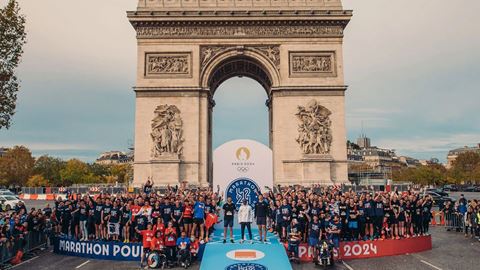 Advertisement. Scroll to continue reading.
Advertisement. Scroll to continue reading.
01 Nov 2021 – To mark 1,000 days until the Olympic Games Paris 2024 begin, more than 3,600 runners took to the streets of Paris on Sunday 31 October in a pursuit race along the Champs Élysée involving two-time Olympic gold medallist Eliud Kipchoge.
Part of the Local Organising Committee's Club Paris 2024 engagement programme, the event saw runners given a head-start against the reigning marathon world record holder in a five-kilometre race.
Just over 1,000 participants crossed the finish line before the legendary runner, in doing so securing their place for the "Marathon Pour Tous" mass event in 2024. This traditional-distance 42km marathon will be staged, alongside a shorter 10km race, on the same day and on the same course as the Olympic marathon race – the first time such an event has been organised in the history of the Games.
Those aiming to take part in the public marathon in 2024 can plan their training with advice and running inspiration from the new "Marathon Pour Tous" app. It offers personalised training programmes and challenges adapted to all levels and objectives, for beginners and advanced runners alike.
A great joy with all runners on the Champs-Élysées in Paris this morning. It was so good to meet you all on the way, and for the ones I didn't see: many congratulations with your bib for the 2024 Paris Marathon Pour Tous.@Paris2024 @NNRunningTeam pic.twitter.com/LYhoue0amN

— Eliud Kipchoge – EGH (@EliudKipchoge) October 31, 2021
Sunday's activity is the latest to be organised as part of Paris 2024's ambition to share the Games with as many people as possible. It is part of Club Paris 2024 – a mass initiative launched by the Organising Committee to engage people in fun challenges, accessible to everyone, in the lead-up to the Games. This includes exclusive meetings with Olympic and Paralympic champions and opportunities to take part in many other exciting sports and cultural initiatives.
As well as opportunities to win a place in the 2024 public marathon and 10-kilometre race, members can earn points for rewards, which will include the chance to be a torchbearer. Exclusive updates, sneak previews and access to all the information about ticketing and priority registration for volunteering for the Paris 2024 Games are also available to members.
Many other opportunities to win a place in the "Marathon Pour Tous" mass event will be unveiled soon. For more information about Paris Club 2024, click here.
Advertisement. Scroll to continue reading.