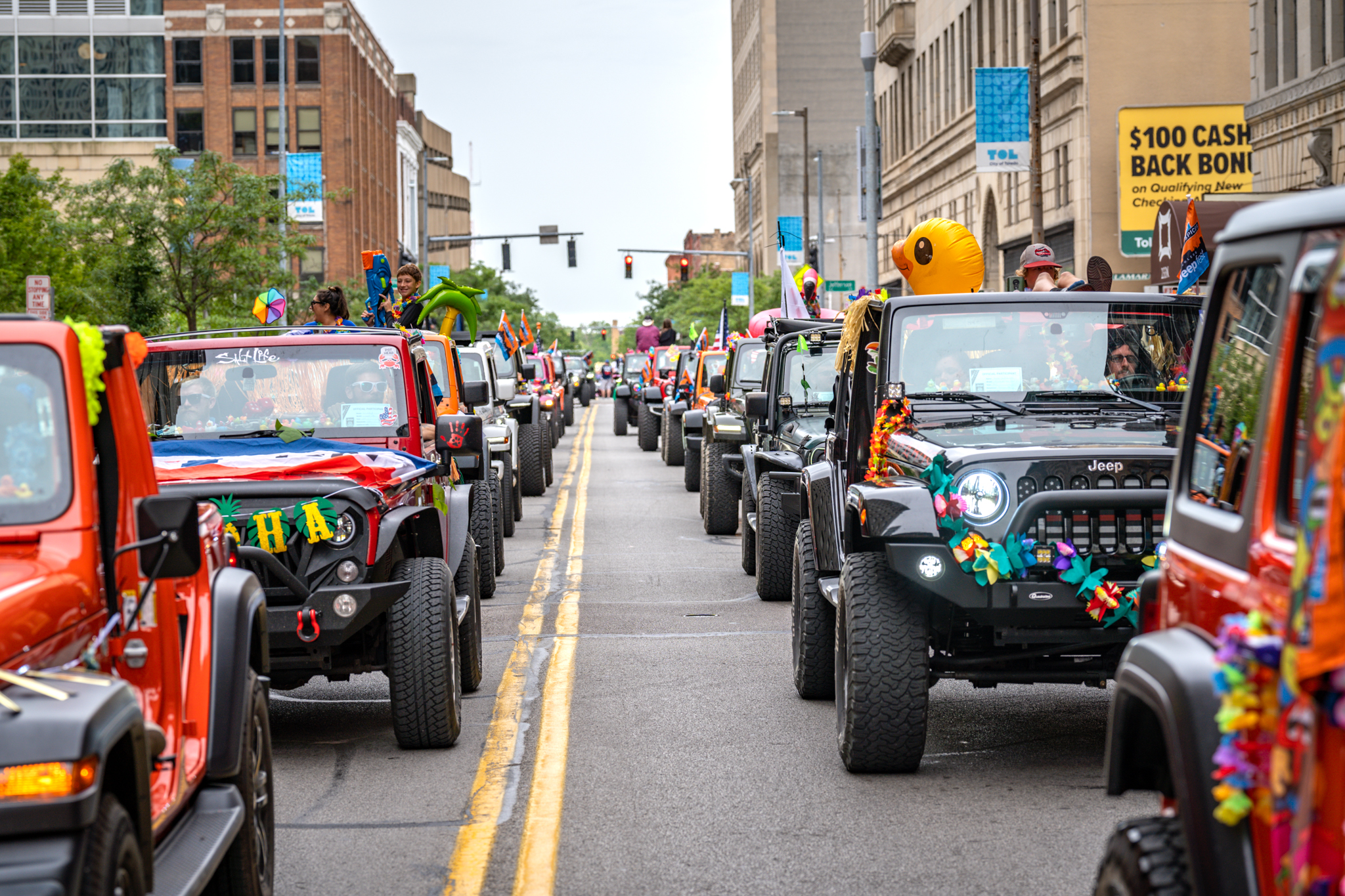 Plan Your Trek to Toledo Jeep Fest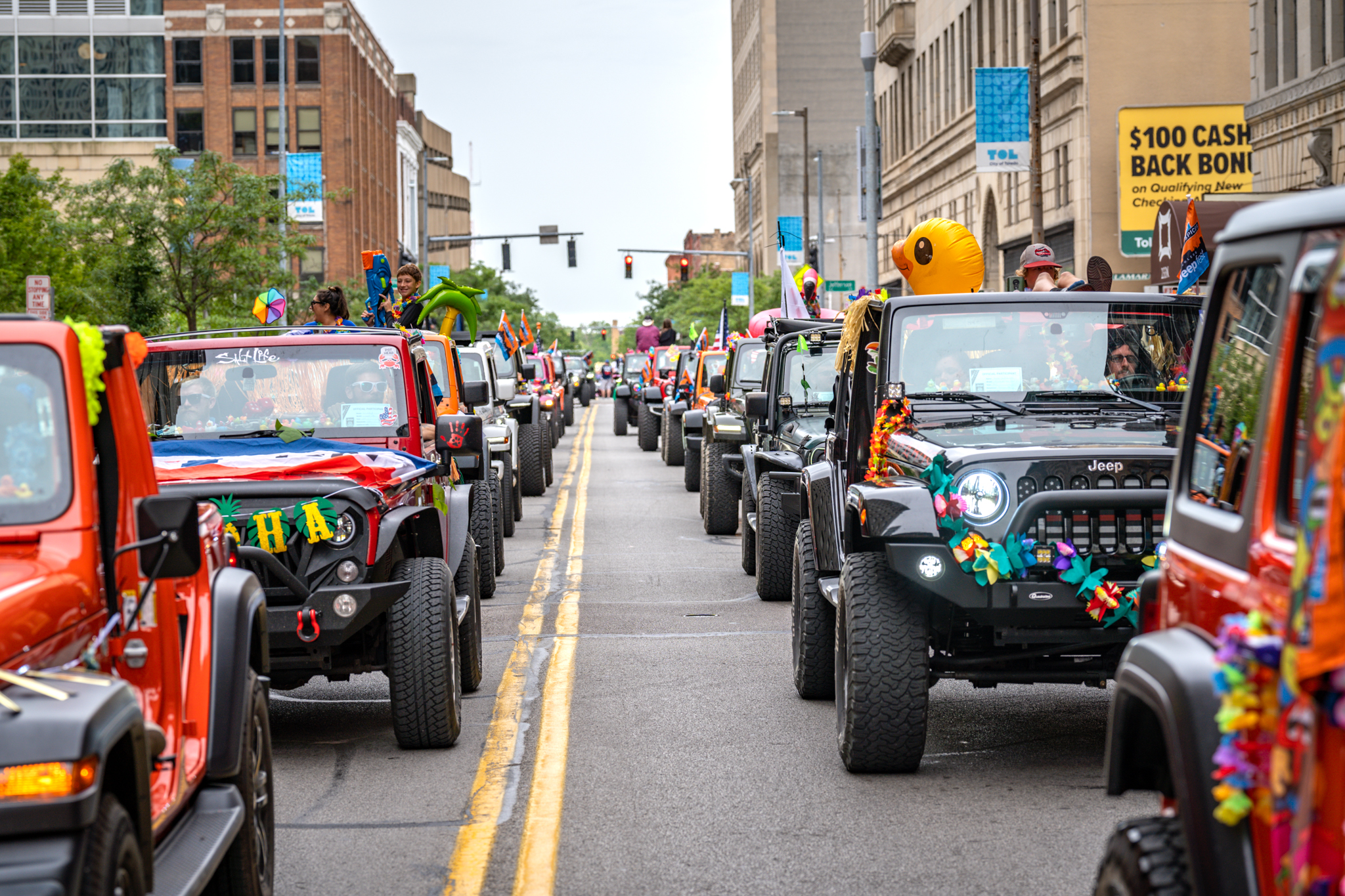 Toledo, Ohio, May 18, 2023 (GLOBE NEWSWIRE) — From August 4-6, 2023, the City of Toledo will welcome tens of thousands of Jeep fans from across the country as they gather to celebrate decades of Jeep's partnership in the place where it all began. 
The 2023 Toledo Jeep Fest, presented by Dana Incorporated, is shaping up to be the biggest and most exciting yet. Grogan's Towne & Charlie's All-Jeep Parade throughout downtown Toledo will feature more than 1,300 Jeeps. The weekend will be filled with people celebrating their love for Jeep vehicles and an adventurous way of life – and doing it in the city where the Jeep was invented and where its heart beats every day: Toledo, Ohio.
This year, event organizers are calling all Jeepers to help reach a big goal: representation from all 50 states. In 2022, Jeepers from 39 states, the District of Columbia, Mexico, Puerto Rico, and the Netherlands rolled into town. Now, organizers want to see every state join in.  
"The excitement for Jeep Fest extends beyond Northwest Ohio and we'd love to have Jeepers from every state in the U.S. roll through the streets of Toledo," said Whitney Rofkar, Toledo Jeep Fest Event and Development Director. "This event grows bigger and better every year, and 2023 will be no different. With so much to do and see in Toledo, this fest is a fun summer weekend destination for all ages."
"With the support of our community and sponsors, we are offering the community the best Toledo Jeep Fest yet," said Jerry Huber, a former plant manager at Jeep and Toledo Jeep Fest board member. "It's rewarding to see how this vision has grown and how both the Toledo community and the Jeep community have lent their support to make this happen."
This year's Vendor Midway, which covers three streets downtown, will showcase Dana, Rancho, Omix-ADA, Mopar, Katzkin, and over 60 more.
"The Vendor Midway offers a glimpse into the customization market that is a big part of Jeep culture, and it has become one of the most popular attractions at Toledo Jeep Fest," Huber said. "The Vendor Midway is an opportunity for enthusiasts to interact with the leading companies helping to develop that creative space."
Toledo Jeep Fest is also a unique opportunity for both Jeep overland adventure and Jeep equipment vendors to reach their target audience in the Midwest and NW Ohio. The Midwest has more than 30 million acres of national forest and more than 60 off-road dedicated parks, and Toledo Jeep Fest is connected to some of the most enthusiastic off-road and overland camping communities.
THREE DAYS OF JEEP!
The signature event for the weekend is the Grogan's Towne & Charlie's All-Jeep Parade, which starts at 10 a.m. on Saturday. The parade will be a rolling tribute to Jeep, with more than 1,300 vehicles participating.
Following the parade, Toledo's downtown streets will be transformed into the Outdoor Park-N-Shine Show presented by Directions Credit Union. This All-Jeep Area offers a walking tour of the customized vehicles and people who make the Jeep experience what it is.
The Glass City Center will play host to a display of rare Jeeps that range from the historic to the futuristic. Together, they represent the resiliency and versatility that Jeep has shown over the last 80 years.
The event will kick off on Friday with an Off-Road Course Welcome Party, hosted by the Monroe Dodge Chrysler Jeep Ram Superstore. The welcome party will showcase 18 obstacles followed by a downtown welcome event called Adams Street Invasion from 6 p.m.-10 p.m.
MORE THAN JEEPS
While the focus of the weekend is a celebration of the Jeep, event organizers have created a family-friendly environment with the feel of a major festival. That includes a strong selection of live music taking place on three stages in downtown Toledo. The kick-off concert on Friday night will feature country music artist Scotty McCreery.
There will be plenty of activities for kids, too. Toledo Jeep Fest will feature the Kid's Zone, which is hosted by Imagination Station and will also offer activities from the Toledo Museum of Art, the Toledo Metroparks and other community partners. A Family Zone will be set up in Hensville Park, complete with multiple bounce houses and inflatables.
The Sunday portion of the festival will be highlighted by a 4-Mile Run, sponsored by Rouen Jeep in Woodville, and 1-Mile Walk, sponsored by Mobis. Both events are hosted by Run Toledo. The massive Vendor Midway, driven by Yark Jeep, will be open and there will be more live music.
You can easily plan your trek and track all events and happenings thanks to the updated Toledo Jeep Fest mobile app. Available in the Google Play and Apple Store, the app has all the needed information in one place. You can follow the festival's schedule, navigate the fest, purchase official gear, and more.
Check out the new Toledo Jeep Fest YouTube channel and see what the Toledo Jeep Fest experience is like. To find more details on the event, visit ToledoJeepFest.com, or on Facebook, Twitter and Instagram. Remember to use the hashtags #ToledoJeepFest and #tjf2023 when you're posting.