Polygon's Biggest P2E Game, Planet IX Records Staggering
NEW YORK CITY, NY, Feb. 09, 2023 (GLOBE NEWSWIRE) — Built on the fast, secure, and scalable Polygon blockchain, Planet IX, a popular Play-to-Earn (P2E) game, has experienced a significant increase in transaction volume since partnering with BitKeep. This growth is a testament to Bitkeep's commitment to providing a seamless and secure trading experience for its users, making it the perfect home for P2E games and NFTs.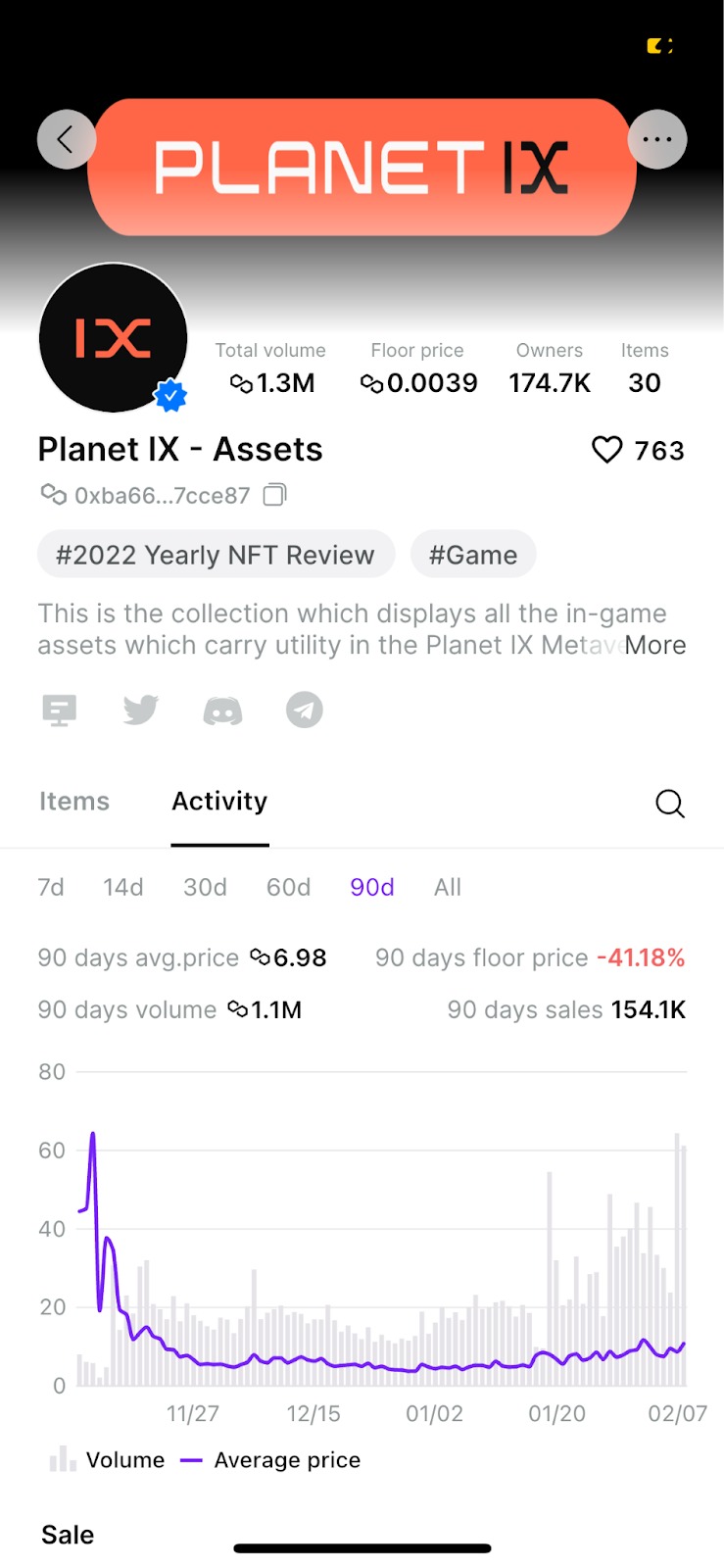 As of 9 February 2023, Planet IX's monthly transaction volume was $840K, with 77% generated from the BitKeep NFT market. BitKeep is proud to reveal that Planet IX's 3-month transaction volume has surpassed 1 million MATIC and boasts a market share of 79%. Additionally, Planet IX achieved a historical high of $42.3K in single-day transaction volume earlier this week. Planet IX is undoubtedly a rising star in both BitKeep NFT Market and the Polygon NFT market.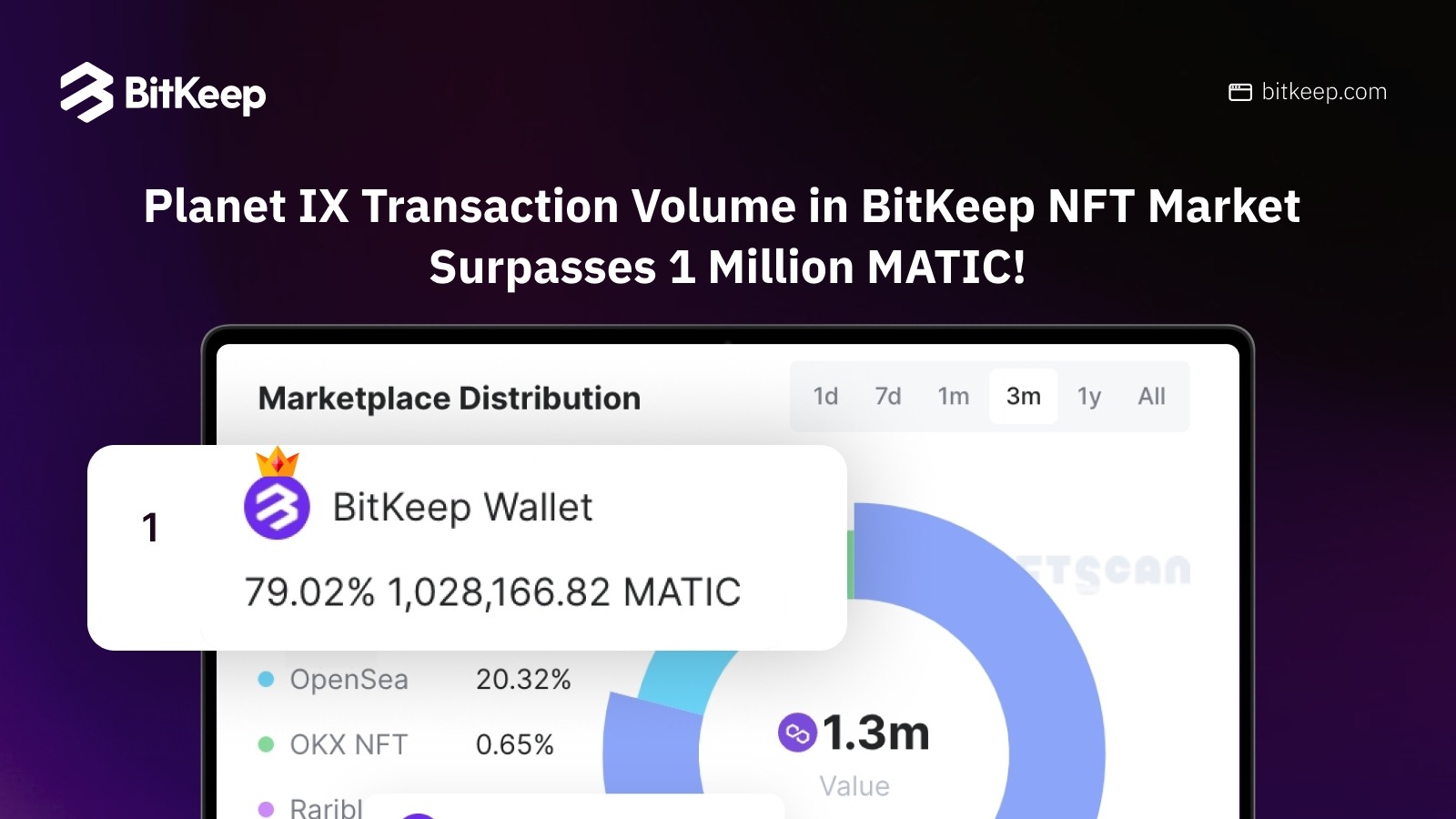 Planet IX's NFT transaction volume on BitKeep NFT Market is greater than that of the closest competitors OKX and OpenSea, by a factor of 120x and 4x respectively.
Discover the most seamless NFT trading experience with BitKeep NFT Market!
With 320,000 NFTs listed for sale, more than 51,000 monthly active users, and a total trading volume of $31.6 million since its launch in March 2022, BitKeep NFT Market is one of the largest NFT trading platforms on the BNB Chain and holds the second place on Polygon. BitKeep's expedient and low-cost transactions, user-friendly interface, and commitment to security make it the preferred choice for P2E game developers and players alike. Being the first NFT marketplace to allow the purchase of NFTs on the platform with tokens from any partnered blockchain, BitKeep NFT Market also boasts a bulk transfer function for users to easily transfer multiple NFTs instantaneously, with support for bulk listing and purchasing in the future.
Paving the way for blockchain gaming and P2E community growth
The growth of Planet IX on BitKeep is a testament to the platform's value for the P2E community. It encourages other game developers to join BitKeep in building the future of decentralized gaming. BitKeep's support for Planet IX and other P2E games reflects the DeFi wallet company's dedication to blockchain gaming. As BitKeep continues to gain popularity and expand its user base, the company is poised to become a leader in the rapidly growing market for decentralized gaming and collectibles.
About BitKeep
BitKeep is a decentralized multichain digital wallet that provides an all-in-one solution for a comprehensive portfolio of services, including an integrated NFT marketplace, wallet function, swap services, DApp browser, launchpad, and daily column, which features regular insights into promising decentralized finance projects. It offers reliable and secure asset management and trading services to more than 8 million users worldwide, covering 168 countries in North America, Europe, and Asia. It is the top-rated wallet on Google Play globally, surpassing even MetaMask. BitKeep currently supports over 250,000 types of cryptocurrencies across over 80 chains, including major ones such as Bitcoin, Ethereum, Polygon, BNB Chain, Fantom, and Solana.
BitKeep strongly emphasizes user security, incorporating DESM encryption for storing users' private keys to ensure an additional layer of protection to safeguard user funds.
Follow BitKeep on Twitter to stay updated on the latest developments, and let BitKeep be your premier gateway into the Web3 space.