Advertisement. Scroll to continue reading.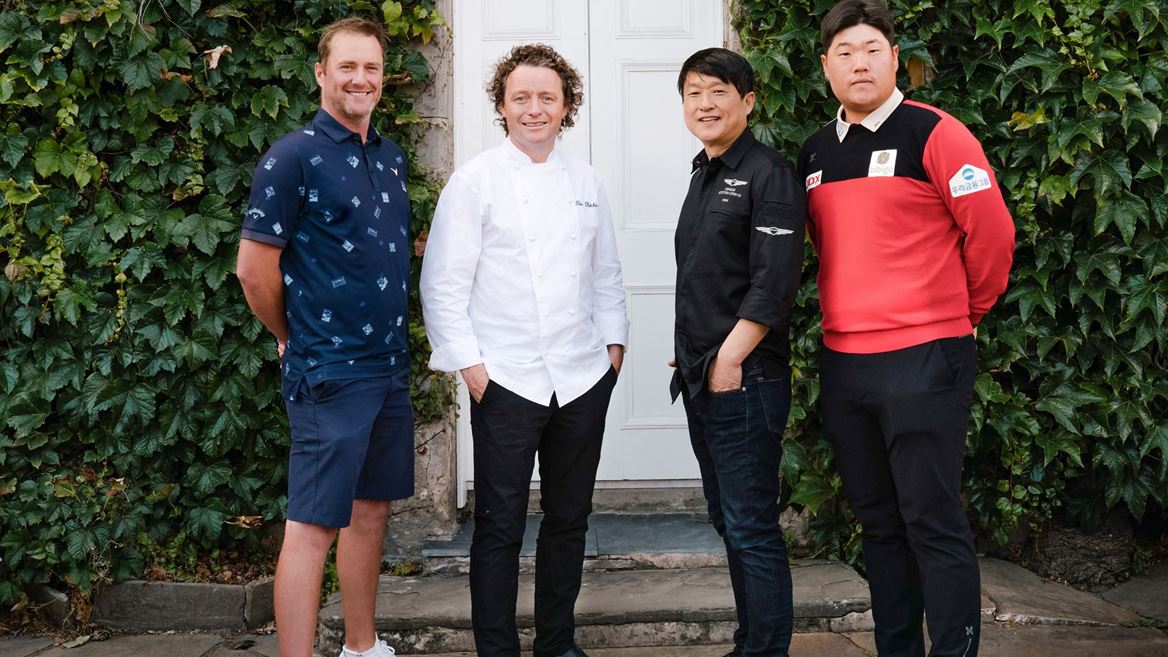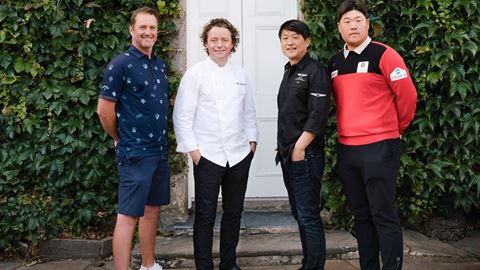 Advertisement. Scroll to continue reading.
Professional golfers Im Sung-jae and Marc Warren first to sample bespoke fusion menu created by chefs Tom Kitchin and Mun Kim

Dishes combine finest Scottish ingredients with South Korean flavours

Diners can experience the dishes at the tournament, in Tom Kitchin's The Bonnie Badger restaurant and at home
Edinburgh, Scotland: Im Sung-jae and Marc Warren joined two renowned chefs for a special pre-tournament menu tasting, hosted by luxury automotive brand Genesis, to celebrate the start of the Genesis Scottish Open this week.
Showcasing Korean flavours married with the best of Scottish produce, Genesis is pleased to present a collaborative fusion menu between leading Scottish Michelin Star Chef, Tom Kitchin, and award-winning Chef Mun Kim. Utilising Scotland's world famous, locally sourced produce our chefs have created an exclusive three-course menu, combining Chef Kitchin's Scottish and Chef Kim's Korean influences.
Ahead of their participation in this week's Genesis Scottish Open, South Korean Im Sung-jae and Marc Warren from Scotland were selected for their knowledge and appreciation of their 'home country' cuisines and took a break from their pre-tournament practice to sample the menu with both chefs at Kitchin's restaurant with rooms, The Bonnie Badger.
Marc Warren commented: "The fusion menu is the perfect marriage of flavours, representing both a Scottish and Korean influence which you can also now see all over the course with Genesis' sponsorship this year. Plus, all of the dishes were absolutely delicious!"
Im Sung-jae added: "It was great to try the traditional Korean Bimibap with the additional Scottish twist – it's not the same taste as home but I really liked it. All three dishes were very fresh and I enjoyed trying such interesting combinations, which all worked very well"
The special menu will be available from 4 to 10 July to diners at Tom Kitchin's The Bonnie Badger restaurant with rooms in Gullane, Scotland, just a few miles away from The Renaissance Club in North Berwickshire, home of the Genesis Scottish Open. It will also be available at the Genesis hospitality lounge at The Renaissance Club over the course of the tournament, from 7 to 10 July. Genesis is also sharing the recipes and cooking instructions so that keen amateur cooks can enjoy recreating these unique dishes at home.
Speaking about this bold collaboration, Chef Tom Kitchin said: "To put Scotland's produce on the stage for guests and visitors attending the Genesis Scottish Open is a real honour, as I truly believe we have the best natural larder in the world. To welcome Chef Mun into my kitchen to hear and learn more about Korean cuisine, has given us the chance to together create some exciting new dishes. It's all about Scottish ingredients colliding with Korean flavours."
Chef Mun added: "Being in the kitchen with Tom was a special joy for me. As different as our two culinary homelands may be, we have a lot in common in our view of cuisine. We both use only the best and most natural ingredients to bring traditional dishes to gourmets in a modern interpretation. The task was equally exciting and fun to bring together. In the end, we found out that as different as Scottish and South Korean cuisine is at first glance, these worlds harmonize perfectly."
Dominique Boesch, Managing Director for Genesis Motor Europe, commented: "We are truly thrilled to create this exciting menu for the Genesis Scottish Open and delighted that its now been given the seal of approval from the players. With their unique blend of Scottish and South Korean influences, Chef Kitchin and Chef Mun are perfectly in tune with the Genesis brand and that has enabled them to create these exciting, one-of-a-kind dishes."
Notes to Editors
Genesis Scottish Open Fusion Menu
Starter Golden Cross Goat's Cheese tart with Beetroot & Korean Spiced Chestnut
Main Bibimbap (비빔밥) with Scottish Fillet of Beef, Seasonal Scottish Vegetables and Gochujang Dressing
Dessert Whisky Baba served with Korean Spiced Poached Pear and Chantilly Cream.
Leading Scottish Michelin starred Chef Tom Kitchin has won acclaim for his 'From Nature to Plate' approach that is underpinned by a passion and commitment for using only the highest quality Scottish ingredients in all his recipes. Today, Tom Kitchin and his wife Michaela lead a talented team across four venues in Edinburgh and East Lothian – Michelin Star restaurant The Kitchin, leading gastro pub The Scran & Scallie in Stockbridge, The Bonnie Badger, their first restaurant with rooms in Gullane, East Lothian as well as brand new venue, KORA by Tom Kitchin which just opened in Bruntsfield, Edinburgh.
Chef Mun's restaurant in Munich, Germany, is famed for its Asian fusion food that is heavily influenced by his Korean roots, as well as his time in the USA and Argentina. His unique style demands a slow and considered approach to create dishes of the highest standards, a strong reflection of the Genesis customer commitment of time well spent.
About Genesis
Genesis brings premium cars with a luxury experience to Europe. The Korean brand has established itself as a true alternative within the premium segment. With a commitment to hospitality and great service, Genesis strives to build sincere relationships with customers and, above all, to respect the greatest luxury – their time. Embodying its unique design language 'Athletic Elegance', the brand continues to strengthen its range of vehicles and services across Europe having launched five premium luxury vehicles in 2021.Genesis will introduce three electric vehicles in 2022 and, from 2025, all-new Genesis vehicles will be pure electric as part of the brand's vision for a sustainable future. Genesis will also pursue a goal to become carbon net zero by 2035.
For more information about Genesis and its definition of premium, please visit www.genesis.com.
Advertisement. Scroll to continue reading.