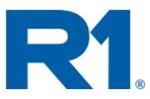 R1 RCM Announces Leadership Appointments; Reaffirms 2022
MURRAY, Utah, Jan. 05, 2023 (GLOBE NEWSWIRE) — R1 RCM Inc. (NASDAQ: RCM) ("R1" or the "Company"), a leading provider of technology-driven solutions that transform the patient experience and financial performance of healthcare providers, today announced the appointments of Jennifer Williams as Chief Financial Officer and Kyle Hicok as Chief Commercial Officer, effective immediately. Ms. Williams and Mr. Hicok succeed Rachel Wilson and Gary Long, respectively, who will step down from their roles and remain with the Company in advisory roles to ensure a seamless transition.
Ms. Williams, who previously served as Chief Financial Officer of Cloudmed, brings more than 20 years of financial planning, accounting, M&A and operational finance leadership experience across several healthcare revenue management, data analytics and technology businesses, including Change Healthcare, First Advantage, LexisNexis Risk Solutions and Ernst & Young. During her career, she has led several growth transformations, large scale integrations and an initial public offering.
Mr. Hicok has more than two decades of healthcare revenue cycle management experience with expertise in consulting, software and technology development and revenue enhancement at companies including Stockamp, Huron Consulting and MedeAnalytics. He was previously Cloudmed's President and General Manager where he led Cloudmed's commercial team, focusing on growth, client services and performance for all solutions. As Vice President of Revenue Cycle Management at Optum360, Mr. Hicok was responsible for transition, change management and third-party technology implementation activities for end-to-end clients.
"As we head into 2023, we are focused on executing our strategic plan, including advancing our technology investments and driving our best-in-class commercial engine to deliver value for our customers and team members," said Lee Rivas, Chief Executive Officer of R1. "Jennifer and Kyle are experienced leaders with firsthand knowledge of our business and share R1's commitment to operational excellence. Kyle's extensive revenue cycle management experience and customer-centric mindset, coupled with Jennifer's financial and operational acumen will be essential to ensure continued execution of R1's goals. We recognize both Rachel and Gary for their many contributions and appreciate their efforts to help ensure an orderly transition for our customers and team."
Ms. Williams said, "I am honored to take on this new role and continue working with Lee and the leadership team to drive R1's growth and profitability. R1 is well-positioned with many exciting opportunities ahead to continue delivering for our clients, employees, and shareholders."
Mr. Hicok said, "I am excited to build on the commercial success of R1 to continue on our growth trajectory. I look forward to strengthening our market position and achieving strong results for our clients across the healthcare industry."
Financial Outlook
The Company is re-affirming 2022 full year guidance:
Revenue of $1,790 million to $1,800 million
GAAP operating loss of $8 million to $13 million
Adjusted EBITDA of $420 million to $425 million
For 2023, R1 expects to generate:
Revenue of $2,280 million to $2,330 million
GAAP operating income of $115 million to $140 million
Adjusted EBITDA of $595 million to $630 million
As previously announced, members of R1's management team will present at the 41st Annual J.P. Morgan Healthcare Conference on Tuesday, January 10, 2023, at 7:30 am PT.
About Jennifer Williams
Jennifer Williams joined R1 following the acquisition of Cloudmed, where she served as Chief Financial Officer since July 2020. Prior to Cloudmed, Ms. Williams served as Senior Vice President and Chief Financial Officer of Corporate functions for Change Healthcare. Earlier in her career, she was the corporate controller and global finance leader at First Advantage and held financial leadership positions at LexisNexis Risk Solutions for over 10 years. She began her career with Ernst & Young.
Ms. Williams has a B.S. and Master of Accountancy degrees from Auburn University and is a certified public accountant.
About Kyle Hicok
Kyle Hicok joined R1 following the acquisition of Cloudmed, where he served as President and General Manager. Prior to Cloudmed, Mr. Hicok has served in numerous positions where he was responsible for multi-state revenue cycle operations, national consulting and shared service operations, including as, Vice President of Revenue Cycle Management at Optum360 from 2014 to 2017; in various roles at MedeAnalytics from 2011 to 2013; Huron Consulting Group Practice from 2008 and 2009; and Stockamp from 2001 to 2008.
Mr. Hicok has a B.A. in Financial Economics from Gustavus Adolphus College and a Master's in Business Administration from the University of Florida.
About R1 RCM
R1 is a leading provider of technology-driven solutions that transform the patient experience and financial performance of hospitals, health systems, and medical groups. R1's proven and scalable operating models seamlessly complement a healthcare organization's infrastructure, quickly driving sustainable improvements to net patient revenue and cash flows while reducing operating costs and enhancing the patient experience. To learn more, visit: r1rcm.com.
Non-GAAP Financial Measures
In order to provide a more comprehensive understanding of the information used by R1's management team in financial and operational decision making, the Company supplements its GAAP consolidated financial statements with certain non-GAAP financial measures, including adjusted EBITDA. Adjusted EBITDA is defined as GAAP net income before net interest income/expense, income tax provision/benefit, depreciation and amortization expense, share-based compensation expense, CoyCo 2, L.P. ("Coyco 2") share-based compensation expense, and certain other items, including business acquisition costs, integration costs, strategic initiatives, and the global business services center expansion project in the Philippines. Adjusted EBITDA guidance is reconciled to operating loss/income guidance, the most closely comparable available GAAP measure.
Our board of directors and management team use adjusted EBITDA as (i) one of the primary methods for planning and forecasting overall expectations and for evaluating actual results against such expectations and (ii) a performance evaluation metric in determining achievement of certain executive incentive compensation programs, as well as for incentive compensation programs for employees.
Table 1 presents a reconciliation of Adjusted EBITDA guidance to operating loss/income. Non-GAAP measures should be considered in addition to, but not as a substitute for, the information prepared in accordance with GAAP.
Forward-Looking Statements
This press release includes information that may constitute "forward-looking statements" made pursuant to the safe harbor provisions of the Private Securities Litigation Reform Act of 1995 and Section 21E of the Securities Exchange Act of 1934, as amended. Forward-looking statements generally relate to future events and relationships, plans, future growth, and future performance. These statements are often identified by the use of words such as "anticipate," "believe," "estimate," "expect," "intend," "designed," "may," "plan," "predict," "project," "target," "contemplate," "would," "seek," "see," and similar expressions or variations or negatives of these words, although not all forward-looking statements contain these identifying words. These statements are based on various assumptions, whether or not identified in this press release, and on the current expectations of the Company's management and are not predictions of actual performance. These forward-looking statements are provided for illustrative purposes only and are not intended to serve as, and must not be relied on by any investor as, a guarantee, assurance, prediction or definitive statement of fact or probability. Actual outcomes and results may differ materially from those contemplated by these forward-looking statements as a result of uncertainties, risks, and changes in circumstances, including but not limited to risk and uncertainties related to: (i) geopolitical, economic, and market conditions, including heightened inflation, slower growth or recession, changes to fiscal and monetary policy, higher interest rates, currency fluctuations, and challenges in the supply chain; (ii) the Company's ability to timely and successfully achieve the anticipated benefits and potential synergies of the acquisition of Cloudmed; (iii) the Company's ability to retain existing customers or acquire new customers; (iv) the development of markets for the Company's revenue cycle management offering; (v) variability in the lead time of prospective customers; (vi) competition within the market; (vii) breaches or failures of the Company's information security measures or unauthorized access to a customer's data; (viii) delayed or unsuccessful implementation of the Company's technologies or services, or unexpected implementation costs; (ix) disruptions in or damages to the Company's global business services centers and third-party operated data centers; and (x) the ongoing impact of the COVID-19 pandemic on the Company's business, operating results, and financial condition. Additional risks and uncertainties that could cause actual outcomes and results to differ materially from those contemplated by the forward-looking statements are included under the heading "Risk Factors" in the Company's annual report on Form 10-K for the year ended December 31, 2021, and any other periodic reports that the Company may file with the United States Securities and Exchange Commission. The foregoing list of factors is not exhaustive. All forward-looking statements included herein are expressly qualified in their entirety by these cautionary statements as of the date hereof and involve many risks and uncertainties that could cause the Company's actual results to differ materially from those expressed or implied in the Company's forward-looking statements. Subsequent events and developments, including actual results or changes in the Company's assumptions, may cause the Company's views to change. The Company assumes no obligation and does not intend to update these forward-looking statements, except as required by law. You are cautioned not to place undue reliance on such forward-looking statements.
Contact:
R1 RCM Inc.
Investor Relations:
Atif Rahim
312.324.5476
investorrelations@r1rcm.com
Media Relations:
Morgan Mathis
310.528.6306
morgan@highwirepr.com
Table 1
R1 RCM Inc.
Reconciliation of GAAP Operating Income Guidance to Non-GAAP Adjusted EBITDA
Guidance (Unaudited)
(In millions)
 
2022
2023
GAAP Operating Income Guidance
$(8) – (13)
$115 – 140
Plus:
Depreciation and amortization expense
$170 – 175
$260 – 280
Share-based compensation expense
$70 – 75
$75 – 85
CoyCo 2 share-based compensation expense
$5 – 7
$10 – 15
Strategic initiatives, severance and other costs
$180 – 185
$110 – 135
Adjusted EBITDA Guidance
$420-425
$595-630