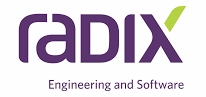 Radix Presents "How Data Integration Can Improve Port
HOUSTON, April 03, 2023 (GLOBE NEWSWIRE) — Radix Engineering will be a silver sponsor, speaker, and exhibitor of its Digital Solutions for Mobility and Transportation at the 4th annual Port of the Future Conference, April 4-6, 2023 in Houston, TX. The Port of the Future Conference will be held at the Hilton, University of Houston. It is hosted by the University of Houston College of Technology and the Borders, Trade, and Immigration (BTI) Institute, a United States Department of Homeland Security Center of Excellence.
Radix Presentation – Digitalization and Information Sharing Track
Radix will present "How Data Integration Can Improve the Decision-Making Process" on April 5th at 10:30 a.m. as part of the Digitalization and Information Sharing track. Radix will demonstrate its methodology and case studies about clients' Port Automation and Digital Transformation journeys. The discussion will cover how to implement new technologies effectively, driven by a Port's future strategy to improve operational performance and aspects of the business across the board. For example, utilizing new business processes and multi-criteria decision-making can improve customer relations, business intelligence, operations, maintenance, P&L analysis, back office, surveillance, safety, ESG, and energy consumption.
Radix presenter Gelson Filho has over 30 years of experience in management, operations, planning, supply chain, logistics, and manufacturing in multiple industry segments.
For more information on Radix' Mobility and Transportation Solutions: https://content.radixeng.com/mobility-and-transportation
About Radix Engineering & Software
Founded in 2010, Radix Engineering & Software (www.radixeng.com) is a privately held, global engineering, software, and Industrial ET/OT/ IT Consulting company. Radix provides technology-based solutions to industrial (O&G, Chemicals, Power, Metals & Mining, Pulp & Paper, Food & Beverage) and non-industrial (Transportation, Education, Health Care, Financial, Entertainment) customers. Radix' North American headquarters is in Houston, TX, with offices also in Atlanta GA. The global HQ is in Rio de Janeiro, Brazil, with offices also in São Paulo and Belo Horizonte. With strong focus on results, people, and long-term relationships, Radix has developed projects in more than 20 countries worldwide.
For more information contact:
Company Contact:
Ana Mastrangelo ana.mastrangelo@radixeng.com
Radix Engineering (832) 377-9601
Media Contact:
Becky Stevens, becky.stevens@virtualmarketing-pr.com or Rebecca.stevens.ext@radixeng.com
Virtual Marketing (713) 444-6860