(BOSTON) May 19, 2021 – Today, following the revival of is coveted OG predecessor, Reebok has confirmed the official 20th Anniversary rerelease of Allen Iverson's Answer IV "Stepover" (G55111, $130). The unmistakable black/white basketball sneaker is available globally June 4 from Reebok.com and select local retailers.
Introduced by Reebok for Iverson ahead of his momentous 2000-01 campaign, Answer IV was built to compliment the polarizing point guard's on-court energy and off-court style, while carrying forward key Answer-series design elements like DMX cushioning. Colorways introduced  by Reebok throughout the season would mark a multitude of historic moments via A.I. Most notable is a specific black/white iteration, now known as the "Stepover", adorned by Iverson in game 1 of the '00-'01 title matchup. The moniker nods an historic moment from the game in which A.I. shakes his opponent to the floor with a deceiving dribble move before draining a baseline jumper and stepping over the would-be defender as the crowd erupts and he returns up court. That viral frame, which served to further define Iverson's vitality and dominance, is remembered through the Answer IV "Stepover".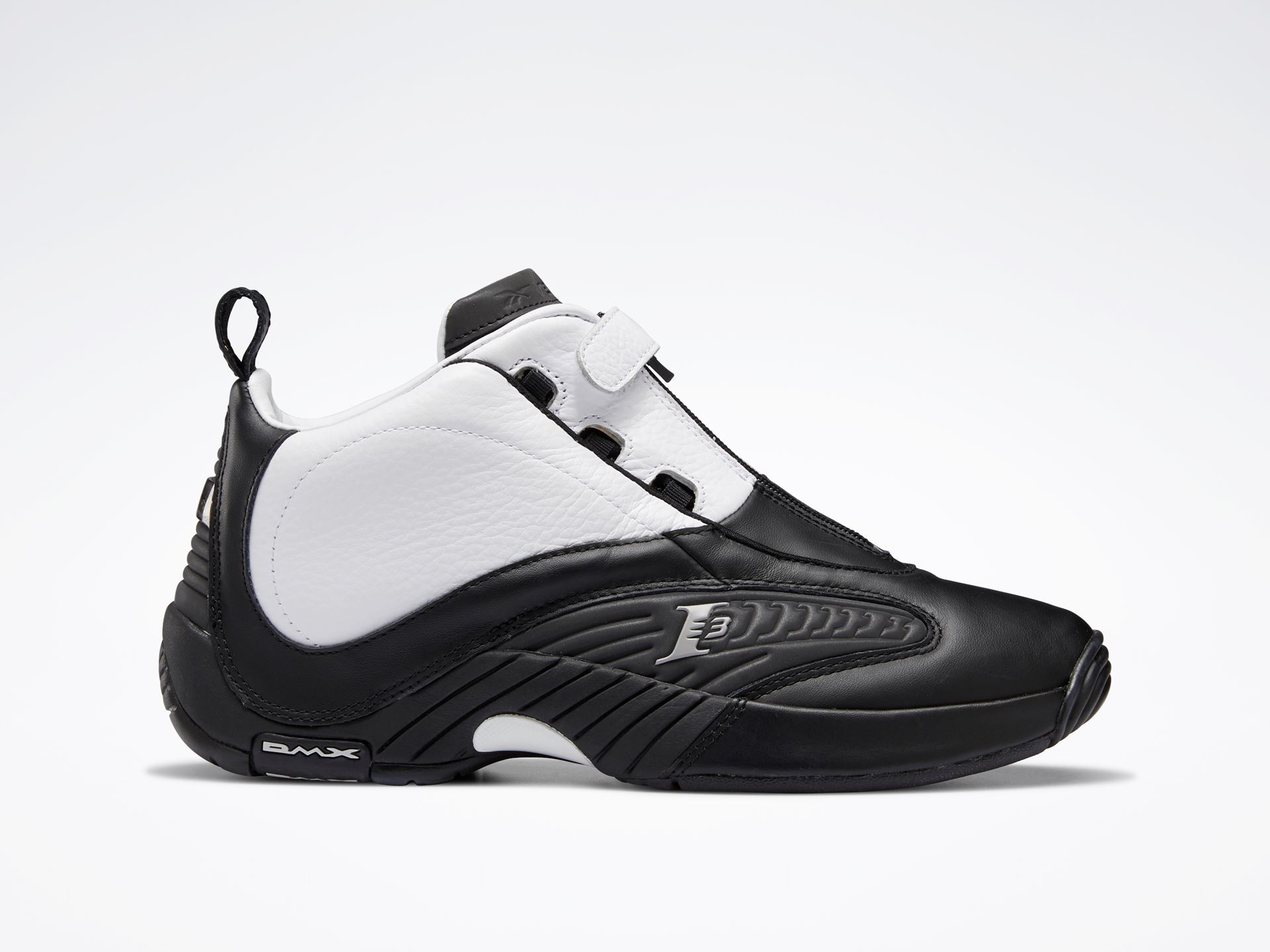 "Answer IV is the crown jewel of Iverson's journey and the cultural shift he helped to lead," recalled veteran Reebok Footwear Designer Xavier Jones upon the OG model's rerelease earlier this year. "By his '00-'01 season, 'Chuck' was already so beloved for his style and how he approached the game, but that year truly cemented A.I. as a cultural icon. On his feet, Answer IV became a symbol for the new era of modern athlete and a celebration of self-expression. It is without a doubt one of the most iconic sneakers to ever grace the hardwood."
The 20th Anniversary reissue stays true its original design elements like the fading gradient "I3" logo cascading down the tongue veiled by the zipper shroud, 3M reflective details returning to the "I3" quarter panels and top of tongue, the original eye-catching upper and a dynamic outsole featuring DMX foam, a TPU bridge plate and tactical tread patterns. The outsole is complemented by OG graphic executions like the Iverson head sunken underfoot, engraved "Only The Strong Survive" tagline and "I3" and Vector logos at the bridge and forefoot.
While Answer IV carries forward Reebok basketball heritage and the legacy of Allen Iverson, the unique sneaker is equally fitting for rising hoopers today blazing their own trail.
Reebok's Answer IV "Stepover" (G55111, $130) is available globally on June 4 from Reebok.com and select local retailers.
More About Reebok's DMX Cushioning Technology: A product of Reebok's Advanced Concepts division formed in the mid 1980s, DMX  (short for Dynamax) featured a series of interlinked air chambers under the foot that, thanks to the motion of the wearer's stride, would fill and empty with air accordingly. If the wearer's foot movement indicated that air was needed in a specific portion of the shoe, pressure would cause air to fill the corresponding chamber. This movement of air helped deliver new levels of comfort, cushioning and stability. The technology was suited for running, training, walking and basketball, but it really shone in the DMX Run 10 model in 1997. That same year, the original Answer  basketball sneaker was released in time for Christmas, marking the beginning of an iconic line of shoes that thrived until 2014. As Reebok's first basketball shoe to include DMX technology, commercials for the Answer emphasized how the new technology helped Iverson pull off his classic moves like the crossover. The effects of the DMX technology were so natural that Iverson said, "It's like I don't even think about it."
Friends if you like this post, please hit the like button below and share this post with your family, friends and colleagues for more news, articles and updates. Like our Facebook Page, Subscribe Our YouTube Channel And Follow Us On Twitter.
(This News has not been edited by the Life Care team, it is published directly from the agency feed.)
Legal Disclaimer
LifeCareNews.in provides the information "as is" without warranty of any kind. We do not accept any responsibility or liability for the accuracy, content, images, videos, licenses, completeness, legality, or reliability of the information contained in this article. If you have any complaints or copyright issues related to this article, kindly contact the provider above.