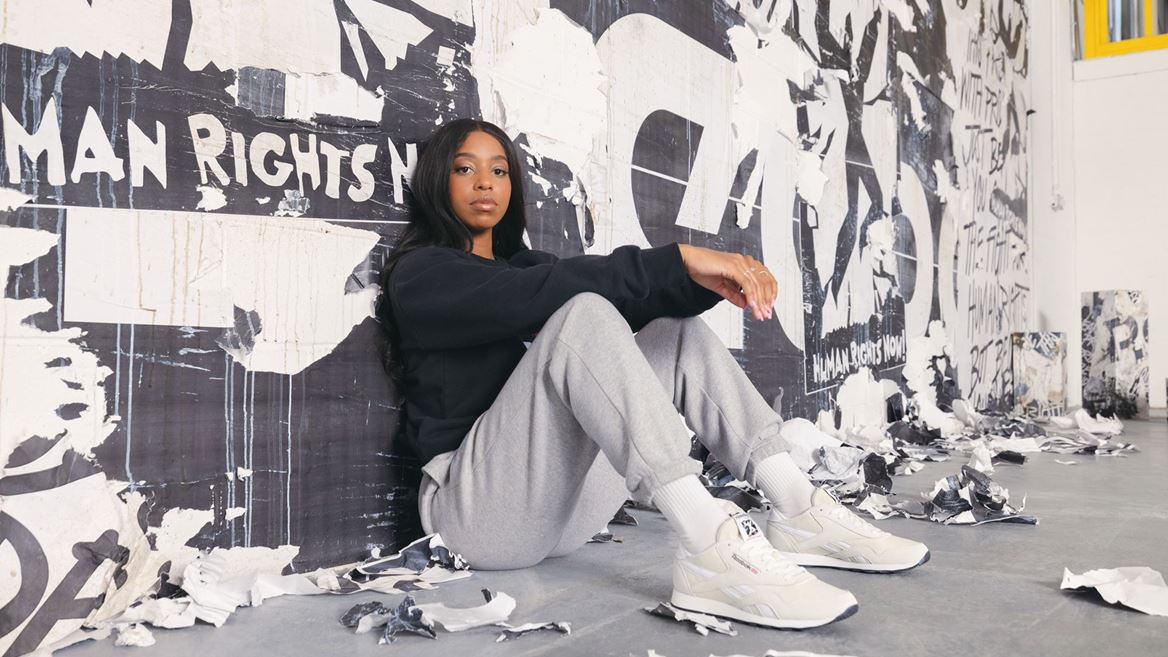 Reebok Debuts New Human Rights Now! Collection with Lexie Brown to Bring Awareness to Equity and Access in Sport
In Conjunction with Collection Launch, Reebok to Donate $600,000 to RISE, a national nonprofit that educates and empowers the sports community to eliminate racial discrimination and champion social justice
(BOSTON) December 6, 2022 – Today, Reebok introduces its latest Human Rights Now! collection, a long-term product platform that debuted in 2021, designed to fuel the brand's mission to inspire human rights and human movement.
This year's capsule collection aims to bring awareness to equity and access in sport, celebrating the progress we've made, but also recognizing the much-needed work that still needs to be done. The line comes fifty years after a historic law passed that achieved better equity for women in sports and forty years after the debut of Reebok's Freestyle Hi, the very first fitness shoe made specifically for women.
In conjunction with the release of the Human Rights Now! Collection, Reebok is also donating $600,000 to RISE, a non-profit that educates and empowers the sports community to eliminate racial discrimination, champion social justice, and improve race relations. The investment will help drive RISE programming across all levels of athletes and coaches around the country; programming which leaves 92% of students feeling more equipped to have difficult conversations about race and diversity and 96% willing to intervene to stop discrimination according to a RISE survey. In 2022 alone, RISE has hosted programming for more than 22,000 participants across 33 states and 89 cities.
"As with all of our Human Rights Now! product releases, this collection sheds light on the importance of inclusion, representation and access, not only in sport but in all facets of life," said Reebok's Director of Human Rights Now! Product & Apparel Energy Concepts, Carmen Andrade Hardaway. "Our partnership with RISE is such a great extension of our product collection as they help to educate the sports community on these critical topics"
The collection features a range of lifestyle footwear and apparel in unisex and women' sizing, all of which incorporate a black, green and white color palette. Each piece of footwear features the Human Rights Now! logo on the tongue and the Human Rights Now! manifesto is depicted on the heels of the footwear and select apparel. It reads, "Let your voice be heard, wear this product with pride. Not just because you support the fight for human rights, but because you have those rights."
The footwear collection includes the Club C Revenge ($90), Classic Leather ($85), Club C Mid ($90), Classic Nylon ($90) and Freestyle Hi ($90) in a variety of colorways including Black, White, Green Cream and Morning Fog. Highlights of the apparel collection include the HRN Crew Neck ($65), HRN Legging ($70), HRN T-shirt ($35) and HRN Jogger ($70).
Headlining Reebok's Human Rights Now! collection is Lexie Brown, a Reebok partner and professional basketball player. As a longtime athlete Lexie has seen disparity in equity in sport and is passionate about creating lasting change for the future generations of women in sports.
"Being involved in Reebok's Human Rights Now! collection is incredibly important to me as there are so many people in this world that often feel unheard and misunderstood, myself included," said Brown. "I have consistently faced a lack of respect being a Black woman in sports, which has only fueled me to keep pushing boundaries in the sports world and reinforced why I started playing in the first place."
Supporting Brown in the campaign, is Ambry Moss, a former member of the Bahamas national football team, collegiate soccer player, and Reebok employee who is passionate about ensuring better access to sport for the next generation.
The Human Rights Now! collection is part of Reebok's commitment to donate $10M over the next four years to directly support Black and LatinX communities through organizations focused on ending racial injustice. The release of the collection also coincides with the 2022 Reebok Human Rights Awards, which previously ran from 1988-2007 and returned in 2021. This year's award, in partnership with Alabama State University, the ACLU, RISE and Sports Illustrated will honor extraordinary activists in the world of sports and athletics. Later this week, Reebok will be announcing this year's recipient at the annual Sports Illustrated Awards show.
The Reebok Human Rights Now! collection is now available to purchase on Reebok.com/human_rights_now. To learn more about Reebok's Human Rights Award visit: www.reebok.com/us/human_rights_award.