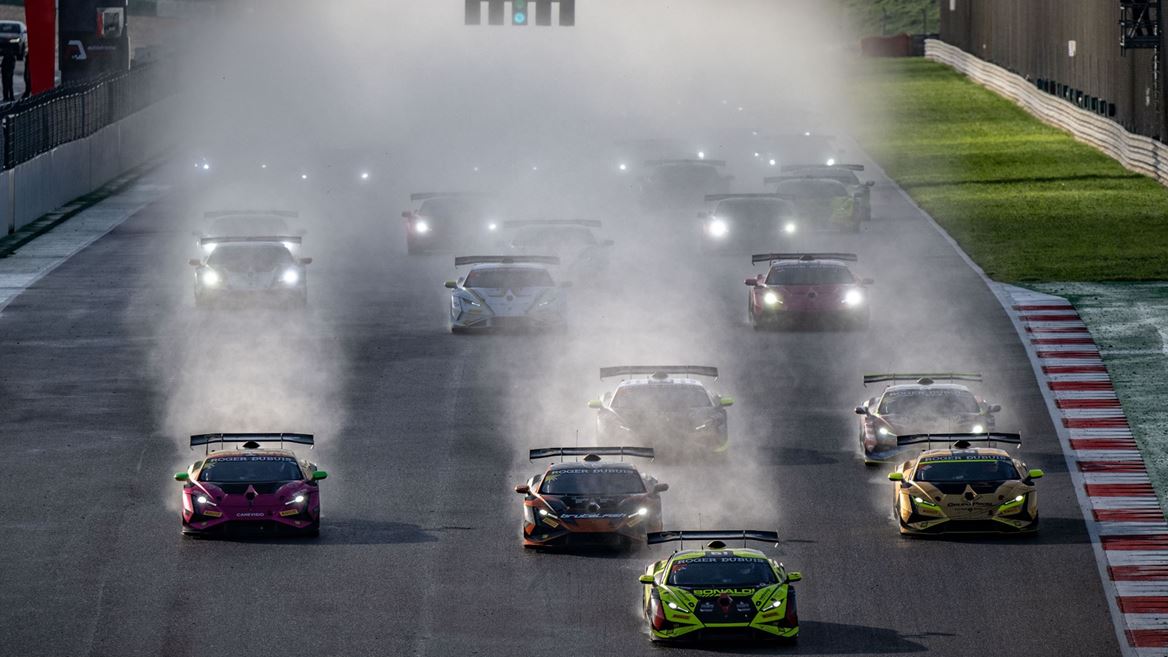 regional titles decided on opening day in Portimão
Jewel-in-the-crown Grand Finals to be disputed across both championships from tomorrow
Sant'Agata Bolognese/Portimão, 4 November 2022 – The Lamborghini Super Trofeo Europe and North America campaigns reached their conclusions at the Autodromo Internacional do Algarve in Portimão, with now fewer than six class titles decided. With both Pro titles already won before the final weekend began, it was down to the Pro-Am, Am and Lamborghini Cup classes to take centre stage over the pair of 50-minute races.
Amaury Bonduel (#28 BDR Competition) won a thrilling wet-dry opening Europe encounter, making the most of his decision to start the race on rain tyres, while Pro champions Loris Spinelli and Max Weering (#61 Bonaldi Motorsport) recovered from a 10-second penalty at the start of race two to take their ninth win of the year.
The Oregon Team combination of Lewis Williamson and Massimo Ciglia wrapped up the Pro-Am title with a fine third overall in race one, while Andrzej Lewandowski secured a fourth Super Trofeo Europe title in the second bout. Gerard van der Horst also became a four-time Super Trofeo champion, coming out on top in the Lamborghini Cup category.
MotoGP race winner Dani Pedrosa was also back in action for the third of his planned Super Trofeo weekends this year, alongside Antonin Borga in the #29 FFF Racing Team cars. The Spaniard finished 13th overall – and eighth in the Pro-Am class in the first race before improving to sixth in class in race two.
In the North American championship, former Formula 1 driver Nelson Piquet Jr won the first race, before Spinelli and Giano Taurino prevailed in the afternoon. Precision Performance Motorsports' Bryson Lew and John Dubets came out on top in an enthralling Pro-Am title battle, while Shehan Chadrasoma claimed the Am title with his sixth victory of the year. After a major rebuild on his Flying Lizards Motorsport car following a practice crash, Slade Stewart's third place in race two secured the LB Cup title.
Europe Race 1
Morning rain meant that wet race was declared before the start, leaving most crews facing a choice of whether to use slicks or wet tyres. The majority of the field opted for wets but polesitter Spinelli began the race on slicks and immediately paid the price. The #61 Huracán dropped down the order, running as low as 28th as Bonduel took the early lead from the Pro-Am runners of Karol Basz (Micanek Motorsport) and Lewis Williamson (Oregon Team).
Williamson soon made it ahead of Basz for the Pro-Am lead and second overall, but the Oregon Team driver was not content on staying there as he took chunks of time out of Bonduel out in front. Before long, Williamson was all over the back of Bonduel and made a decisive lunge at turn eight to seize the lead on the seventh lap. Such was the pace of the #27 car, Williamson had built a three-second margin and held the lead until the pit-stops.
Bonduel, who had been struggling with high tyre pressures in the opening stint, changed to slicks at the pit-stops and emerged back in the lead after getting past Bromek Formanek, while the Target Racing car of Milan Teekens disputed third with the Iron Dames machine of Doriane Pin. The #83 of Pin moved up to second ahead of Teekens after the stops but came under pressure from Teekens late in the race. Teekens got by Pin in the closing laps and finished second after a spin from Formanek two laps from the finish, while Pin also spun on the final lap to end up fifth overall.
Profiting from Formanek's spin, Ciglia and Williamson finished third overall and first in Pro-Am, clinching the title a race early. Benoît Semoulin and François Semoulin won in the Lamborghini Cup class ahead of Van der Horst and Hans Fabri, with Lewandowski taking the Am victory.
Europe Race 2
Having created Super Trofeo history on Friday by becoming the first female driver to record an outright pole position in the one-make championship, Pin led off the rolling start from Teekens and Leipert Motorsport's Brendon Leitch. Before the end of the first lap, the safety car was deployed following a heavy crash at turn five as the Rexal FFF Racing Team cars of Luciano Privitelio and Marc Rostan made contact. Both cars were out of the race immediately with front-end damage, while the Micanek Motorsport car of Kurt Wagner was also beached in the gravel trap.
Following a 10-minute safety car period, Pin maintained her lead from Leitch, who overtook Teekens on the opening lap, with VS Racing's Jean-Luc D'Auria fourth. From sixth on the grid, Weering slipped back a couple of positions at the start and lost more time after tagging the rear of Stéphane Lemeret into a spin at turn 11, earning a 10-second post-race time penalty.
Pin increased her margin in the lead to over three seconds by the time the pit window opened, and the French driver waited until the last possible moment to make her stop and swap with Gatting. Leitch did the same, switching over to his team-mate Gerhard Watzinger, while Spinelli took over from Weering at the very start of the window. This strategy paid off handsomely as the Bonaldi Motorsport driver put in a series of fastest laps to move into the lead of the race after Gatting took over the #83.
Spinelli then built a staggering 20-second lead during his stint to comfortably take the victory despite the penalty. Gatting and Pin finished a superb second, with Tribaudini and D'Auria third. Van der Horst finished second in LB Cup to secure the title, his fourth overall and first since 2019, while Andrzej Lewandowski claimed the Am crown with victory. A late spin for Target Racing's Milan Petelet allowed Basz and Formanek to avenge their race one disappointment and claim the Pro-Am victory.
Pro-Am champion Lewis Williamson (#27 Oregon Team) said: "This week we kind of struggled for pace in the dry so we thought we'd try a few different things and for it to be wet, it was good to get it done even though our car hasn't worked so well in cooler conditions this year. We were hopeful of winning the title in Barcelona, but we had our worst weekend of the year, so really happy to win it with a race to spare, Massimo has done a great job in his first season with a Pro driver too."
Team-mate Massimo Ciglia (#27 Oregon Team) added: "I am really happy to have won the title together with Lewis, and by winning the first race. It was a difficult race and one of the most complicated of the entire year, with the wet track that dried out. The team did a great job and everything went perfectly today."
Am champion, Andrzej Lewandowski (#60 VS Racing) said: "I am very happy with the title, my second Am win and fourth in Super Trofeo, it's really a big pleasure to do it this year because the level of competition is so high. Today was quite easy I must say as I was controlling the situation the whole time."
Lamborghini Cup champion Gerard van der Horst added: "It's great to win the title, four years after the last one and so much has happened during this time. With the COVID-19 and then my bad crash in Barcelona, I couldn't drive so much these past years, so I am really happy with my comeback. It was a hard race this morning, but I made it through."
North America Race 1
US RaceTronics' Patrick Kujala took pole position and initially led off the line before coming under attack from Spinelli, who started third in the Taurino Racing by D Motorsport car shared with Giano Taurino. Spinelli attempted to go around the outside of Kujala at turn one but made contact, sending himself into a spectacular 360-degree spin. The drama didn't stop at turn one either, as more contact between the second Taurino car of Luke Berkeley and the Wayne Taylor Racing machine of Danny Formal left both spinning at turn two.
That allowed Piquet to take the lead ahead of Kujala and Billy Johnson, but Spinelli was quickly back into second before long, and then assumed the lead after a side-by-side battle with Piquet at turn 14. Spinelli then built a healthy gap in the lead but was hit with a five-second penalty for exceeding track limits one too many times. The #188 car eventually finished second, 2.848s adrift of the winner Piquet.
Having spent three seconds longer in the pits as a solo driver, Piquet came back out behind Taurino and immediately found himself in a battle with Edoardo Piscopo – who had taken over from Kujala – for second overall. The pair traded places but Piquet eventually got his way back ahead and started to close down Taurino for the lead. Electing not to risk a mistake, Piquet maintained a safe distance behind Taurino and inherited the victory after Taurino's penalty was applied.
Precision Performance Motorsports' Bryan Ortiz and Sebastian Carazo took Pro-Am spoils, beating the Wayne Taylor Racing partnership of Tom Long and Ashton Harrison, the latter competing in her last-ever Super Trofeo race weekend. In the Am class, David Staab and Nikko Reger took victory ahead of main title rival Shehan Chandrasoma, while Fred Roberts (NTE Sport) claimed the LB Cup win ahead of Jason Keats-Gagne and Charlie Martin (Dream Racing Motorsport).
North America Race 2
From pole position, Piquet maintained his lead at the start of the race, beating WTR's Marcelli into the first turn. Further back, Taurino made a strong start and divebombed into third place with a daring manoeuvre past three cars under braking for turn five.
With clear air, Piquet opened up a slender margin over Marcelli, while Patrick Liddy led the early stages of the Pro-Am battle in fourth overall, fractionally ahead of Ortiz. However, there was drama in the Am class as David Staab and Nikko Reger pulled into the pits with an alternator failure and a lack of power, which curtailed their hopes of winning the title and handing the victory and championship to Shehan Chandrasoma (MC Racing). Elsewhere, Jason Keats slowed with a puncture in LB Cup, while Jordan Missig also hit trouble.
The safety car was then deployed after a big off for Ofir Levy who spun at the final corner, hitting the barrier and damaging the rear-end. The recovery was a lengthy process, and the pit window was delayed as a result. At the restart, Piquet led but lost the advantage at the stop as he was stationary for longer than both Taurino and Marcelli.
That allowed Spinelli and Formal to pass, with the leading two remaining the same until the end. Piquet, for his troubles, had to defend from the charging Kujala – who had taken over from Piscopo at the stops – for third. The two cars battled hard, but Piscopo eventually got the better of Piquet to claim the final step on the podium. The Pro-Am title was decided in favour of PPM's John Dubets and Bryson Lew, after a late-race overtake on Sebastian Carazo two minutes from the end.
Chandrasoma's sixth Am victory of the year secured the Am title, while Slade Stewart (Flying Lizard Motorsports) completed a remarkable fightback for a heavy crash – which required a substantial rebuild and a fresh rear suspension – in Thursday practice to claim the LB Cup crown with third in class.
Speaking after winning the Pro-Am title, John Dubets (#146 Precision Performance Motorsports) said: "Bryson and I came into this series not knowing what to expect, not knowing too much about the series or the cars, or the team. Everything clicked for us, everything worked well, and it came down to the last weekend, so to be officially crowned champions is incredible."
PPM team-mate Bryson Lew added: "This was a huge race for us, we worked our asses off all year. We have put everything into this, and I want to thank everyone who helped make it happen, my sponsors, my parents."
Am champion Shehan Chandrasoma (#119 MCR Racing) said: "Originally, I was going to start in LB Cup and then I got an email from Chris Ward telling me I was too fast and that I needed to move up to Am. It's my first year back in racing this year, so it's crazy to even get a podium in Am initially but to win the championship it is definitely a crazy moment for me."
Lamborghini Cup champion Slade Stewart (#114 Flying Lizard Motorsports) said: "This is my first year in Super Trofeo, so I didn't know any of the tracks, didn't know the car so this was everything about learning. We had some early successes, we had our challenges, principally Road America. But we have a great team, a great team-mate in Tom Tait. I thought I was done for the weekend yesterday, but my team pulled together and got me on the grid today, so I cannot thank them enough for their hard work."
Attention now switches to the season-ending Super Trofeo Grand Finals, which begin in earnest on Saturday. Split by classes, the first Am/LB Cup race starts at 14:45 with the Pro/Pro-Am race starting at 16:05. Race 2 for Am and LB Cup is scheduled to take place at 12:00 on Sunday 6 November, while the final Pro/Pro-Am race will start at 14:50.
All races will be livestreamed on the official Lamborghini Squadra Corse YouTube channel and Facebook page. All times local.
Lamborghini Super Trofeo Europe – Calendar 2022
Round 1: Imola (Italy), 1-3 April
Round 2: Le Castellet (France), 3-5 June
Round 3: Misano (Italy), 1-3 July
Round 4: Spa-Francorchamps (Belgium) 29-30 July
Round 5: Barcelona (Spain) 30 September-2 October
Round 6: Portimão (Portugal), 3-4 November
Grand Finals 2022: Portimão (Portugal), 5-6 November