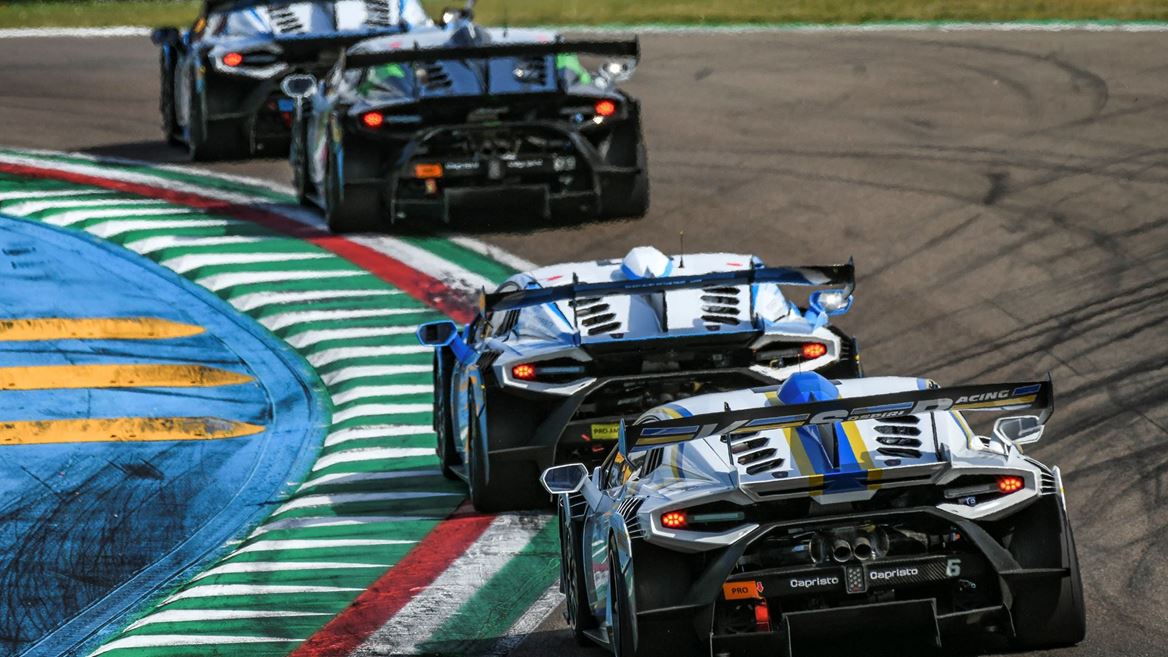 Second Vallelunga round added to 2023 Lamborghini Super Trofeo Europe calendar
Italian circuit to host Imola replacement round in November prior to season finale and Grand Finals 2023
Sant'Agata Bolognese, 4 May 2023 – Following the cancellation of the proposed season opener at Imola this month, Lamborghini Squadra Corse can announce that a second round at the Autodromo Vallelunga has been added to the 2023 Lamborghini Super Trofeo Europe calendar.
Already planned as the season finale for the European, North American and Asian championships, as well as the traditional end-of-year Lamborghini Grand Finals, the 4.085km circuit north of the Italian capital Rome will also act as the penultimate round of the season for Super Trofeo Europe.
Rounds five and six, plus the Grand Finals are scheduled to take place in the same week, marking a busy end to the season for the European competitors.
The announcement comes after the news that the planned opening round of the season at Imola (originally scheduled for the opening weekend in May) has been cancelled due to a delay in pit building and paddock renovation works at the former Grand Finals venue. Since the cancellation, first announced by the organisers of the European Le Mans Series – on whose support bill Super Trofeo Europe had been due to race – Lamborghini Squadra Corse has been working tirelessly to find an alternative meeting to fill the gap.
The penultimate round at Vallelunga, much like the season finale and Grand Finals, will be a stand-alone event run by Lamborghini Squadra Corse taking place between 12-13 November. Thereafter, the final pair of 50-minute races of the European season will take place on the 15-17 November with the Grand Finals – returning for the first time since 2018 – held over the weekend of 18-19 November.
Lamborghini Super Trofeo Europe
Round 1: Paul Ricard/Le Castellet (France), 2-4 June
Round 2: Spa-Francorchamps (Belgium), 29 June-1 July
Round 3: Nürburgring (Germany), 28-30 July
Round 4: Valencia (Spain), 15-17 September
Round 5: Vallelunga (Italy), 12-13 November
Round 6: Vallelunga (Italy), 15-17 November
Grand Finals: Vallelunga (Italy), 18-19 November