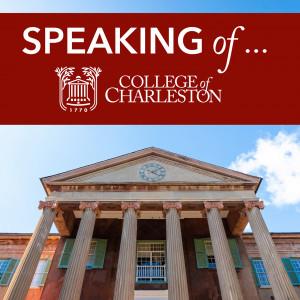 Charleston, South Carolina, Dec. 13, 2021 (GLOBE NEWSWIRE) — The College of Charleston is pleased to announce a new podcast highlighting the people, places and programs that help make it a nationally ranked public liberal arts and sciences university. 
Produced by the Office of University Communications and the Division of Information Technology, Speaking of … College of Charleston features conversations with faculty, students, staff, alumni and supporters who bring prestige and positive recognition to the College across a wide array of academic endeavors, professional interests and creative passions. 
"The College's creative professionals have long shared the stories of the people who make our university special through print and online publications such as the award-winning College of Charleston Magazine and our popular online news website, The College Today," says Ron Menchaca '98, vice president of communications. "Our new podcast provides another platform for great storytelling and further expands our reach to national and international audiences." 
Some episodes will dive deep into topics that showcase the expertise and scholarship of the College's faculty while other conversations will touch on current topics in the news or the latest happenings around campus and Charleston. Each episode will be accompanied by an article published on The College Today that includes additional information, images and show notes related to the topic. 
Advertisement. Scroll to continue reading.
Among the episodes published so far, listeners will find: 
Advertisement. Scroll to continue reading.
Advertisement. Scroll to continue reading.
New episodes are available now and future episodes will be published periodically throughout each academic semester on all major podcast platforms, including Apple, Stitcher, iHeart Radio, Spotify and more.