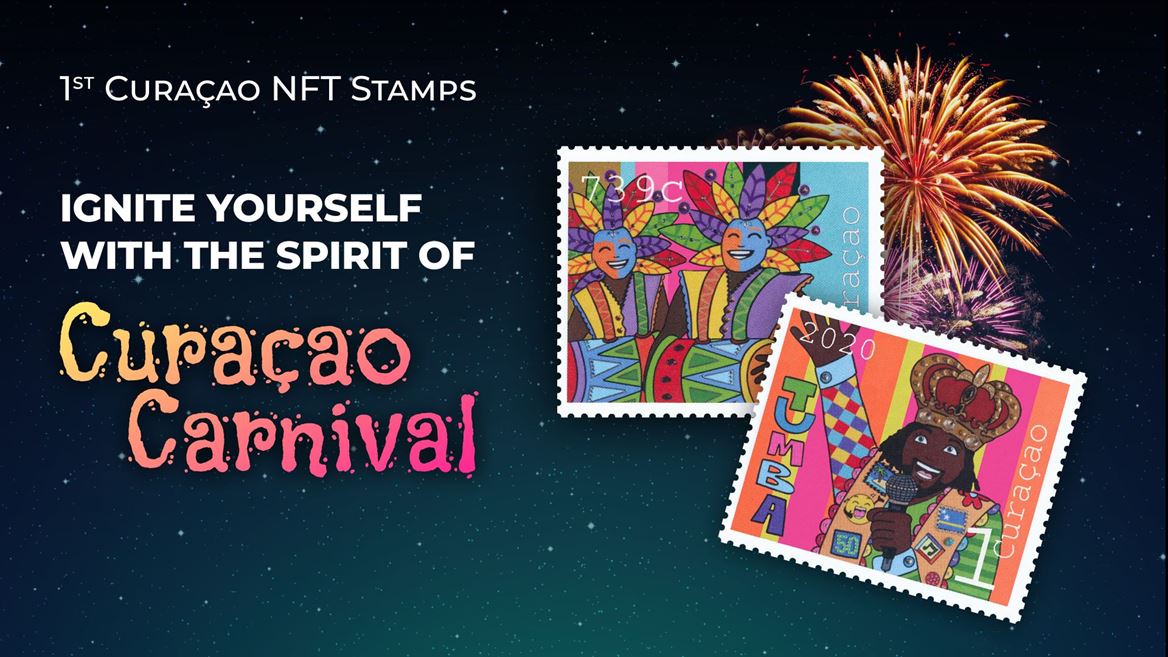 The 1st NFT stamps by CPost showcasing the spirit of Carnival in Curacao
Authentic digital art NFT remake of a historic stamp issue on stampsdaq.com by CPost International comes with unique benefits to stamps collectors
WILLEMSTAD, TALLIN, February 16th, 2023. Cpost International, the official designated postal operator of the Country of Curaçao (part of the Kingdom of the Netherlands), is releasing its first NFT stamp issue today. It is dedicated to Carnival, the largest annual cultural event in Curacao! Following the strategic vision to create a more entertaining collecting experiences, Curaçao's first NFT stamps deliver high-quality animated digital art and open exciting travel opportunities to existing as well as new stamp collectors of stamps from Curaçao.
"We are extremely delighted here at CPost to enhance the stamp collecting experience for our collectors' community with Curaçao's first NFT stamps," said Thomas Roggendorf, the CEO of Cpost International. "Animated digital art and real life travel opportunities in combination with Stampdaq's game and contest elements, allow the collectors to explore Curaçao via it's stamps in the most entertaining and rewarding way. This issue is only the first step in building our firm presence in the expanding Metaverse digital environment with more fascinating developments coming in the coming months and years."    
"With the start of sales of beautiful Curaçao NFT stamps on stampsdaq.com we not only bring amazing collectibles to digital collectors, but also open the door to exclusive real life travel experience opportunities to visit and enjoy this Caribbean paradise island," said Andrii Shapovalov, CEO of Stampsdaq Estonia. "Stamp collecting is no longer a "quite hobby". Together with many postal operators, we are targeting to make it also one of the most valuable hobbies in the world!"
The new NFT stamps will drop on stampsdaq.com in five digital variations for each stamp motif with rarity tiers ranging from Common to Unique. Collectors will be able to buy the NFT stamps via Mystery Mail format. Each pack of Mystery Mail will contain 6 (six) randomly picked NFT stamps at the time of purchase and pulled from the pool of all minted NFTs for all rarity tiers. Total editions of all 6 (six) stamps will be sold in 4 (four) lots. However, the first lot will have much more enhanced odds to pick up more rare variations of each stamp and allow early buyers to build their Curacao Collection score faster and secure the access to the travel benefits of these stamps. In 2023, the eligible owners of Curaçao stamps will participate in a drawing in October to win one of the 3 trips to 2024 Curaçao Carnival.
CPost International of Curaçao is the first Caribbean postal operator to launch the NFT stamp program in partnership with Stampsdaq Estonia.
ENDS
Media Contacts:
Andrii Shapovalov
Chief Executive Officer
Andrii.shapovalov@stampsdaq.com
About Cpost Internations
Cpost International is the designated postal operator of the Country of Curacao servicing a domestic and international mail and parcel logistics for close to over 160 000 of its citizens, as well as operating as international logistics hub. Curacao's postage stamps had been widely recognized by thousands of stamp collectors around the world, promoting country's nature, architecture, culture and social life. The national postal operator aim to tokenize into NFT format its entire historic philatelic collection as well as issue new NFT stamps in the near future.
About Stampsdaq
Stampsdaq is an EU-based NFT company founded in 2021 and exclusively dedicated to cooperation with designated postal operators worldwide. It has recently launched platform for NFT Stamps designed to bridge the interests of postal operators and the global community of collectors. Stampsdaq provides a One-Stop-Shop solution with no investment required from a postal operator side. The company promotes and implements "Collect with Benefits" vision of creating an extra utility value and real-world experiences for NFT Stamps owners to drive the interest to NFT Stamps collecting and to stamp collecting in general. Stampsdaq currently holds several license agreements with different designated postal operators and is in active negotiations with over 60 postal operators worldwide. It is also an associate member of the Consultative Committee and World Association for Development of Philately (WADP) of the Universal Postal Union.