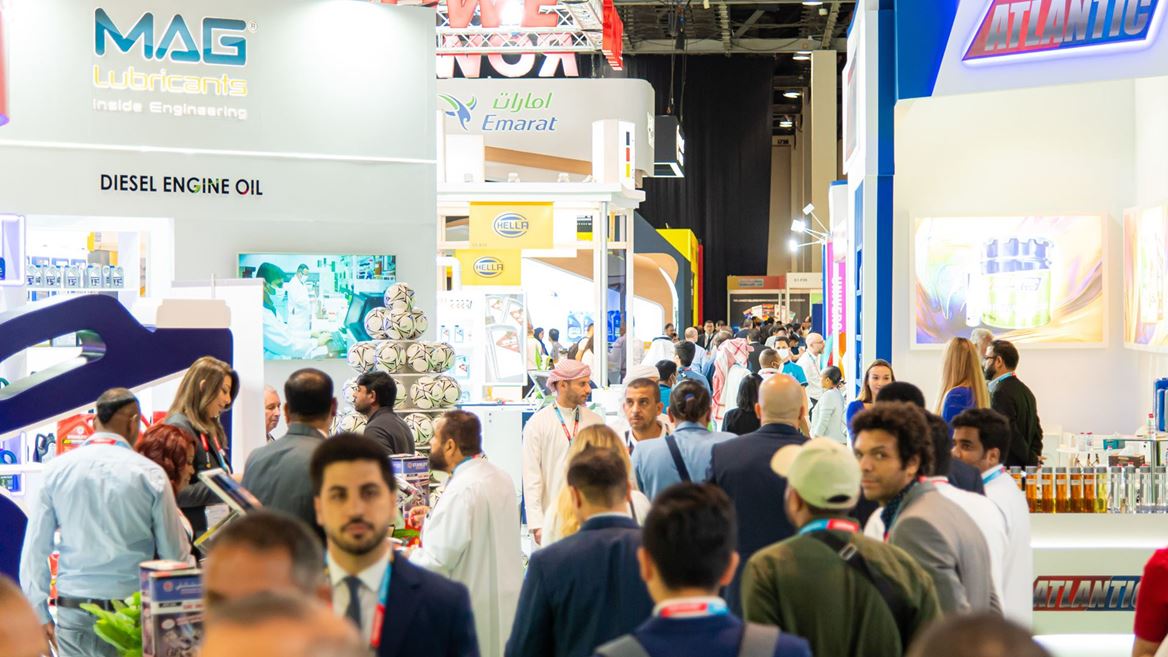 The 20th edition of Automechanika Dubai to welcome a record number of visitors to the global automotive aftermarket industry showcase
Landmark edition of Automechanika Dubai will be the largest ever, with more than 1,800 exhibitors from over 60 nations
Exhibitor participation looks set to grow by 57 percent year-on-year, with 20 country pavilions set across 14 halls at DWTC
New events, including the Lubricants Technology Conference and Innovation4Mobility, will place sustainability under the spotlight
Dubai, UAE: The organiser of Automechanika Dubai, the Middle East and Africa's largest international trade exhibition for the automotive aftermarket industry, are preparing to host the largest edition in the show's two-decade history from 2-4 October at Dubai World Trade Centre (DWTC).
The landmark 20th edition of Automechanika Dubai will see more than 1,800 exhibitors from over 60 nations showcase a diverse range of innovative products, services and technologies in front of a global audience of thousands. Building on its reputation as a key networking hub for the automotive aftersales industry, this year's exhibition will occupy 14 halls at DWTC and feature 20 official country pavilions, representing 63 percent net square-meter growth compared to 2022.
Sustainability will represent a key focus at Automechanika Dubai 2023, as automotive aftermarket professionals from around the world consider the transformative role that electric vehicles (EVs) are playing within the industry. This is on the back of the UAE government's recently revised National Electric Vehicles Policy, which will see a 50 percent increase in the number of vehicles on the country's roads by 2050.
New event features such as Innovation4Mobility and the Lubricants Technology Conference will also address how the sector is working to minimise its environmental impact as participants explore related market opportunities, share knowledge and forge new partnerships.
Mahmut Gazi Bilikozen, Portfolio Director at Automechanika Dubai organisers Messe Frankfurt Middle East, said: "Over the past two decades, Automechanika Dubai has firmly established itself as the premier networking hub for the Middle East's automotive aftermarket community. This year, we will have a keen focus on the EV sector, where, in the UAE for example, demand for EVs is projected to grow at a compound annual rate of 30 per cent between 2022 and 2028, according to the global electric mobility readiness index published last year."
The 20th edition of Automechanika Dubai will build on the record-breaking success of the 2022 exhibition, which attracted 1,145 exhibitors and 42,937 visitors from 145 countries. C-suite professionals and managing directors accounted for almost a third (32 percent) of visitors to last year's show, followed by business development and sales (30 percent), and procurement and purchasing personnel (8 percent).
Automechanika Dubai 2023 will feature several new event features designed to enable attendees to exchange knowledge and identify new commercial opportunities. On the exhibition's opening day, delegates will explore emerging trends from the fields of climate-neutral, connected and autonomous mobility as part of Innovation4Mobility. Supported by Associate Sponsor HELLA, this event feature will see expert speakers share insights into sustainability-related issues such as EV charging infrastructure, battery recycling and green investment opportunities.
On day two of Automechanika Dubai 2023, the Lubricants Technology Conference, supported by Associate Sponsor Chempol, will address a range of segment-specific themes such as digitalisation, cold blending technologies and the prevention of corrosion in EV drivetrains.
Other features at this year's event include the Automechanika Dubai Awards, which will recognise excellence from across the MENA region; Automechanika Academy, an interactive learning and networking hub; AfriConnections, a platform that connects African buyers with global suppliers; Modern Workshop, a programme that enables workshops, garages and repair centres to become future-ready; and the PitStop Challenge, which offers automotive professionals an opportunity to demonstrate their skills under pressure.
The 20th edition of Automechanika Dubai will also feature eight specialised Product Sections – Parts & Components, Electronics & Systems, Accessories & Customising, Tires & Batteries, Car Wash & Care, Oils & Lubricants, Diagnostics & Repair, and Body & Paint – offering something to suit every interest.
"Twenty years in the making, Automechanika Dubai 2023 will deliver unrivalled business opportunities to exhibitors and visitors alike, acting as a catalyst for new collaborations, partnerships and market expansion within the Middle East and beyond," added Bilikozen.
The latest Automechanika Dubai news stories are available on our 'Press Releases' page.
To register for Automechanika Dubai 2023, please visit our 'Visitor Registration' page.
Ends
Media Registration
To reserve your media badge, or to learn more about Automechanika Dubai 2023's accredited media eligibility criteria, please visit our 'Information for Journalists' page.
About Automechanika Dubai
Automechanika Dubai is the largest international automotive aftermarket trade show in the Middle East taking place at the World Trade Centre between 2-4 October 2023. Automechanika Dubai acts as the central trading link for markets that are difficult to reach connecting the wider Middle East, Africa, Asia, and key CIS countries.
For more information, please visit our website.
About Messe Frankfurt
The Messe Frankfurt Group is one of the world's leading trade fair, congress and event organisers with their own exhibition grounds. With a workforce of some 2,160 people at its headquarters in Frankfurt am Main and in 28 subsidiaries, it organises events around the world. Group sales in financial year 2022 were around €454 million. We serve our customers' business interests efficiently within the framework of our Fairs & Events, Locations and Services business fields. One of Messe Frankfurt's key strengths is its powerful and closely knit global sales network, which covers around 180 countries in all regions of the world. Our comprehensive range of services – both onsite and online – ensures that customers worldwide enjoy consistently high quality and flexibility when planning, organising and running their events. We are using our digital expertise to develop new business models. The wide range of services includes renting exhibition grounds, trade fair construction and marketing, personnel and food services. Sustainability is a central pillar of our corporate strategy. Here, we strike a healthy balance between ecological and economic interests, social responsibility and diversity.
For more information, please visit our website at: www.messefrankfurt.com/sustainability
With its headquarters in Frankfurt am Main, the company is owned by the City of Frankfurt (60 percent) and the State of Hesse (40 percent).
Further information: www.messefrankfurt.com
About Messe Frankfurt Middle East
Messe Frankfurt Middle East's portfolio of exhibitions includes: Automechanika Dubai, Automechanika Riyadh, Beautyworld Middle East, Beautyworld Saudi Arabia, Intersec, Intersec Saudi Arabia, Gifts & Lifestyle Middle East, Light + Intelligent Building Middle East and Paperworld Middle East. In the 2022/23 event season, Messe Frankfurt Middle East exhibitions combined featured 3,939 exhibitors from 66 countries and attracted 151,990 visitors from 116 countries.
For more information, please visit our website.