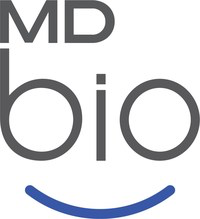 The Doctor's Brand Becomes An Officially
Beverly Hills, California, April 12, 2023 (GLOBE NEWSWIRE) — MDbio Wellness is a subsidiary of The Doctors Brand, a company established by four renowned, board-certified medical doctors that offer customers therapeutic alternatives to harsh pharmaceutical drugs by providing medical-grade, patient-tested, full-spectrum hemp and plant-based wellness products. 
The Doctors Brand has now become an officially trademarked brand, meaning that the natural products offered at MDbio Wellness are supported by the latest in modern medical science (including plant-based medicines) and can continue to be unique in the industry for their innovation, quality, potency, and safety. 
"We are thrilled that the revolutionary products that MDbio has worked so hard on putting out are backed by our trademarked brand. We know these products have the potential to help so many lives out there," said Babak Larian, MD, FACS & Founder.
Naturally Powered by Plant Extracts 
MDbio Wellness has taken the last three years to work with product formulators, herbalists, botanical experts, and hemp farmers around the country to source the highest potency, safest, and most pure ingredients for its products. 
The rigorously tested products are then enhanced with the best of modern science and the latest approaches in plant medicine to offer users optimal ratios and maximum efficacy. 
Some of the herbal products available at MDbio Wellness are MDsleep, MDrelief, MDcalm, and MDimmune+ that all come in the form of soft gel capsules and are designed to offer unique benefits while naturally bringing your entire body back into a balanced state of equilibrium.
MDbio Wellness does not only provide a variety of effective plant-based products, but if you visit the Blog on the company's website, you will find a plethora of useful and informative posts that give you a range of natural health remedies and methods to improve your well-being.
One of MDbio Wellness's most popular blog posts is based on the most reliable ways to ensure a good night's sleep. 
Good sleep is essential for boosting immunity, performance, mood, and energy levels, whereas chronic lack of sleep has been shown to raise patients' risk of diseases such as diabetes, inflammation, and obesity. 
MDbio Wellness utilizes the benefits of CBN (cannabinol) that interacts with the CB2 receptors of users' endocannabinoid system and naturally enhances the functioning of the receptors while supporting their mind and body for restful sleep.
While CBN is ideal for significantly reducing pain and providing relief from inflammation, the chemical has been highly regarded by its users for improving sleep quality and increasing the length of their sleep.
Unfortunately, due to CBN being a newer arrival to the natural health scene, there are limited studies on using CBN as a sleep-enhancing substance in comparison to CBD (cannabidiol), which has been extensively researched in the last couple of years for both sleep and anxiety management. 
When looking for a way to improve your sleep quality, MDbio Wellness recommends searching for natural health substances that contain CBN in conjunction with other renowned and potent ingredients to ensure you will receive the maximum benefits. 
The company's product, MDsleep, contains a full-spectrum hemp extract with GABA (an amino acid used to promote relaxation by alleviating mental and physical stress) and botanical extracts, as well as sleep-promoting ingredients, such as L-Theanine, that work synergistically to help you get a good night's sleep.
With MDsleep, you are not only getting the optimal blend of premium plant-based wellness ingredients to offset compromised sleep but also one of the few "doctor-developed" and tested alternatives to traditional big pharmaceutical options to combat poor sleep habits.
More information
To find out more about MDbio Wellness, The Doctor's Brand, and their full-spectrum hemp and plant-based wellness products, please visit the website at mdbiowellness.com.
Source: https://thenewsfront.com/mdbio-wellness-the-doctors-brand-becomes-an-officially-trademarked-brand/