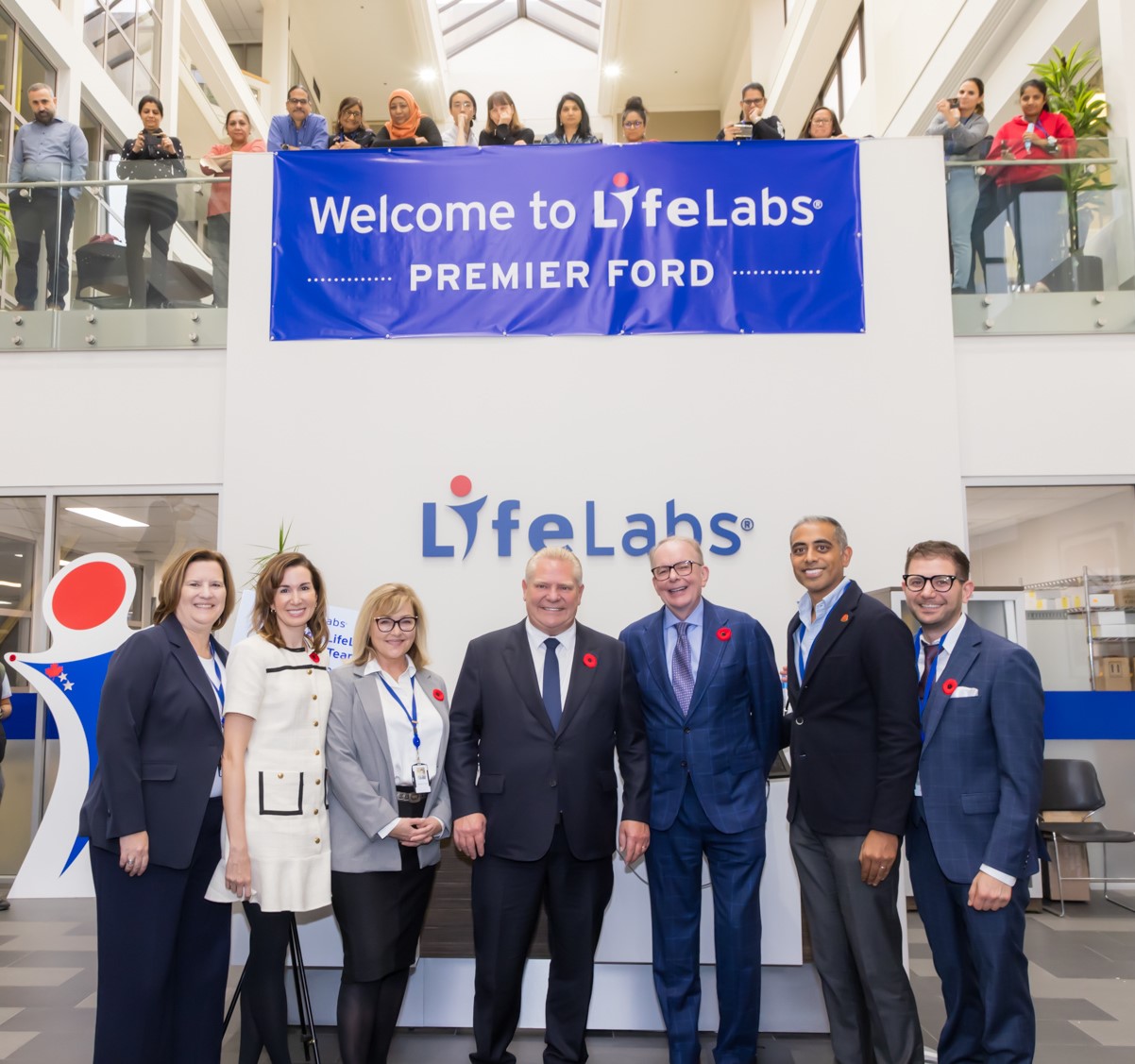 Toronto, Ontario, Nov. 08, 2023 (GLOBE NEWSWIRE) — LifeLabs is honoured to have welcomed the Honourable Doug Ford, Premier of Ontario, to our state-of-the-art medical diagnostic laboratory. Today's visit marks an important recognition of our long-lasting partnership with the Ontario government, emphasizing our shared commitment to advancing the healthcare and well-being of Ontarians.
LifeLabs has dedicated the past three years to elevating the standards of medical diagnostics with a remarkable $41 million investment in state-of-the-art equipment. This investment ensures that patients receive top-quality healthcare services and creates the capacity needed to support the future needs of our partners. LifeLabs has invested in the redevelopment and expansion of 14,000 square feet to facilitate expanded laboratory operations that will support the long-term testing needs of Ontarians.
"I am honoured to have welcomed Premier Ford to LifeLabs today," said Charles Brown, President and CEO of LifeLabs. "This visit underscores our commitment to working with a shared vision to support the people of Ontario and to drive innovation and improve healthcare for our community. We look forward to forging an even stronger partnership in the future."
"I have confidence in LifeLabs and our shared vision of ensuring convenient and timely access to high-quality medical diagnostic services for all Ontarians," said Honourable Doug Ford. "We've maintained a strong partnership and are eager to continue working hand in hand to build a healthier Ontario."
The Ontario government's commitment to advancing healthcare aligns seamlessly with our mission at LifeLabs. We are proud of our relationship and excited about the potential for further collaboration that will have a positive and lasting impact on Ontario's health system.
About LifeLabs
LifeLabs is Canada's leading provider of laboratory diagnostic information and digital health connectivity systems, enabling patients and healthcare practitioners to diagnose, treat, monitor, and prevent disease. We support 20 million patient visits annually and conduct over 100 million laboratory tests through leading-edge technologies and our 6,500 talented and dedicated employees. We are a committed innovator in supporting Canadians to live healthier lives, operating Canada's first commercial genetics lab and the country's largest online patient portal, with more than 5 million Canadians receiving their results online. LifeLabs has been named one of Canada's Best Employers (2021, 2022 and 2023) and Best Employers for Diversity (2022 and 2023) by Forbes and recognized for having an award-winning Mental Health Program from Benefits Canada. LifeLabs is 100% Canadian-owned by OMERS Infrastructure, the infrastructure investment manager of one of Canada's largest defined benefit pension plans. Learn more at lifelabs.com. 
Honourable, Doug Ford, Premier of Ontario, visits LifeLabs International Reference Laboratory