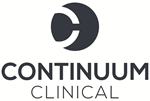 The New MERIS Total Engagement Solution From Continuum
NORTHBROOK, Ill., Feb. 06, 2023 (GLOBE NEWSWIRE) — Continuum Clinical, a global leader in patient engagement for clinical trials, announced today that its new MERIS™ Total Engagement Solution is now available to provide streamlined predictability in clinical trials and give confidence to Sponsors that their clinical trial milestones will be met. MERIS is a suite of globally compliant clinical trial enrollment and retention products, which enables a seamless clinical trial experience for study participants and research sites while producing real-time, actionable performance data for Sponsors. MERIS interacts with patients at every step of their clinical trial journey, giving Sponsors the opportunity to identify precise barriers that are impacting enrollment and retention.
The MERIS Total Engagement Solution includes:
MERIS Enrollment, a globally compliant technology solution that prescreens and connects qualified study participants to research sites.
MERIS Retention motivates study participants by enabling direct-to-patient interaction throughout screening and enrollment to remind them of upcoming visits, collect real-time feedback, and encourage participation to enhance their clinical trial experience.
MERIS Analytics, formerly known as ContinuVue, captures, visualizes, and simplifies the data collected from the Enrollment and Retention Solutions, which provides real-time performance measurement.
"We developed MERIS based on both data and first-hand observations we have seen as clinical trials continue to evolve," said Neil Weisman, the President of Continuum Clinical. "MERIS allows anyone who is responsible for enrolling and retaining patients in clinical trials to pinpoint specific risks that may impact enrollment and retention. This enables precise, real-time course corrections that will help avoid costly delays and identify enrollment problems without guesswork."
MERIS will help users optimize their advertising spend, improve ROI, decrease the cost per randomization, and identify participants at risk of dropping out of the clinical trial. It leverages best-in-class cloud technology to provide Sponsors and service providers with the infrastructure necessary to manage a successful patient recruitment campaign.
At the 2023 Summit for Clinical Ops Executives (SCOPE), which is being held between Monday, February 6 and Thursday, February 9, at the Rosen Shingle Creek in Orlando, Continuum Clinical will be providing real-time demonstrations of MERIS at booth #614. Virtual demonstrations are also available by making an appointment here. More information is available at www.merisengage.com.
About Continuum Clinical 
Continuum Clinical is a global clinical trial enrollment company that has been providing fact-based patient recruitment solutions for the last 30 years. During this time, the company has built successful relationships with pharmaceutical and biotech companies around the world, including 5 of the top 6 global sponsors. This experience led Continuum Clinical to become the industry's most trusted partner for clinical trial engagement, recruitment, and retention. Continuum Clinical has more than 120 employees in the United States and Europe, with an expanded network of resources worldwide.  More information is available at www.continuumclinical.com.
For media inquiries, please contact Joshua Taustein at jtaustein@continuumclinical.com.