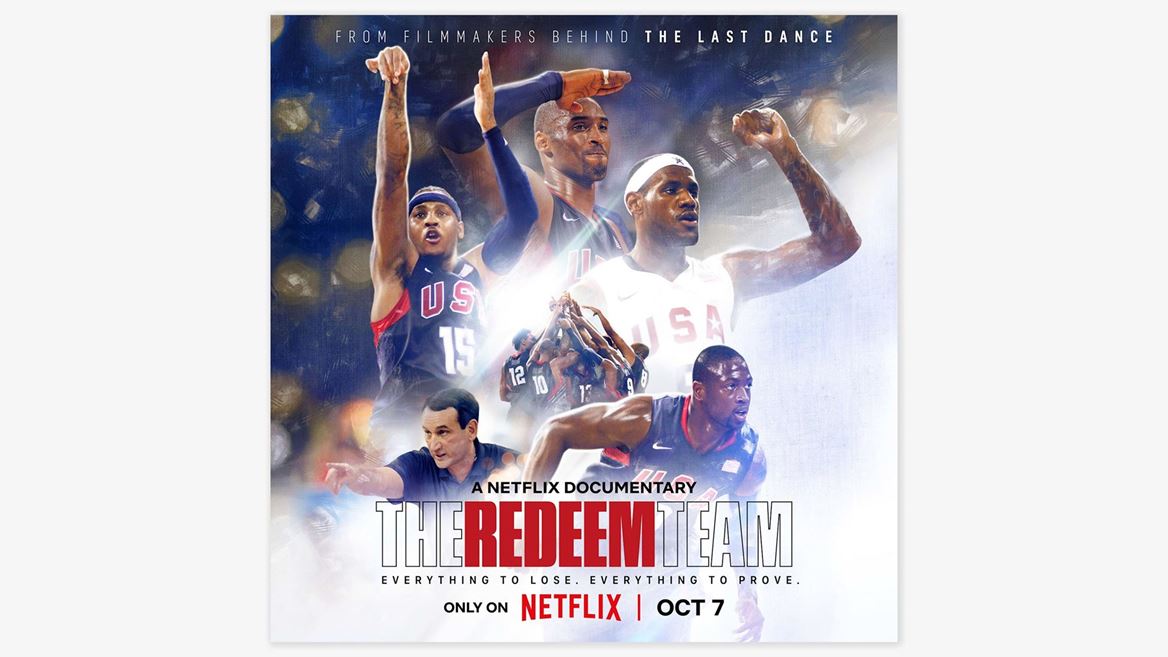 The Redeem Team documentary wins Sports Emmy Award
23 May 2023 – The first collaborative feature documentary between the International Olympic Committee (IOC) and Netflix, which chronicles the incredible journey of the USA's basketball team at the Olympic Games Beijing 2008, has been recognised with the outstanding Sports Emmy Award in the Long Documentary category.
The Redeem Team was executive produced by Olympic champions LeBron James and Dwyane Wade and produced by Olympic Channel Services (OCS) along with the Kennedy/Marshall Company and Mandalay Sports Media, in association with 59th and Prairie Entertainment, UNINTERRUPTED, NBA Entertainment and USA Basketball. The film was directed by Jon Weinbach, and is the first collaborative feature documentary between the IOC's Olympic Channel Services and Netflix.
The film tells the inspirational story of the US men's basketball team that went to Beijing 2008, bidding to restore their nation's reputation, following their shock bronze medal at the Olympic Games Athens 2004. Featuring never-before-seen footage from the Olympic archives, alongside interviews with the legendary athletes and coaches who were part of the iconic squad, the documentary offers an original and fascinating portrait of team building and how it launched a new era of Team USA basketball at the Olympic Games.
Yiannis Exarchos, CEO of Olympic Channel Services and Olympic Broadcasting Services (OBS) said: "The Redeem Team is an iconic story from the Olympic archive that epitomises what makes the Olympic Games so special: perseverance, teamwork, the best of sport. It is important to us to bring these incredible stories to the next generation of fans, which is why we collaborated with Netflix to bring The Redeem Team to screens. For our feature documentary to be recognised is a huge honour, and marks another important milestone in continuing to engage audiences with Olympian-led stories all over the world."
In addition, the wider Olympic Movement has also been recognised, with NBC Universal winning the Outstanding Live Special category as well as three technical awards for its coverage of the Olympic Winter Games Beijing 2022, for which OBS was the host broadcaster.
72 – A Gathering of Champions, an emotive four-part series produced by the Olympic Channel and Mark Ciardi and directed by Emmy-award winner Jonathan Hock, which sees Olympians relive both the personal triumphs and unimaginable tragedy they experienced during Munich 1972, was also nominated in the Outstanding Documentary Series category.
The Sports Emmy Awards recognise outstanding achievement in sports programming, with these nominations further demonstrating the IOC's commitment to telling compelling Olympian-led stories that inspire and engage people around the world. The winners of the 44th Sports Emmy Awards were announced by the National Academy of Television Arts and Sciences (NATAS) at a ceremony in New York on 22 May.