Advertisement. Scroll to continue reading.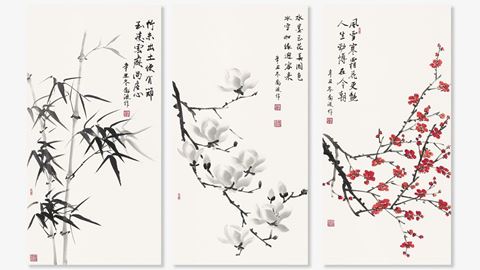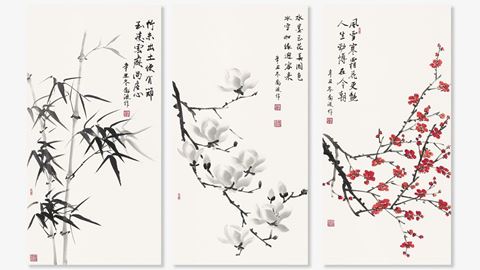 16 Feb 2022 – "I used to be a speed skater, and now I study Chinese painting," is how Ye Qiaobo describes herself.
She wasn't just any speed skater though. Ye was the first Chinese speed skater to become a world champion – the women's all-round world champion in 1992 and 1993. The silver medal she won at Albertville 1992 was China's first-ever medal at the Olympic Winter Games. In an illustrious 21-year career, Ye set landmark after landmark for China and won a total of 133 international medals. A triple Olympic medallist, she is considered one of the greatest winter sports athletes in China.
"My sport was a powerful embodiment of strength and speed," she continues. "Sometimes, a split second was the difference between winning and losing. I once lost the gold medal because of a 0.02-second difference."
Ye explains that her state of mind has transformed since she took up art seriously, and she has found herself completely detached from that intense and rapid state.
"Through my understanding of both, sport and art, I think my work shows both, my soft and hard sides," explains Ye, describing the artworks created for the Olympic Agora Beijing, as part of the Artists in Residence programme. Ye is one of seven former Olympians who were selected for this prestigious Olympic culture programme.
Her three works, done in traditional brush painting style, depict magnolias, plum blossoms and bamboo.
"In honour of the Olympic Winter Games Beijing 2022, I painted plum blossoms to offer my best wishes to the athletes from all over the world who have arrived here to participate," she says. "Plum blossoms represent the five blessings in China, which have five meanings: peace, auspiciousness, happiness, good luck and longevity."
The bamboo painting, explains Ye, symbolises integrity and unpretentiousness.
"Bamboo is upright, confident and full of vitality. So I hope that, by drawing bamboo, I can bless the athletes at the Winter Games and hope that they have excellent results."
Ye's own sporting journey began around the Small Heaven lake of Paektu Mountain in China, but skating was not her first sport. As a sporty nine-year-old, Ye was into running and playing table tennis, and had not tried winter sports. That was when a coach noticed her ability to create bursts of speed, and urged her into skating.
"I think skating matched my personality, because I love to challenge myself and fight for first place," she says. "Speed was exciting."
The rest, as they say, is history. Ye Qiaobo is renowned not just for her three Olympic medals but also for her resilience. In 1993, in order to compete at Lillehammer 1994, she underwent multiple surgeries on a crushed knee. Still suffering from the injury, she went back onto the rink and won a third Olympic medal in the 1000m. After the Games, she went back to the operating table to have more chips of crushed bones removed.
Her story influenced and moved a generation of people, and "The Spirit of Qiaobo" is a famous phrase still today. After her retirement, Ye earned an MBA from Tsinghua University and followed that up with a doctorate. Now, in addition to art, she turns to public welfare and devotes herself to both the educational and sociocultural significance of sport, to continue her story with sport.
"Many years after my retirement, the medals and trophies I won became dull, sometimes forgotten in the corner," she concludes. "However, the accolades that I earned through my hard work and dedication always inspire young people who are feeling low, who are lost in hesitation and hard situations, when they are about to give up – this is an unexpected bonus outside the arena, and it is even more significant and valuable than the medal itself."
Drawing parallels between art and sport, she says "Sports require explosive force, power, speed, animated movement and the balance between tension and relaxation; the creation of art needs dynamic spirituality as well as an innate ability of comprehension."
"Both require perseverance, persistence and endurance. When I was on the ice, I was very vigorous, determined and disciplined; I was eager to win. Yet my artistic creation guides me to another dimension to understand the world, time and space. When I paint, I just let my hand move romantically and spontaneously. The world in my eyes is very delicate and graceful; I also become immersed in the perceptive atmosphere of Zen."
Launched by the Olympic Foundation for Culture and Heritage (OFCH) at PyeongChang 2018, the Olympian Artists in Residence programme celebrates the link between sport and culture by offering opportunities to athletes with artistic interests to produce and present new artworks during and between editions of the Olympic Games.
Olympian artist Ye Qiaobo (CHN)
Olympian Artists-in-Residence at Olympic Agora Beijing 2022
Advertisement. Scroll to continue reading.
Advertisement. Scroll to continue reading.