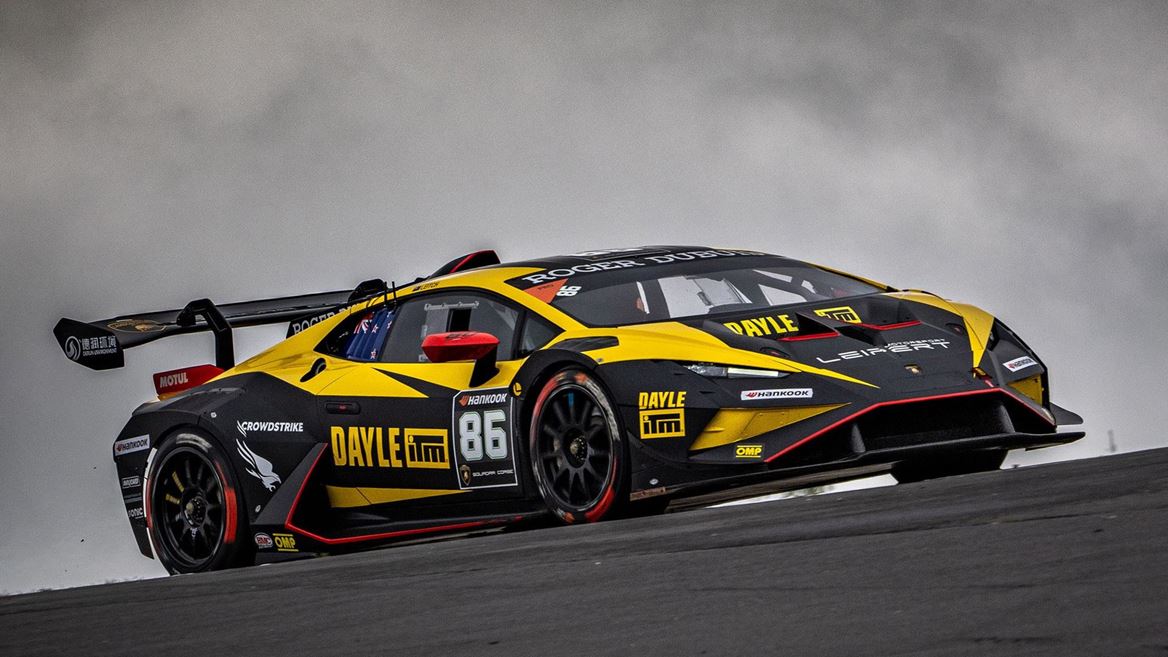 Title race intensifies in Spain as Lamborghini Super Trofeo Europe returns from summer break
Valencia's Circuit Ricardo Tormo hosts the fourth round of the 2023 season
Sant'Agata Bolognese/Valencia, 14 September 2023 – The second half of the Lamborghini Super Trofeo Europe season kicks off this weekend following a six-week summer break for drivers and teams. The one-make championship reserved for Lamborghini Huracán Super Trofeo EVO2s returns to the Circuit Ricardo Tormo in Valencia for the first time since 2016 for a pair of one-hour races.
The 14-turn, 4.005km Spanish track is the last stop on the 2023 calendar before the Vallelunga double header which precedes the traditional season-closing Grand Finals in November and will no doubt provide a stern challenge for the grid of 46 cars set to contest round four of the campaign.
After taking his maiden overall Super Trofeo victory last time out at the Nürburgring, Leipert Motorsport's Brendon Leitch leads the Pro standings with 65 points, 10.5-points clear of VS Racing duo Mattia Michelotto and Gilles Stadsbader who, despite taking their third success of the season in the first race in Germany, could only manage 10th in the second one-hour race. Oregon Team's Sebastian Balthasar and Marzio Moretti are third in the standings, 7.5-points further back and only four ahead of BDR Competition's Amaury Bonduel who bounced back from a difficult start to his campaign with two podiums from the German weekend. Keen to put the Nürburgring round behind them is the Iron Lynx combination of Ugo de Wilde and Rodrigo Testa de Sousa, fifth in the points and embroiled in a tight battle with Target Racing's Oliver Söderström and Largim Ali, Rebelleo Motorsport by Bonaldi's Abbie Eaton and Daan Arrow and Stéphane Tribaudini and Loris Cabirou of CMR. Just 12 points separate the four crews heading into the weekend. Competing on home soil at Valencia will be Oregon Team's Guillem Pujeu Beya, 10th in the standings alongside his Brazilian rookie team-mate Pedro Ebrahim. The pairing recorded their best results of the season so far at the Nürburgring and will be hoping to break into the top five in at least one of this weekend's races. After making his Pro category debut at the Nürburgring, Japanese-British driver Dougie Bolger continues as a solo driver in the #15 Lamborghini Stuttgart by Target Racing entry.
Calendar clashes for both Frederik Schandorff and Loris Spinelli this weekend has placed even greater emphasis on the enthralling title battle for Pro-Am honours. Schandorff's Target Racing team-mate Alex Au will be partnered by none other than 2015 Lamborghini Super Trofeo Europe champion Patrick Kujala while Andrzej Lewandowski is joined at VS Racing by Lamborghini GT3 Junior driver Artem Petrov. Au holds a 19-point lead in the standings after picking up a second win of the year in Germany, but nothing can be taken for granted in one of the most competitive class title races in years. Several crews, therefore, could be nicely placed to relaunch their championship hopes in Spain with Yelmer Buurman and Nigel Schoonderwoerd (Iron Lynx) 28 points off the top of the table in third. Just 6.5-points further back is the Micanek Motorsport entry of Karol Basz and Bronislav Formanek, who are five clear of Brutal Fish Racing's Edoardo Liberati and Martin Ryba. Elsewhere, Scuderia Villorba Corse's Michael Blanchemain and Jim Pla will be hoping to capitalize on their best finish of fourth last time out, while ART-Line's Kyrgyz/Kazakh partnership of Egor Orudzhev and Shota Abkhazava.
With four wins for the season to date, Leipert Motorsport's Gabriel Rindone holds a 7.5-point margin in the Am standings over Boutsen VDS's Pierre Feligioni and Renaud Kuppens, with the impressive teenager Ibrahim Badawy (Lamborghini Roma by DL Racing) only 10 points further back in third. Badawy, who created history at the Nürburgring by becoming the first Egyptian driver to win a Super Trofeo race, has been particularly strong in his first season of racing, despite a heavy crash in race two. Elie Dubelly and Karim Ojjeh (Boutsen VDS) lie fourth in the standings, only half a point ahead of the Iron Lynx pairing of Claude-Yves Gosselin and Marc Rostan. Behind, Leipert Motorsport's Jean-François Brunot and Kerong Li sit on 28 points but have Holger Harmsen and the duo of Adrian Lewandowski and Grzegorz Moczulski (both of GT3 Poland) in close company. Lewandowski/Moczulski enjoyed their best weekend of the year at the Nürburgring, recording their first podium in the opening race, finishing second and will arrive in Spain with added motivation.
The Lamborghini Cup class has certainly lived up to its pre-season billing as one of the closest title races in 2023, with just 6.5-points separating Bonaldi Motorsport's Paolo Biglieri and Petar Matić and the Iron Lynx partnership of Donovan and Luciano Privitelio. Both crews have recorded three victories so far this season, albeit Privitelio's victory in race two at Spa-Francorchamps only counting for half points. The key difference between the two has been consistency, with Biglieri and Matić taking a pair of second places and only finishing off the podium once in the six races contested. Multiple class champion Gerard van der Horst is third in the standings with 49 points, two ahead of Jürgen Krebs, each with plenty of opportunities to make ground in the second half of the season.
The action begins on Friday morning with the first of two one-hour free practice sessions, taking place at 10:10. FP2 is scheduled to start at 15:10. Qualifying then takes place on Saturday in the usual Q1/Q2 format at 09:35, with the first race starting at 15:35. Race two will be held on Sunday morning at 11:25. Both races will be livestreamed on the Lamborghini Squadra Corse YouTube channel.