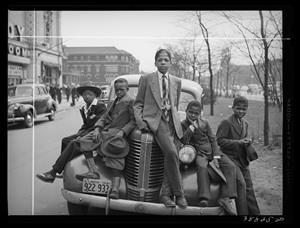 Travel Back in Time with "The Negro Motorist Green Book"
Skokie, IL, Jan. 12, 2023 (GLOBE NEWSWIRE) — The Negro Motorist Green Book, an exhibition developed by the Smithsonian Institution Traveling Exhibition Service (SITES) in collaboration with award-winning author, photographer, and cultural documentarian Candacy Taylor, is coming to the Illinois Holocaust Museum & Education Center, just in time for Black History Month. The exhibition opens January 29 and runs through April 23, 2023.
What is "The Negro Motorist Green Book"?
"The Green Book," first published in 1936 under the title "The Negro Motorist Green Book," was created for the growing African American middle class who had the desire and financial means to travel the country but were restricted from many of the resources and accommodations necessary. Social and legal constraints, including unwelcoming hotels, restaurants, and gas stations along with Jim Crow era laws and "sundown towns" – communities where African Americans were legally barred from spending the night – were very prevalent in many places across America.
The book provided Black customers with a guide to hotels, restaurants, gas stations, and cultural attractions that would accept their business. Often these resources were themselves Black-owned and operated. In Chicago, "The Green Book" mostly directed travelers to listings located in the South Side community of Bronzeville, which was built by the Black migrants who transformed the Chicago area during the Great Migration. Of the over 180 businesses listed in Chicago, nearly 80% were in the Bronzeville District, an area that was considered a mecca for Black manufacturing, hair care, publishing, and banking industries. 
Published annually by Victor Hugo Green (1892–1960), a New Yorker who retired from his work as a mailman due to the book's success and expanded into the travel reservation business, "The Green Book" was a vital handbook for decades.
Standard Oil Company of New Jersey, predecessor of the exhibition's national sponsor ExxonMobil, played a significant role in the distribution of "The Green Book" through its U.S. network of Esso stations, helping to provide motorists and their families opportunities for safer and more comfortable travel. Esso stations were the only major retail distributors of "The Green Book," and the company also employed many African American engineers, scientists and marketing executives, and welcomed African American motorists at its stations. 
About the Exhibition
The Negro Motorist Green Book offers viewers an opportunity to travel back in time through the perspective of the traveler, with an immersive and participatory exhibit. Viewers will experience the reality of travel for African Americans in mid-century America and how the annual guide served as an indispensable resource for the nation's rising African American middle class.
The exhibition, through artifacts, historic footage, and firsthand accounts, expresses not only the apprehension felt by African American travelers, but also the resilience, innovation and elegance of people choosing to live a full American existence. It will bring focus to a vibrant parallel world of African American businesses, the rise of the Black leisure class in the United States, and the important role "The Green Book" played in facilitating the second wave of the Great Migration.
"This exhibition tells a story of resilience during the Jim Crow era when Black travelers faced often insurmountable discrimination. "The Green Book" offered critical, life-saving information and sanctuary," said Kelley Szany, Senior VP of Education & Exhibitions. "Moreover, this is an inspirational story of communities, like Bronzeville, who took agency over their neighborhood, a story of growth in Black-owned businesses and the rising of the middle class."
The Museum will highlight local connections to the Chicago area in the exhibition with a looping projection of over 55 images of local "Green Book" sites mixed with contemporary images of some locations. It will also feature audio from local singers and bands that recorded at some of the local "Green Book" recording studios as well as a map of Chicago's streets to show "Green Book" amenities. Other local connections will be made through Museum programming and marketing efforts during the exhibition's run.
Details about the exhibition, programs and local stories are available at https://ihm.ec/greenbook.
Locally Presented By
Presenting Sponsor:
Allstate
Additional Funders:
Katherine Gates
Golder Family Foundation
About Illinois Holocaust Museum
Illinois Holocaust Museum & Education Center honors the survivors and victims of the Holocaust and transforms history into current, relevant, and universal lessons in humanity. Through world-class exhibitions and programs, the Museum inspires individuals and organizations and provides a universal wake-up call to action: Take history to heart. Take a stand for humanity. The Museum is open Wednesday through Sunday from 10:00 a.m. through 5:00 p.m. For more information, visit www.ilholocaustmuseum.org or call 847-967-4800.
About SITES
SITES has been sharing the wealth of Smithsonian collections and research programs with millions of people outside Washington, D.C., for more than 65 years. SITES connects Americans to their shared cultural heritage through a wide range of exhibitions about art, science, and history, which are shown wherever people live, work and play.  For exhibition description and tour schedules, visit sites.si.edu.
About ExxonMobil
ExxonMobil, the largest publicly traded international oil and gas company, uses technology and innovation to help meet the world's growing energy needs. ExxonMobil holds an industry-leading inventory of resources, is one of the largest refiners and marketers of petroleum products and its chemical company is one of the largest in the world. For more information, visit exxonmobil.com.